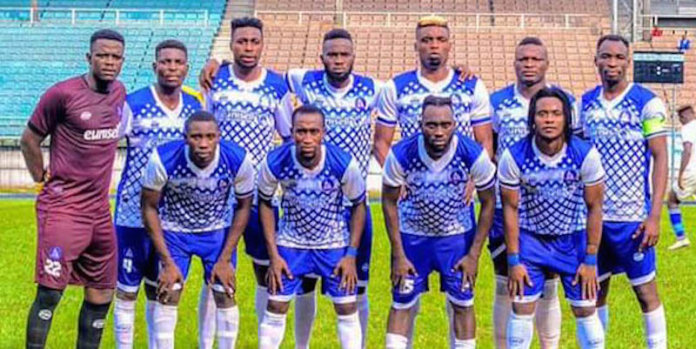 CAF CONFEDERATION CUP
*NCDC wants 14-day quarantine for the S'Africans * NFF writes CAF
*Enyimba in make or mar clash with Sudan's Al Merriekh today in Aba
Duro Ikhazuagbe
Rivers United's dream of consolidating their CAF Confederation Cup campaign against Bloemfontein Celtic today after winning the first leg 2-0 in South Africa last December has run into troubled waters.
The reverse fixture scheduled to hold this afternoon at the Adokiye Amiesimaka Stadium in Port Harcourt has been put on hold due to the refusal of the Nigeria Centre for Disease Control (NCDC) to grant waiver to allow Celtic's 70-man contingent to fly into the country.
Because of the new variant of the Covid-19 prevalent in South Africa said to be easy to spread, the Nigerian health authorities insisted that the entire contingent needs 14 days quarantine in the country to ascertain their health status before being allowed to play Rivers United FC in the second leg of the qualification round for the group stage.
However, with this twist in the matter, the Nigeria Football Federation (NFF) had to write CAF on Monday, asking the continental football authorities to reschedule the match for another date in a neighboring country to Nigeria that will allow the South Africans fly into their territory to play the match.
NFF highlighted its constraints in the letter signed by its General Secretary, Dr. Mohammed Sanusi. "We are asking for the postponement of the game and a possible rescheduling of both the date and venue of the match, with the possibility of staging the match in any Nigeria neigbouring countries with a little less stringent Covid-19 protocols."
However, given the precedent set in similar situation during the outbreak of the Ebola pandemic, there are cause for concern amongst Rivers United fans that CAF may act contrary to the wishes of the Nigerian federation despite the first leg advantage.
A CAF Spokesman, Alexandre Siewe, confirmed that the match will not hold today as scheduled. He insisted that "the case will be submitted to the competent body within CAF to decide on the appropriate course of action to follow."
It is this "course of action to follow" that is creating anxiety in Rivers United Camp at the moment.
Nigeria's other team in CAF's Champions League, Enyimba will face Sudan's Al Merriekh in Aba, hoping to upturn the 3-0 deficit they suffered in Omdurman a fortnight ago.
If the Aba Elephant are able to cancel out the three-goal deficit, penalty shoot out would be resorted to determine which of the two teams will proceed to the lucrative Group Stage of the competition. Enyimba are two-time champions of Africa's foremost club competition.