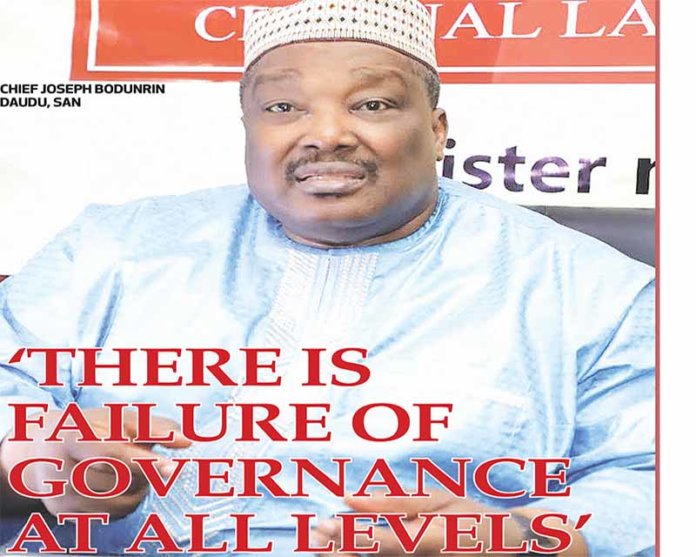 Has Nigeria's foremost professional body lost its voice and capacity to speak truth to power, which it has been known for over the decades? Has the Nigerian Bar Association been able to retain its cohesion and focus in the past few years? In search of answers to these questions, Onikepo Braithwaite and Jude Igbanoi sought out Chief Joseph Bodunrin Daudu, SAN, former President of the Nigerian Bar Association and Chairman of various Committees of the Association, as he turned 61 recently. In a forthright and fearless approach to issues, he spoke his mind on a myriad of concerns, including what he described as the failure of governance at all levels, corruption, the challenges of conducting credible NBA elections, ethical issues, and why there appears to be a rise in professional misconduct cases against Lawyers
Happy New Year Learned Silk. You will agree that 2020 was a rather traumatic year globally, and of course, Nigeria was not left out of the trauma. Apart from being the poverty capital of the world, insecurity has deeply enveloped the country. Kaduna and Katsina States, even more than Benue that had been plagued with more than its fair share of Herdsmen attacks, seem to be joining Borno State as no-go areas. Going forward, what would be your advice to Government on how to make life better and more secure for Nigerians? Is Restructuring the answer? Or changing the Service Chiefs? Or redrawing the Constitution? What are your thoughts on the state of the nation and how to improve it?
The state of the nation is characterised by unrestrained insecurity. You have identified the hotspots in this country, but the truth is that insecurity rears its ugly head in almost every nook and cranny of this nation. The effect of having terrorists (as in the case of Boko Haram), Herdsmen (as in the case of Benue, Plateau, Kaduna, Taraba,) Kidnapping (almost every State of the Federation has a kidnap cell operating in it) and Robbery, to mention a few of the crimes now plaguing our country, amounts to a terrible statement that the nation is security challenged.
Firstly, these are violent crimes that are now being daily unleashed on the populace; secondly, the economic losses arising from these acts are massive; thirdly, terrorism and banditry on the scale we have them in Nigeria have evolved with it massive socio-political consequences such as large scale population displacement, unplanned migration, robbing children and youth of their right and opportunity to life, basic education and most importantly, loss of earning among the populace, which has led or contributed heavily to the present economic depression and hunger that is rife in the land. In clear terms, these cataclysmic or seismic events, have robbed us of any claims to political progress among the community of nations. In all sincerity, we have no business being where we are today. After all, we are not the only multi-ethnic or culturally diverse country in West Africa, or even Africa as a whole.
How, and when did we slide into this degenerative situation? The answer is simple, and it is that collectively, we have allowed our national institutions and security apparatus such as Government, Police, civil defence, military etc to slide into decay and ineffectiveness through years of the effect of negative behaviour such as nepotism, corruption, deprivation of progress in service due to ethnic and religious considerations in upliftment and promotion. Personalisation of governance structures, and the payment of lip service to the basic law of the land. Unknown to us, rigging elections, which we toy with and regard as the norm, has contributed to this state of affairs as thugs, bandits and other miscreants, after messing up with our elections on behalf of paymasters, suddenly become idle and disorderly after their erstwhile employers have assumed political office where most of them engage in looting the treasury silly and dry. These thugs and bandits see these things and also long to wield power in any form or manner, and therefore, metamorphose into the terrorists, kidnappers and bandits that you have described in your question.
Everything in life, especially nature abhors a vacuum. Consequently, the vacuum of good governance is slowly but surely, being filled by the terror of bandits and highway robbers. Now, because the factors that have led to this state of affairs are contemporaneous with our style of self-governance, be it military or civilian, but essentially manifest when civilians are in power, the nation is searching for solutions to these crises outside the often touted remedy of sacking a few people here and there, and pretending that something is being done.
The question is really, what are the factors and circumstances that have given rise to the rampant insecurity that is now prevalent in Nigeria? The answers can be summarised thus: (a) failure of governance at all levels, especially at State and Local Government levels, (b) Corruption in virtually all facets of the society, (c) The use of divisive factors other than merit in the allocation of scarce resources among the populace, factors such as nepotism, religious discrimination, and other forms of discrimination. A combination of these factors, have given rise to the insecurity that we now experience as a national calamity.
How do we make life more secure and productive, for Nigerian businesses to thrive in? It has been suggested that we restructure our political arrangement from Presidential Federalism to a Westminster export model (Parliamentary) system tied to fewer federating units to be known as Regions, not exceeding eight and not less than six. The necessity for a new political arrangement, is as a result of the cost of sustaining and servicing the existing wasteful superstructure of 36 States and one behemoth of a Federal Government, all of which depend on essentially one source of income and revenue to wit: Crude Oil. The over-bureaucratisation of the Nigerian political structure has led to the situation where, there is not enough resources to service existing State apparatus such as security, education and health. The political arrangement further exhibits its inadequacy by virtue of the insistence of the powers that be to retain a central Police force of just about 700,000 personnel made up of rank and file, to cater for a nation of over 200 million people. On both scores, that is, over-centralisation and low quantum of qualified personnel have been responsible in the main, for the parlous state of the security apparatus and response capacity and capability of the nation's security agencies.
If we (Nigeria and Nigerians) do not wake up from our slumber and grab the bull by the horns and amend our Constitution to make provision for not only a multi-level Police structure, but for specifically State and Local Government Police Forces, then I fear that in the very near future, large tracts of this nation will be taken over by warlords and other violent persons, not for any altruistic purpose but for their own personal economic fortunes and gain.
In conclusion, the solution to the current insecurity blanketing this nation, is as complex and multiple as the problems that have led to its emergence in the first place. In the short term, existing security institutions must be overhauled and redesigned to function efficiently, in an atmosphere devoid of corruption and incompetence. The mechanism and standard for recruitment must be based on merit, and on basic entry qualification of a University Degree or its equivalent. Furthermore, the security outfits must be subjected to rigorous training. Those bad habits that plagued the existing Police force, must be stamped out. Should the nation opt for a multiple Police force based on the State and Local Government Police forces, such outfits must be modelled along or in line with International Best Practices; the essence being to avoid the personalisation and politicisation of such a critical or sensitive institution. Change therefore, in these institutions is imperative, if we desire to remain one indivisible and indissoluble nation known as Nigeria.
In the past few cycles of elections, the NBA has come under sharp criticisms of widespread corruption. Every NBA national election since 2016 has been trailed with litigation, despite the introduction of universal suffrage and electronic voting. Presently, some members of the NBA Secretariat staff are facing criminal prosecution concerning the 2018 elections. As a past President of the Association, how do you feel about this and what panacea can you offer to ensure that the NBA gets its act right, going forward?
The present National Officers of the Nigerian Bar Association led by our able President Olumide Akpata, are aware of the problem. Indeed, a High Powered Committee has been constituted to inquire inter alia, into the root causes of election disaffection within the NBA over the years in issue, and to proffer solutions to stem a reoccurrence of the problem that you have succinctly highlighted above. It will therefore, be wise to await their findings.
However, in answer to your question, the problem in NBA is not one of systemic corruption. It is not that elected leaders want to tamper with the Association's resources, or that the Association has such magnitude of resources as to make that the attraction for leadership. No. the desire and competition to lead the Bar stems from only one factor, and that is to lead the world's most enlightened and learned group. That the President is primus inter pares among or within the community of learned people, is, in my view, the motivating factor to aspire to that office. Consequently, any candidate for the office of NBA President must deliver concrete manifesto and proposals for his 2 year tenure, should he eventually win.
It is still one of those offices that you must establish a wide knowledge of the state of affairs, in both the legal profession and Nigeria as an entity. The Bar must always be seen as the bastion and protector of the Rule of law, and its leadership must not be shy of speaking truth to the powers that be. The President of the NBA must be proactive in such matters as (a) criminal justice reforms, (b) fundamental human rights, (c) Gender and vulnerable people's rights, (d) intergovernmental relationships and (e) the organogram and governance mechanism of the Bar's secretariat and all its branches. Why then should these altruistic duties pose any problem, in selecting suitable candidates to discharge such onerous and thankless duties? The answer is that, there is usually a welter of qualified candidates from which to draw.
The problem in the past 10 years surprisingly, is clearly generational. In the NBA, the primary or basic unit of entry into Bar political activities is the Branch. Consequently, in the past, anyone who is able to persuade his colleagues through the Branches would surely emerge successful or victorious as NBA President. Now, it is not in doubt that majority of legal practitioners called to the Bar from the period 2010-2020, do not belong to or identify with the NBA branches. They are lone rangers.
This is discernible from the membership population of the branches vis-a-vis the total number of practitioners called during this period. Consequently, up till the year 2016, these branchless Lawyers were not able to participate in the delegate system which was reserved for Bar insiders. However, upon the amendment of the NBA Constitution during the tenure of President Austin Alegeh (2014-2016), election of National Officers was thrown open through universal suffrage – meaning every Lawyer called to the Nigerian Bar now possessed, subject to the fulfilment of certain conditions, the unqualified right to vote at the Associations biennial elections. Consequently, the population of the universal suffrage Lawyers now outstripped those of their conservative colleagues, who had to bide their time going through the branch hierarchy.
The said NBA Constitutional amendments created a lopsided voting base in favour of Lawyers between 1 and 10 years at the Bar, who naturally preferred younger candidates to lead the Bar. It is the dynamics of getting as many of this latter category to vote that brings about campaign and electoral strategies which have created the friction that you have referred to, as marring all those elections held post the afore-described constitutional amendments. As I said above, a high-powered Panel is looking into the matter, and I am confident it will come out with workable proposals to resolve the conundrum.
Some have stated that the NBA has lost focus in the past few years. This new Executive seems to be on the right track. Do you agree? What advice can you give to ensure that the Akpata led NBA stays on track?
I respectfully disagree that the NBA leadership lost focus, at any point in time. Leadership styles differ. With every administration comes a different perspective and issues that are dominant or prevalent, at the time of its operations. More so, a President of the Bar comes into office grappling with the issues he campaigned to resolve for the good of the Bar and the nation. Most of these issues are Justice sector and Rule of law related. I know that no President of the NBA, has ever been fingered as having sold out to Government. The current President of the Bar, Olumide Akpata, campaigned on a specific set of issues, principal of which are (a) welfare of all legal practitioners with emphasis on young Lawyers, (b) Secretariat reforms and (c) ensuring that the voice of the Bar is heard on issues of critical national interest. So far, I am satisfied that the President has lived up to his Billing, and can only wish him God's guidance and wisdom in piloting the affairs of the NBA during his tenure.
New and diversified areas of legal practice are fast emerging globally, but in Nigeria, Lawyers don't quite appear to be ready to embrace the emerging trend. Are Nigerian Lawyers really prepared for the future of the profession?
There is no way that blame of not being multi-dimensional, can be placed at the feet of Nigerian Lawyers. The Nigerian Lawyer, is only as diversified as the economy of the nation. A country such as Nigeria that is dependent on only one commodity, that is, Crude Oil, is severely limited in its economic output. A country where manufacturing and production is on the decline, cannot boast of having specialised Lawyers. That will be a pipe dream. In the interim, Nigerian Lawyers are equipping themselves with knowledge from workshops, seminars, webinars, conferences on specialised areas of the law. When the economy improves, Nigerian Lawyers will diversify and specialise.
In a nutshell, the result is that we must collectively salvage the economy of this nation from the doldrums of mediocrity and decline that it is passing through. Today, we are a nation that exports 90% of all our needs. We are trapped at home here with a large unemployed work force, yet, as a matter of policy we import even the most basic needs. Policy makers both in the public and private sector need to come up with a list of items that must be manufactured in Nigeria, else we stop using them. The earlier we treat this critical issue as one of a national economic emergency the better for the employment status of our teeming youthful workforce. Once there is a concentration in local production, then as a matter of course, Lawyers will diversify and specialise in the areas of law relevant to those emerging economic streams.
The global pandemic occasioned by Covid-19 made virtual court hearings a child of necessity. How can this long overdue process be made more attractive and user-friendly around the 36 States of the Federation, though many Nigerian Lawyers are not quite IT savvy, and of course, our many problems of lack of adequate electricity supply cum network problems? Does the Constitution require amendment to accommodate these hearings?
All a court hearing requires is that it should be before a Court or Tribunal constituted in a manner as to secure its independence and impartiality, and that such proceedings must be conducted in public. It is whether virtual proceedings conducted in the private cum public spaces, qualify as proceedings that are held in public. The attempt by Lagos State Government at the outset of the Covid-19 pandemic to question the constitutional validity of virtual court hearings, without a live issue coming up for court determination rightly fell by the wayside as decided by the Supreme Court, on the grounds of the issues being academic. But, to confront your observations and question head-on, there is great benefit in having the court arm itself with the tool of virtual proceedings as one of its justice delivery vehicles.
This means that the Court must lay down elaborate and clearly well defined Rules as to how virtual proceedings can be conducted, to the benefit and satisfaction of all stakeholders. There also must exist a concerted improvement in our electricity supply, and in the availability of internet data for the powering of these virtual sessions. There also must be a well conducted research into the cost-benefit analysis of the entire exercise, vis-a-vis or when contrasted with the existing 'show up physically in court' system presently in vogue. It is only when there is information on these grey areas, that we can move comprehensively to adopt or reject the virtual mode of court hearing as the principal medium of justice delivery in this country.
You just turned 61; looking back at your life professionally, including over 25 years at the Inner Bar and being past President of the NBA, what would you say have been the high or low points in your career thus far? What legacies would you say your leadership at the Bar has impacted on the profession?
For every day I have spent in the practice of law, it has only been possible because the Lord my God willed it so and made it possible. I am therefore, eternally and perpetually grateful to the LORD. Again, there have been no low points in my career, and whatever modest achievements that may have come my way are documented, and for which I give glory to God Almighty.
Justice sector reforms has remained a great concern and attraction for you. The 3rd Rule of Law Development Foundation 3rd Annual Criminal Law Review Seminar which held recently was well received. How will it be sustained?
The fact that we have done three separate editions of the project from 2018-2020, is an indication that we have got the template right. Covid-19 permitting, we shall return to our location/venue based conference format, in addition to virtual conferencing which has come to stay. But, one must not pass on the opportunity to comment on the nation's criminal justice system as it stands today. We must recognise the basic fact that, a country is only as advanced as its criminal justice system. As we speak, droves of foreign investors have avoided investing in our economy because of the unreliable state of the Justice delivery system. The principle is that, there is no point putting money in a system where criminals don't get punished because the Police is overworked, underpaid, corrupt, always demanding bribe from everybody, incompetent in many regards, as the entry level into the Police of the equivalent of SS2. In Nigeria, modern investigative techniques have been thrown overboard, and the criminal today is several steps ahead of law enforcement, which in any event, is reluctant to carry out its core function, which is the apprehension and prosecution of criminals.
Other stakeholders are the court personnel, that is, Judges and Magistrates and even Appeal Justices. The next set of stakeholders are the EFCC, ICPC, Civil Defence, and the Correctional Service formerly known as Prisons. Except for the Prison Service, the NBA, members of the private Bar, Governments of Rivers, Delta and Kogi States that sponsor delegates to the review conference, other critical stakeholders are not interested and don't show up. The biggest culprits are the High Courts, Federal High Courts and the Magistracy of States that altogether handle about 70% of the docket of criminal cases in this country, who all prefer to avoid the conference rather than attend it.
What a review conference does is to place all the legislative, judicial and executive developments in the past 5 years in criminal law, criminal procedure, evidence including electronic evidence, prosecution or money laundering, bribery and other white-collar crimes, cybercrimes, violence against women and other vulnerable groups before the stake holders, with a view to having them better equipped to discharge their respective roles in the criminal justice system. The sessions and resource materials are prepared and delivered by the best experts in their respective fields of criminal justice in this country. The failure or refusal of stakeholders to tap into this extensive reservoir of knowledge and materials in this strategic area of law and life in Nigeria, is symptomatic of our approach to the very serious issues that ought to progress us in this country.
You headed the Legal Practitioners Disciplinary Committee which received a lot of petitions. Why, in your opinion, is there a rising trend in professional malpractices by Lawyers? How can the stables be further cleansed?
I was Chairman, Legal Practitioners Disciplinary Committee from 2013-2018, and during that period it became clear to me that Lawyers in their majority had ethical challenges. The Rules of Professional ethics is meant to ensure that Lawyers deliver professional services in the best manner possible, without breaching the trust reposed in them by their clients. The majority of cases we tried, involved the mishandling by Lawyers of clients funds. Other forms of misconduct include misbehaviour before the judex, forgery of court or legal processes, etc. We tried hundreds of cases and meted out appropriate punishment to those found guilty, while we discharged those who were not found wanting for any offence. It is true that, there is an increase in the population of Lawyers who are usually brought before the LPDC. That is to be expected, because Lawyers are a microcosm of the Nigerian society, which has over the years, become very money conscious and prone to avarice and materialism at the expense of morals and ethics.
Secondly, the foundation or base upon which the educational superstructure of the Lawyer is erected, is devoid of ethical materials. The Nigerian Lawyer is first exposed to the lessons in ethics at the Law School, at which point, sadly, it is too late to have any impact.
Thirdly, it appears that the role model of young Lawyers are people with considerable affluence, whose wealth may be of doubtful or even dubious provenance, for example, rough neck politicians, yahoo boys of the hush-puppy ilk etc. Unlike during our time when we liked to model our career along the lines of the great law lords, like 'Lord Denning' Ademola CJN' 'Bello CJN' 'Uwais CJN' 'Udo Udoma JSC' 'C Idigbe JSC' Eso JSC and a host of other eminent Judges and eminent legal practitioners like Chief Williams SAN, Chief GOK Ajayi SAN, Kehinde Sofola SAN, Gally Brown Peterside SAN, Alhaji Abdullahi Ibrahim SAN, to mention a few. Today the emphasis is on 'making it at all costs' and at a young age, which leads a lot of young Lawyers astray.
You also headed the NBA Committee which reviews the list of applicants for SAN. What has been the role of that Committee? This year saw the emergence of 72 SANs. Some think the number is unwieldy, while others think it is fine. What is your view?
I also chaired the NBA General Purposes Committee from 2014-2019, this committee is a vehicle to advice the NBA President on a variety of matters, which require experienced hands to make prior assessment. In relation to the appointment of Senior Advocates, what the Committee does is to interview on behalf of the NBA President, all applicants to the said exalted rank, with a view to determining their leadership qualities and endorse those qualified to be conferred with the rank of SAN.
However, I since stepped down in line with my policy of not staying too long in any position I find myself, and so the current Chairman of the GPC of the NBA is Kpajie Nnamdi Ibegbu SAN, and in fairness, it is not his Committee that appointed 72 Applicants to the rank, it is the Legal Practitioners Privileges Committee that appoints qualified candidates to the exalted rank of SAN. I am sure the parameters used to shortlist and appoint 72 candidates, are impeccable and above board. The truth is that, there has been a backlog of eminently qualified candidates, who, over the years, had been repeatedly bypassed due to no fault of theirs, and it is this group that the present LPPC conferred the rank on so as to avoid the growing frustration that was building up against the appointment process of the rank.
Five and a half years into the Buhari Administration, how would your rate it, vis-a-vis its three pronged campaign promises of fighting corruption, insecurity and revamping the economy? What of its record in upholding the rule of law?
My answer to the first question gives a clear indication as to what my views are, as to the current political dispensation that we are operating in this country. That we need to restructure, captures the structural deficiency in the system. It appears that no matter how good intentioned this administration may be, its policies and antecedents, coupled with the inherently deficient system it is operating, cannot make it succeed. Until steps are taken to do the right thing with public office holders keeping to their oaths of office, nothing can be achieved by way of the Rule of Law and due process of the law. The society will continue to remain stagnant until the right steps are taken to instil security, eliminate corruption and in consequence revamp the economy.
Thank you Learned Silk.