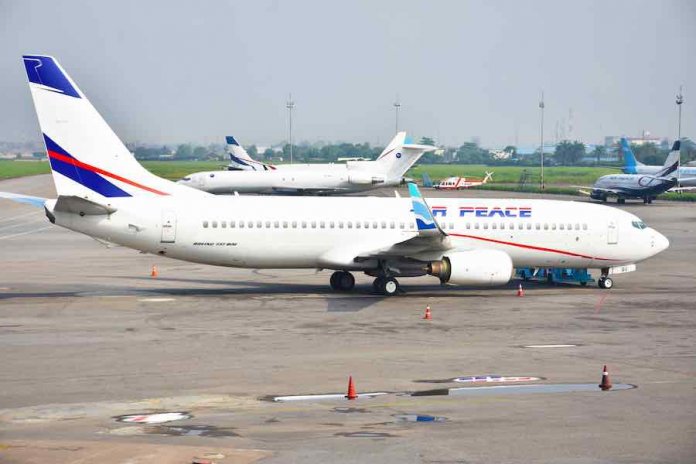 By Stanley Olisa
Since inception on October 24, 2014, Air Peace's determination to ease Nigerians' burden of travel by interconnecting various cities in the country and transnationally, has continued to intensify. This has seen the Nigerian foremost airline blaze the trail in all fronts both locally and in international skies, looming large as a formidable force in Africa's aviation space.
The original vision of Air Peace is 'to be ever dependable through the creation of seamless connections and network options for domestic, regional and international markets', and it can be cogently advanced, without any fear of contradiction, that the airline has been tremendously delivering on this. In just six years of commencing regular commercial flights, Air Peace has accomplished and even surpassed its initial set goals, raising the bar, shutting up cynics and critics who expressed misgivings about the longevity and survival of the brand at its incipient stage. The airline has recorded a lot of milestones in less than a decade and has now proudly earned the appellation of the 'biggest airline in Nigeria and West and Central Africa'.
With a varied fleet (Embraer, Boeing and Dornier) of 26 aircraft (with a firm order for 13 brand new Embraer 195-E2 Jets, 3 to be delivered in January), courtesy of its strategic fleet expansion programme, Air Peace keeps showing strength and reliability by operating special charter/evacuation flights to international destinations, most of which no other indigenous airline has ever flown to.
These destinations include China, India, Turkey, London, Israel, Indonesia, Malaysia and Thailand. Air Peace has also announced a forthcoming special charter flight to Jamaica in December 2020. It can also be recalled that the airline in 2019 had embarked on an evacuation flight from South Africa, airlifting 503 Nigerians at no cost. This is a quintessential social investment and demonstrates the airline's sensitivity as well as responsiveness to societal issues.
Air Peace's industry-leading status is also reflected in the periodic launch of different routes which aim to unify Nigeria, provide affordable air travel and foster fruitful economic relations between Nigeria and other countries. On December 17, 2020, the airline launched scheduled direct, nonstop flights into Johannesburg, South Africa, with an amazing fare of N250,000 for a return Economy ticket. Currently, no other airline flies directly from Lagos to Johannesburg without stops and at the fare Air Peace is offering. It is simply unbeatable, and Johannesburg is the second international destination the airline is launching. In July 2019, the airline launched flight operations into the United Arab Emirates.
Air Peace hinted that South Africa is one of the destinations which it had been designated to operate into. The launch of this Joburg route is more than just the commencement of scheduled flights into South Africa. It is more. It is a solidification of the economic and commercial ties between the two giant African countries. It is the exemplification and a reflection of a mutually beneficial relationship. It is an implementation of both countries' Bilateral Air Service Agreement in furtherance of their progress and the promotion of unity between their citizens.
The airline's Chief Operating Officer, Oluwatoyin Olajide, asserted during the inaugural ceremony: "We saw an opportunity to connect both countries directly and we seized it. We understand the current stress South Africans and Nigerians go through on this route, and we are glad our airline is providing the needed respite and we believe both countries will benefit hugely from this route in the areas of employment creation, promotion of tourism, and facilitation of a seamless movement of people, which is a prerequisite for economic development, and other forms of value to be created along the chain".
According to the airline, South Africa has always been on the radar of Air Peace as the airline is constantly reviewing its route network and considering strategic ways of expanding the route network to offer great value to Nigerians first, and other Africans. It is worthy of note that Air Peace's disciplined planning and expansion is driven by its 'no-city-left-behind' initiative, which is an ambition to interconnect various cities through the provision of safe and affordable flights, with top-notch hospitality given by its affable flight crew.
Olajide stressed: "Air Peace is reputed for its no-city-left-behind mantra and this is something we have vigorously pursued, and it is driving our route expansion. The decision to extend our wings to Johannesburg is consequent upon our vision to create affordable and safe air travel for Africans, with our signature hospitality, connecting various cities across Africa, thereby fostering unity and enhancing impactful economic relations".
The Air Peace COO also stated that the airline's commitment to excellence and determination to reduce the air travel burden of Africans by employing dynamics that are peculiar to the African people, has made it a strong force to reckon with in West and Central Africa, adding that it is this same characteristic excellence and determination that Air Peace has brought to the 'Rainbow Nation'.
Poised to continue to lift Nigerian skies to new heights, the airline keeps extending its wings, waxing stronger even with the myriad of challenges typical of Nigeria's aviation. A privately-owned airline standing tall above its coevals and gratiating lofty feats, even with the worsening financial straits hoisted on aviation by the COVID-19 pandemic and its concomitant uncertainties. Such airline deserves everyone's support to continue thriving and contributing to Nigeria's economic development.
As Air Peace has launched its Johannesburg operations, it is only patriotic that we support the Nigerian brand through patronage. An airline that has created employment for thousands of Nigerians and is committed to providing safe, affordable and best-in-class air travel for Nigerians, is deserving of our collective support as Nigerians.
Olisa, who is head of communication, Air Peace Limited, wrote in from Lagos