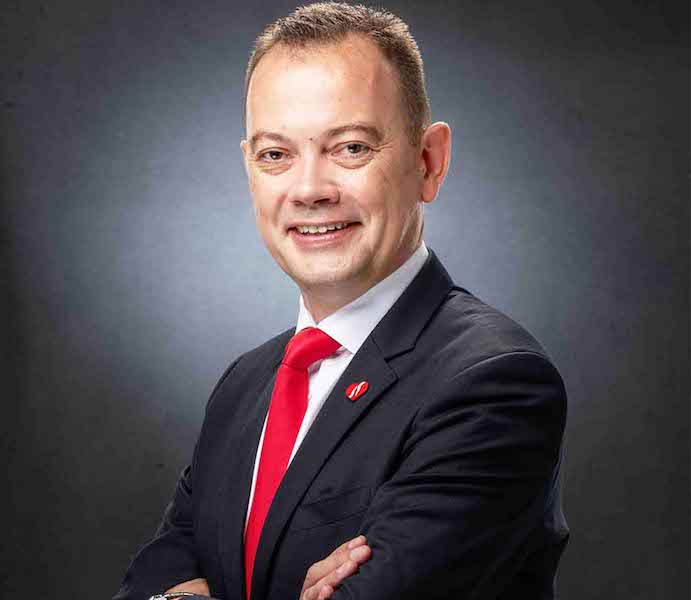 In this interview, Managing Director of the Nigerian Bottling Company Matthieu Seguin, speaks on the company's strengths, strategies and contributions to nation building in the last 60 years. He reckons that the 69-year-old company has grown with Nigeria, from having just two bottling plants at Ebute-Metta and Apapa, to 13 state-of-the-art production plants across the country. Raheem Akingbolu brings the excerpts
Over the decades, NBC's operations have continued to grow. How will you say the presence of the company has impacted the Nigerian economy?
That is a very good question. First, and one of the key areas of influence we have had as a business is in the number of people, we have provided employment over the years. Over the past 30 years, the company has provided direct employment to over 40,000 Nigerians. Even more importantly for me is the number of people whose lives we are touching or impacting today. Across our operation and supply chain, whether it is the suppliers, our own people, our customers, all the different stakeholders we have who in one way or another are moving our products, whether it is the Coca-Cola bottle, or the Fanta bottle, Monster, or Eva Water, about 15million people are benefiting economically from our operations.
So really, you have a whole chain of people working directly or indirectly within the NBC network and we are very proud of that. If I want to be a bit more specific about the impact we've had, the root of it is that we believe in Nigeria. We have been here for about 70 years. In the last 10 years, we have invested over N500 billion on our operations in Nigeria. Let me repeat this because it is massive, over N500 billion – and over the next three years, we plan to invest hundreds of billions of naira in our operations across the country.
For example, we had new production lines set up in July, in the midst of the COVID period. In that time, we fully set up a new canning line which now produces Coca-Cola, Fanta, Sprite, Schweppes etc. in sleek cans. In Benin, we have a new PET line which started production last month. So, in a nutshell, we are trying to invest into new capacities, making new investments to really serve our customers and consumers better. But beyond all these, our employees remain our greatest assets in NBC. We are very privileged to have over the years, built the capabilities of our people to deliver on our promise.
As I said, in the last 30 years, we have employed over 40,000 Nigerians while currently contributing to the livelihood of over 15 million Nigerians across our value chain 90% of our suppliers are Nigerian SMEs who earn decent living from doing business with us. Our distribution network is designed to create jobs for millions of Nigerians, who are our distributors, wholesalers, and retailers. We are proud to say that we have touched and continue to touch the lives of Nigerians in many ways, creating economic prosperity for the people
The country recently celebrated its 60 years of independence, and your company has been around even longer than this. What would you attribute your success in this market to?
One key thing I would like to point out is our strong heritage. We have been in Nigeria for close to 70 years. As a matter of fact, we started in the Mainland Hotel in Oyingbo in Lagos 1951 as a family business and then from Nigeria in 1979, one of the owners went to Ireland and started a business in Ireland. From Ireland, he went to Greece and that is how the Coca-Cola Hellenic Bottling Company group continued to grow. Now our parent Group, Coca-Cola Hellenic Bottling Company bottles in more than 27 countries across Europe. So, that should make us very proud of this remarkable growth of a company that is of proudly Nigerian heritage.
Today, we operate in eight modern plants all across Nigeria, including our Ikeja plant, which is the biggest Coca-Cola plant in Africa; Asejire; Challawa; Maiduguri; Abuja; Owerri; Benin; and Port Harcourt. We have customers all across the country. So, back to your question on what makes us very proud, it is first and foremost our Nigerian heritage. And that is one of the biggest building blocks we have.
You talked about investing N500 billion in the last 10 years. What did NBC invest this amount on? Similarly, for the hundreds of billions you mentioned you will invest in the next three years, what is the company going to invest it on? And what will the impact be?
Okay, so I'll share a few examples on this. Back in 2014, we invested in installing our very first Hot Fill Pulpy Juice Line to produce Five Alive Pulpy, and it's been a fantastic success since then. It's been such a huge success that we are set to commission the second one next year, it's already being assembled in Ikeja. That new pulpy line alone comes from an investment of about €25 million. Beyond that, in Asejire, we totally revamped the plant by building a modern Greenfield facility. In Challawa, Kano, we have a brand-new Greenfield plant there, and we've more than doubled the capacity of the facility.
Every new plant we have commissioned has been a trigger for development, first for the immediate host community of the plant; then indirectly, through the value chain that supports the needs and output of the plant.
Your brand has a strong reputation for its quality products, compliance with global standards and wide market penetration of Coca-Cola products. How has the company been able to sustain this level of trust with the public over the years?
I think it goes with our commitment to quality and safety first. In everything we do, there is a prevailing culture of delivering quality. We have several standards, policies, and processes in place to drive this from the ISO 9001, FSSC 22000, to the Coca-Cola Company KORE requirement and its standards. There is no compromise for us in NBC. The Coca-Cola manufacturing standards are maintained everywhere in the world, whether you are in the US, Europe, UK or Nigeria, the standards are all very high.
In addition to this, NBC works hard to procure the finest ingredients and raw materials, equipment, and services from around some of the industry's most respected suppliers. We complement this with our state-of-the-art local production and distribution systems
Over and beyond that however, I will go back to our greatest asset which is our people. To ensure quality, you need to train your people adequately – whether you are in sales, supply chain, etc. For instance, we have a supply chain academy, as well as a sales academy where we train our people. Whenever I go to the plants, I am always super impressed by the passion of our people for the quality of our products. We know that over the last 69 years, Nigerians have come to trust our brands and are confident that they are safe to drink.
It must have been challenging doing business in the country, considering 2020 being a very challenging year for brands and individuals due to COVID-19. What effect, if any, has the pandemic had on NBC's business growth?
As for most companies involved in manufacturing, the pandemic posed several challenges. However, looking back on how it all progressed, we are pleased to have been recognized as an essential service provider by the State and Federal Governments. I can only applaud Coke System team for the relationship and work we did together in the peak of the pandemic to maintain the food and beverage supply.
For us, our primary concern was and continues to be the health, safety and well-being of our people. We quickly reviewed our operations and in all relevant places, implemented COVID-19 prevention measures. We provided our employees as well as a good number of our distributors with personal protective equipment. To date, we have distributed over 1,200,000 surgical face masks, 24,830 cotton mask, 7708 Litres of bulk sanitizer, 35,000 bottles of 50cl individual unit sanitizer and this intervention is still ongoing.
Something else that really stood out for me, is how well we worked together. It felt that we are really connected across the plants, across the sales team, across the head office team.
To support our communities in the fight against the pandemic, we distributed over 30 million centilitres of beverages donated to frontline workers in the height of the pandemic. We also reached over 2,000 households with humanitarian donations of basic food stuff.
The pandemic really impacted global supply chain which makes sourcing of raw materials and spare parts cumbersome. Of course, the impact of pricing can be imagined but as I said, our priority is to ensure our people are safe before business and profit.
You are part of Nigeria, having been here for almost 70 years. We know that every country has their own challenges so what will you say have been the challenging factors you encounter operating in Nigeria?
Everybody coming to Nigeria will agree that there is plenty of opportunity, but the important question is how do you seize these opportunities, and how do you manage those challenges that you mention? We will not have been operating in the country for the last 70 years if we didn't believe in the Nigeria of today and tomorrow. I see that there is a fantastic opportunity for us to grow and to grow profitably. Yes, we know Nigeria is challenging, but I always choose to think positively. So, I ask myself: "What is my biggest opportunity and where is it? Why do we believe in it? I always say we need to find a way, with my leadership team, with all my people to make it work; and find opportunities to expand even further in a way that is profitable for our consumers, for our customers and for ourselves.
I must say the government is doing its best to entrench Ease of Doing Business environment and we are happy about this. As active members of the Manufacturers Association of Nigeria (MAN) as well as the Nigeria Employers Consultative Association (NECA), we continue to lend our voice and perspective to issues that are faced by companies in our sector. Otherwise, we ensure that we remain as agile as possible to respond to any unforeseen challenges that our business could face.
For us at the Nigerian Bottling Company, our focus is on being able to continue delivering high quality products in the most efficient and sustainable ways, at the best price possible to our consumers. We would never compromise on any of these important elements of our commitment to our consumers.
You are one of the biggest operators in FMCG, if you're to meet government today to discuss on how to grow this industry, how to make it better, what would you suggest to the government?
First of all, I would highly encourage them to keep doing what they are doing. I believe they are trying to find ways – I mean through policy – to make it easier for businesses to operate. Secondly, they need to look into how to attract more foreign investment into this country? Thirdly, I would ask, how do you better support the people of the Nation, so that at the end of the day, they are empowered to make more investments, and have more money in their pockets, so that the increased expenditure can help to boost the economy? So, I will really say, keep on doing what you are doing, do better, and work harder so we can all benefit from it.
Now let's look at your effort in giving back to the society, because CSR has become paramount. As a corporate citizen, what are the things that NBC has done in the past 60 years to better the general wellbeing of the people in host communities?
First of all, I do believe, and in fact NBC believes that doing good is good for business. Since NBC was established, sustainability has continued to be integrated into every aspect of our business, as we look to create and share value for all our stakeholders. One of our core areas of focus is water stewardship – improving access to potable water for our communities. A good example of this is what we did in Kano State last year. In Kano, we worked with the Water Board to deliver potable water to more than one million people. And we want to do more of this going forward.
In addition, we have done a lot of work on Women and Youth Empowerment. For example, through our '5 by 20' program for women, we have trained more than 480,000 women in the last 10 years. We've provided them with business skills training workshops and start up support to help them start up their own businesses. I met one of them a few weeks ago. She started her business with just five cases of Coke, and now a few years later, she's running a successful distributorship in Ikoyi. That is fantastic.
In September this year, we kicked off the Nigerian Business League for Youths, a youth empowerment coalition comprising some key partners including IBM, Cadbury, Nigerian Breweries, Verod Capital and quite a few others.
Of course, we can do a lot more than that, but we are all about being very deliberate in choosing ways to make a meaningful impact in the lives of people in our communities. I believe these initiatives by NBC are well appreciated by the beneficiary communities, especially those in places where we run our plants. We were humbled to see that in October (during the protests), groups from these communities stood up to protect and defend our brand and our premises in various hot spots; we are very grateful to them for what they did.
Let's talk about environmental sustainability. What exactly has the NBC been doing to demonstrate its responsiveness in terms of its stewardship towards the environment?
I'm glad you asked that question because I am very passionate about sustainability and as a business, we are committed to reducing plastic waste through various initiatives such as light weighting, collection, and recycling of Plastic packaging materials. On our World without Waste agenda, we aim to minimize the environmental impact of our packaging at every stage of its life cycle. We do this by following our 3Rs principle: Reduce, Recover, Reuse, increasing our use of recycled or renewable content and implementing light-weighting techniques. And this is already coming to life in a clear way for the Nigeria business.
Today, only a part of our products are in PET bottles. We have retained a large part of our business in reusable glass bottles and cans, and these two materials are 100% recycled. So, you don't see any glass bottle or cans in the gutter.
As you may know, since I came back to Nigeria, I took on the chairmanship of FBRA – the Food & Beverage Recycling Alliance, and I'm very passionate about the alliance. We have grown from eight members last year to sixteen member companies today, with players like Nigerian Breweries, Guinness, Unilever, UAC, and so on. We are trying to get more people to join the coalition as recycling PET is a big challenge for our society. As responsible companies, we must do something about it to make it work, as we partner with government to share ideas together on what our policy should be when it comes to sustainability, starting with plastic bottle and then moving beyond plastic bottle to things like cartons, pure water sachets and all of that.
At the end of the day, when it comes to NBC, we want our bottles back. How do we do that in Nigeria? So that's the challenge. How do we collect more of these bottles and how do we make sure that all of them are 100% recycled? I'm sure you've noticed that we recently changed the colour of the Sprite PET bottle from green which is very difficult to recycle to a clear transparent bottle, which is much easier to recycle. So, these are some of the little things that we are doing to make a big impact.
Now still on the issue of sustainability, but moving away from the topic of PET bottles, indeed, we have mainstreamed sustainability into every aspect of our business, from investing in chillers that are ozone friendly or forklifts and fleet that are environmentally compliant. We do this because we are committed to preserving the environment in which we do our business.
We pioneered Effluent Treatment Plants across our plants when it was not even a regulatory concern in this market. This ensures that our wastewater is fit for discharge back into the environment. NBC also invested in Combined Heat and Power Plants (CHP) in some of our facilities, which cut down drastically our carbon footprint as what should have been the emission is channeled back into our operations to power our boilers.
The plants that are not covered by the CHP due to unavailability of natural gas (CNG), we are supporting with renewable energy sources, especially photovoltaic or solar energy power source.
What is your perception about this country and how do you want to tap into the huge population, the huge economy, and the huge opportunity?
I see Nigeria as my home. I was privileged to be here from 2011 to 2016 as Commercial Director of NBC, coming from Greece, then I was promoted and grateful to lead as the MD of Ireland & Northern Ireland, and when the opportunity for me to come back and lead the business in NBC back in October 2019 as the MD, I was very happy.
To the second part of the question, we have laid out a simple strategy to tap into the opportunities still inherent in the country for our business. Part of the strategy covers how we plan to keep winning with our customers. From how we satisfy our customers, and customer service to our best-in-class go-to market strategy, to how we recognize the peculiarities from region to region and how we adapt ourselves to every part of the country, from Maiduguri to Kano to Abuja, to Owerri to Benin.
Another pillar is: how do we leverage our 24/7 portfolio. As we become a Total Beverage Company, we are unlocking growth potential in segments outside our core sparkling portfolio, offering consumers a wider choice of drinks to meet their needs and desires at any time of day and for different drinking moments. We have a core business which is Coke, Fanta, Sprite, but we also have emerging categories that we want to accelerate.
For energy drinks, in addition to Monster which was launched a few years ago about six months ago, we launched Predator energy drink which is doing very well. But we believe that we have plenty of room to grow with new products, new flavors, better-tasting flavours and so on. It is all about the taste and the right quality as well. Still, there are plenty of ways for us to accelerate and potentially down the line, explore new categories that we do not have yet in Nigeria.