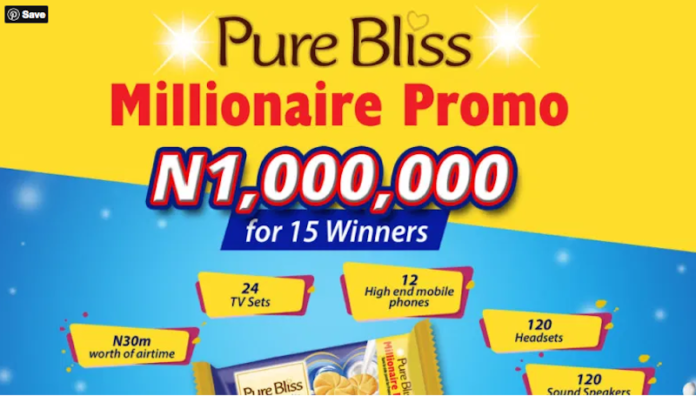 Emma Okonji
It was a moment of joy for Chisom Udo, a middle-aged man, who won N1 million in the on-going Pure Bliss Millionaire promo. Chisom collected his prize at a special prize presentation ceremony which was held at Alagbole, Lagos, recently.
Sharing his experience with the audience present, Udo said the fact that he won N1 million in the promo was both a surprise and a dream come true. "I still can't believe I won; I feel really special winning this. If anybody told me I'd be a millionaire just from eating Pure Bliss biscuit that I love so much, I'd have told the person to stop cracking jokes. The best thing about my winning is that I got my confirmation message on my birthday and that filled me with so much joy and appreciation," Udo said.
Speaking further, he mentioned how his faith in the brand was more solidified as he got paid as quickly as possible. According to him, "Pure Bliss has contributed to paying my children's school fees. I'll be opening two education trust accounts for my daughters."
He also plans to complete a couple of pending projects with the bulk of his winnings and he expressed gratitude to the brand for giving him the opportunity.
Presenting the cash prize of N1 million to Udo, Area Sales Manager at OK Foods, makers of Pure Bliss Biscuit, Mr. Leonard Onyekuru, said, "Pure Bliss is delighted that winners across the country have expressed their happiness that the prizes won in our promo will significantly transform their lives.
For us as an organization, nothing is more fulfilling than lighting up the day of our consumers. It's truly a rewarding experience."
Apart from winning cash prize, customers also stand a chance to win mouth-watering prizes ranging from premium smartphones, 40-inch television sets, Bluetooth headsets, Bluetooth speakers, product hampers and a whopping N30 million worth of airtime.
To jump on the millionaire train, simply buy any Pure Bliss biscuit, see if there is code inside and send the code via text to 34778 and 08135053864 on WhatsApp and you can also be among the 15 lucky people to win N1 million, Onyekuru said.
Other winners who have emerged in the Pure Bliss Millionaire promo include, Abdulrazak Musa from Kano, Chisom Okafor from Onitsha, Sa'adat Ibrahim from Sokoto, Umar Tafida Haruna from Kano, Allen Frederick from Ibadan, Sodiq Bello from Kano, Noah Oghale-Okpono from Port Harcourt, among others.
The promotion will run until Thursday, December 31, 2020 or while stock lasts.
Pure Bliss biscuit is one of the leading products launched by OK Foods. Since its inception, Pure Bliss biscuit has rapidly become one of the most sought-after biscuits in Nigeria.
The Pure Bliss Millionaire Promo is an initiative to give back to the consumers and reward their loyalty to the brand. Pure Bliss is staying true to its brand promise 'Light up Your Day' and aims to uplift the mood of millions of Nigerians.