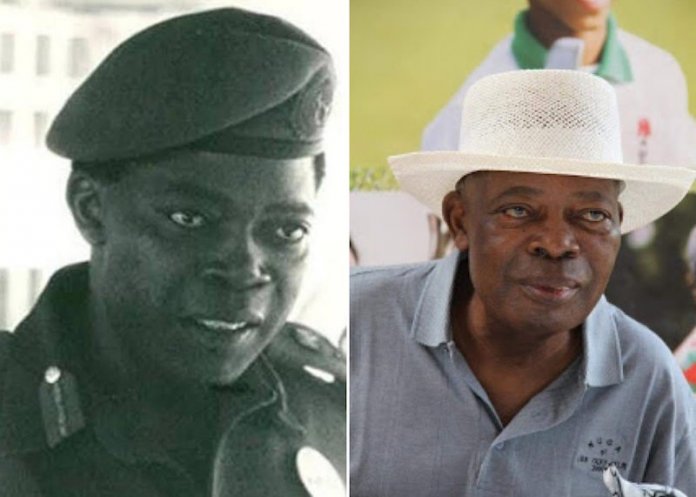 Seriki Adinoyi in Jos
Langtang North and Langtang South Local Government Areas of Plateau State have been thrown into palpable tension following the alleged takeover of the burial arrangements of the late Ponzhi Tarok, Lt. Gen. Domkat Bali (rtd) by the military.
The former Chief of Defence Staff died recently and since his demise, there have been controversies surrounding his burial, with the latest being the alleged takeover of the burial by the military without involving the custodians of the culture of Tarok people.
But the people have insisted that considering that he was a first class traditional chief before his death, Bali would not be buried by the military without the final traditional rites.
Addressing newsmen on behalf of the Taroh nation at the palace of the Ponzhi Taroh on yesterday, the Chairman of Langtang North, Dr. Joshua Ubandoma Laven and his counterpart from Langtang South LGA, Nimchak Rims, said the military may be inviting serious crisis and anarchy if it does not desist from the planned burial, as the Tarok people would resist it.
According to them, the burial arrangement must include Langtang North and Langtang South LGA, Join Traditional Council, the state government, the military, the family of the deceased, and critical stakeholders from Taroh land.
Ubandoma explained that the chief priests of Tarok land came out in their numbers from the hills and marched to the palace to register their displeasure over the attempt to subvert the custom and tradition of the people.
The chairmen insisted that the military cannot take over the entire the burial because he was a first class chief.
They added that the people have vowed to resist any attempt by the military to desecrate their age-long custom with their blood.
Ubandoma appealed to the state and federal governments, to as a matter of urgency, intervene to avert the looming danger as the people have also resolved that their culture will not be jettisoned in the course of the burial.
Speaking in the same vein, the Acting Ponzhi Tarok, who is also the Ponzhi Zinni, Nimnan Langnim ,said Tarok land is facing a trying time that could degenerate into serious crisis if not properly managed.
He said the current events preceding the funeral rites of Bali are already a serious violation of the customs and tradition of the Taroh's nation, and its unacceptable.