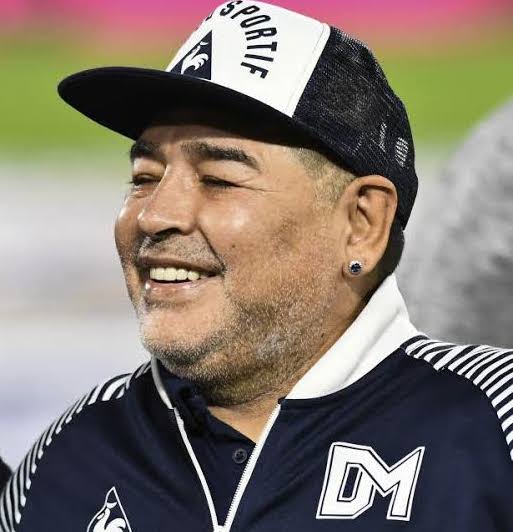 Diego Maradona was ultimately undone by a feeble body ravaged by years of drug dependency and a never-say-die mindset which drove him to rush back from repeated injuries and never allow his battle-scarred body to heal.
The football legend tragically passed away at his home in Buenos Aires, Argentina, on November 25, after suffering a fatal heart attack in the aftermath of major brain surgery.
Now, a fresh and exclusive documentary to be aired on discovery+ takes a deeper look into the extraordinary life of Maradona, piecing together the trail of clues which ultimately lead to his lonely and premature death in the Argentinian capital.
Maradona never fully recovered from an operation to remove a blood clot in his brain, with the stresses on his fragile frame seeing him die at the age of just 60-years-old.
Bleak reports have emerged of Maradona passing with only £75,000 left in his account, despite a luxurious existence which saw him bank millions, way his past retirement from the beautiful game.
The football icon, revered around the world for his spellbinding abilities on the pitch, was reduced to a solitary end, reportedly dying alone in the squat, makeshift downstairs bedroom of a rented apartment.
Since, talk has been rife surrounding the controversial death of the superstar, who is often considered to be the greatest to have ever played the game.
Toxicology reports released this week have revealed Maradona's fragile body did in fact contain zero traces of alcohol or illegal substances, but was pumped full of a 'cocktail of prescription medication' including Quetiapine, Venlafaxine and Levetiracetam.
Yet before the days of his wild partying, questionable friendships and a rapid slide into ill-health post-football, Maradona's tale begins in the infancy of his career, when the precocious talent from one of Argentina's toughest slums got acquainted with, and dependent upon, medication from such a young age.
After being inundated with different courses of medicinal treatments to build up his malnourished physique as a child, it was not long before the young Maradona was clattered about the pitches on a weekly basis by inferior opponents.
Finding himself as the head of the family and providing for multiple dependents as a teenager, getting injured or having his football rise curtailed simply wasn't an option for Maradona.
'Giving Diego injections, it was part of his life. Part of being Maradona. From the moment he started in the first division it was the price he had to pay,' says Guillermo Blanco, the former press officer of the football star.
The knocks and soft-tissue damage arrived in a constant stream but Maradona became adept at ignoring this, with the help of pain-numbing procedures. His body, as a result, was never allowed to heal.
'I suspect he was given cortizone systemically through the vein, where the cortizone is not just affecting the joint, it's having its effects all over the body, and this can be terrible for things like the heart,' says Sanjay Sharma, Professor of sports cardiology.
With Maradona's unstoppable rise came the fame and subsequently the money, taking the boy from the shanty town of Lanus to European metropolis of free-living and debauchery; Barcelona.
Featuring in the documentary Jimmy Burns, author of the Maradona biography Hand of God, said: 'He began taking cocaine when he was in Barcelona because he thought it was like drinking cuba libres while in the nightclubs.
Maradona's forceful personality, god-like demeanor and an entourage of powerful friends keen to hang on to his every word meant nothing was off limits when it came to requests of substances to partake in.
'Diego himself, literally with a click of his finger or a phone call here and a message there was suddenly getting what he wanted almost instantly,' Burns adds.
Barcelona soon became Naples after 'El Pibe d'oro', as he was known in his native homeland, made a world record switch to Napoli. Here Maradona, now already used to a life of excess and indulgence, was introduced to a more sinister underworld of the Mafia's drug scene.
'Diego was attending parties where senior figures of the local Mafia were the hosts, definitely Diego in terms of his cocaine use was getting into serious abuse and his nightlife was becoming legendary,' Burns adds.
'He loved that kind of lifestyle, parties that lasted a long time. He's a charmer, everybody wanted to be around him, he was god on earth.'