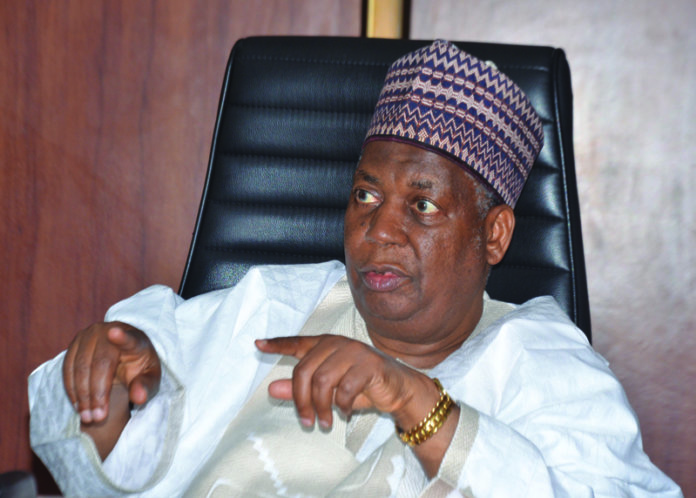 After an illustrious career, spanning over three decades, which saw him completing two terms as the Managing Director/Chief Executive of the Nigerian Deposit Insurance Corporation (NDIC), Alhaji Umaru Ibrahim, formally bowed out of office a few days back. First appointed as MD/CE in 2010, his tenure was subsequently renewed by President Muhammadu Buhari in January 2016. Under his leadership, the NDIC witnessed huge transformation in the implementation of its mandate and public policy objectives. Just before his retirement, Ibrahim fielded questions from the THISDAY Team of Iyobosa Uwugiaren, Ndubuisi Francis and James Emejo, where he spoke on sundry issues in the financial sector, reliving his experiences and offering suggestions on topical issues. Excerpts:
Could you share with us your experiences throughout your stay at NDIC both as executive director and chief executive, especially your most challenging moments and successes?
Well, thank you very much. As I always say, the journey is long, interesting, tedious and challenging. We thank God that we are here today. When I joined the NDIC in 1989, I think there were less than a hundred of us and we were drawn from different areas; some from the central bank and some from the universities and very few who had some stint in banking and some of us from the public sector. And naturally, the challenge was to settle and extend the business of the organisation that was newly set up and we had to start from, if you like, ground zero. We had to come up with a framework for bank examination which was not that difficult at least since we came from the central bank and the pioneer MD came from the Central Bank of Nigeria- late Mr. John Ebhodaghe, of blessed memory.
So, we adopted the framework for bank examination that was in existence at the CBN and he was chief bank examiner which was equivalent to a director's position. So, that was one of the greatest tasks.
Now, you recall that NDIC was set up as a result or in appreciation of the deregulation and liberalisation of the banking system at the time which means that as you know we had hundreds of banks and there was a lot of liberalisation in terms of licences of new banks and it was felt that if there was a free entry, there must be free but orderly exit of institutions that may have to be liquidated. And therefore, NDIC was established to ensure that you provide some protection and comfort, confidence for depositors – so that they don't wake up one morning and see their hard-earned deposits gone because of problems that the banks might experience.
As you would recall, what triggered the distress of some banks had to do with the Structural Adjustment Programme (SAP) which resulted in sudden devaluation of the naira which also necessitated the withdrawal of government deposits from the banks.
So, our first task and challenge was to settle down, know your colleagues, know your environment, know the responsibilities of the organisation and come up with a framework for doing what you are supposed to do. Now, my first assignment even as a deputy director or the most senior of the deputy directors – my first assignment was to develop a framework for granting of financial assistance and technical assistance to ailing banks and I headed a whole department that was called Financial and Technical Assistance Department and that was a bigger and new challenge because hitherto the CBN was granting some kind of assistance usually a short-term liquidity support for the banks – just as you would go to your bank and obtain an overdraft. But here, we had to develop a robust comprehensive framework that would determine which bank would get what assistance and under what condition. So that took us to the US Federal Reserve Bank particularly the Federal Deposit Insurance Corporation to learn the ropes and we developed the templates among other things.
Another area had to do with bank liquidation. Bank liquidation was never undertaken until then and as you know, the normal thing that for non-bank institutions, it is to hire consultants, accountants and appoint them to wind up the affairs of the institutions. So, banking being a specialised institution and deposit insurance being highly specialised, we were saddled with the responsibility of again, coming out with a policy for liquidation of banks – under what threshold must you liquidate a bank and how do you go about it. So, the law establishing NDIC has given it that mandate to liquidate banks in extreme circumstances. So, these were the challenging moments ab initio and moving forward, we settled down, faced the job and as fate would have it, I think barely two years after, NDIC was established, we were confronted with the need to start liquidating banks following what I told you.
Some banks clearly could not cope with the certain changes in the environment. They had their own internal issues. At times, they experience internal boardroom squabbles, fights, insider dealings, frauds, incompatible human beings being on the board, element of greed, giving loans that went bad for whatever reasons; some of them genuine reasons and so on. So, we were faced with the task of undertaking multiple bank liquidation which was never done in the country before and even in most African countries for that matter. So that required a lot of leadership, a lot of skills and expertise and transparency because there must be good reasons for the CBN, in the first instance, to withdraw a bank licence and for the NDIC to be appointed as a liquidator by a competent court or authorities. So, it was very challenging as we had to undertake some kind of assessments.
As soon as you put liquidation in motion, you want to go into the bank, take stock of whatever is there in terms of assets, loans, advances, physical assets and what have you, so that you take steps in due course to recover the loans, sell assets, determine the depositors, verify them and you start paying them immediately because that is the essence of reimbursement so that again, somebody's deposits maybe N100,000, N200,000 or N300, 000 would not be just there for donkey years before he gets paid. If that happens, you can't knock at his door or his neighbour's door and say they need to keep your money safely in the bank – for what? I mean he would ask you. Or I'll rather keep it under my pillow or in my garage or store so that tomorrow I can always collect my money – I don't trust these banks – if they go under, who's there for me? So NDIC is there and that is the essence of it.
So these were part of the teething problems but thank God we managed to scale through and established our mark and in the later years as you know we witnessed the failed bank era of failed bank decree which resulted in the establishment of failed banks tribunal. That was a very big challenge – some of us were involved in the establishment of the tribunals, in providing support for them, in ensuring that they had comprehensive records that the police needed to undertake investigations before prosecution would be successfully undertaken and as you know, a lot of the cases were prosecuted, I think We had about half a dozen tribunals in various parts of the country and we had a lot of collaboration with the police and with the judiciary all with a view to sanitising the system to ensure that those who contributed to the collapse of the banks were brought to book and a lot of success was recorded in that.
And what was important to me again is professionalism, transparency and fairness and equity. After all, all of us had to appear before the tribunals – NDIC, police and the lawyers and it was left for the tribunals to judge who was wrong and what punishment to be meted to the person, the institutions and that era resulted in what you may call unveiling of the veil because people at that time were hiding under companies – saying I am just a shareholder or I am just a director – but when the chips were down, who were those behind the companies? So they were unveiled, they were exposed and if you remember, some big names were exposed in this country. So that helped to sanitise the system and with the advance of democracy, the law was changed and the whole structure was changed and the police and EFCC more or less took over investigation and prosecution of those cases. But we still have a team right from that time comprising EFCC, CBN, NDIC, the ministry of justice, and the Nigeria Police that are still saddled with investigations of some of these cases. A lot of them fresh cases which we refer to them.
Sir, what has been your relationship with the CBN in your efforts to sanitise the banking system?
Well, our relationship is obviously collaborating right from the inception of the Corporation. Before the inception of the Corporation and before the establishment of what is called the Explicit Deposit Insurance System, the CBN was providing some kind of implicit protection to depositors. But like I said, with the deregulation and liberalisation and explosion of banks, and the problems that were foreseen due to the Structural Adjustment Programme, that regime of implicit implied giving depositor protection and was changed to an explicit one that is provided for by the law and with certain conditions. So, our relationship has always been collaborative; we were like 'bond' in quote with the Central Bank of Nigeria. Our late chief executive, John Ebhodaghe came from the CBN and he was a chief bank examiner before and we were very lucky to have him and we were extremely lucky to have the likes of chairman, late Abdulkadir Ahmed who was governor of the CBN and who was the chairman of the board of NDIC. So, the board comprised the CBN governor and chairman, we have representatives from the ministry of finance as well as the CEO and two other executive directors.
So the NDIC is like a child born by the CBN and our relationship continues to be that of collaboration.
Under our law, we are empowered to independently examine the banks, issue them instructions in accordance with the law, the BOFIA as well as directives or prudential regulations that are being issued by the CBN. Now, one thing is clear – and this is an area of contention which can bring about an unnecessary misunderstanding and as far as our relationship with the CBN is concerned. We have always conceded that as far as the arrangement is concerned, the CBN is the regulator. We are supervisors and we supervise the banks. We don't wake up one morning and say, this should be banks' liquidity position or you need more capital and so on (I am just giving you an example) – or this is the way foreign exchange should be managed. But they consult us because part of our mandate is to contribute to banking policy.
So, in a lot of cases, before they roll out rules and regulations, we are consulted. We have a forum which was established right from the establishment of the Corporation – CBN/ NDIC Executive Committee on Supervision of Banks. So, we sit down every quarter to review developments in the industry in all its ramifications, we agree on a number of issues and we follow them through. So our relationship is collaborative and they are the apex organisation, they license banks, they withdraw banks' licences and so we give support to them and to the government to ensure that the banking system is safe and is stable and that ordinary depositors don't lose their money because of reckless behaviour of banks or due to certain extraneous circumstances.
The NDIC had pushed for more supervisory powers by way of amendment to the Banks and Other Financial Institutions Act (BOFIA) 2004. You consequently made presentations before both the Senate and House of Representatives committees during the public hearing on the amendment bill which was eventually signed into law by the president. To what extent does the new regulation meet your expectations?
This is the situation. Our board is still examining it. You heard me; I just spoke with the minister and I said I will see her on Tuesday. So, there are some issues that we really need to take on board and iron out so that our responsibility and functions and powers are not in any way jeopardised in the interest of the stability of the banking system otherwise we are okay. .As you recall, we were at the public hearing; we stated our views and the central bank and all other parties were there and at the end of the day what came out of it, to be honest in certain areas doesn't meet our expectations. But when we raised the issues, we were given every assurance that don't bother, it would not be the way you think. That things will continue to be done smoothly without prejudice to the roles and responsibilities and powers of NDIC as enshrined in our Act.
But then, as the lawyers will tell you, the provisions of BOFIA as it is overrides the provisions of the NDIC Act should there be a conflict. But that is the truth- and to that extent, we would like to see the areas that we are not happy with. We like to see how that could be tackled. You either look at the BOFIA again or make certain statements that in this or that section, the NDIC Act as it is prevails. That kind of statement, which means you may have to amend the BOFIA. So this is the situation. Our board is still examining it. You heard me, I just spoke with the minister and I said I will see her on Tuesday. So there are some issues that we really need to take on board and iron out so that our responsibility and functions and powers are not in any way jeopardised in the interest of the stability of the banking system, otherwise we are okay.
What would you attribute to the current drop in Non-Performing Loans (NPLs) in the banking industry?
One, you need to understand that loans are given for the purposes of helping those who collect the loans to do their business, utilise them, make some money and you pay so that both the borrower and the lender are happy in the interest of whatever business they want to undertake. Now, many factors could be attributed to non-performing loans and some of them could be instances where, may be, the loan administration or management is faulty in the first place. May be you have not strictly followed the rules of the game, you take undue risks – somebody who doesn't seem to have the capacity of utilising say N10 million or N20 million – but because the chairman knows him or a director knows him or somebody else, he will take the risk and give him N20 million – and he doesn't have collateral in case there is a problem or may be the collateral is overestimated for whatever reason.
May be he doesn't even have the character even if he has the collateral, he doesn't have the experience, he doesn't have the business acumen and yet you take that risk. So that is dead on arrival.
But it could also be that he has good business plan and very good intentions and character and willing and able to pay his loan but suddenly there is a change in his own business environment or there is a disaster – it could be flood, it could be COVID-19 and it could be changes in government policies. Maybe, he is a rice farmer and suddenly he opens the floodgate and you have smuggled rice. So, there are many factors. Particularly as you know, with the oil and gas sector, some of the banks are still carrying legacy bad loans traceable to the oil and gas sector. And you know the oil and gas sector has been very messy in this country for several years. From the importation of petroleum products, pricing, and subsidy – all of these have died. Also energy: those who borrowed money to buy distribution companies are now finding it difficult to pay for many reasons. The tariffs are low, consumers are not paying, there is insecurity and there is general problem in the economy, I mean, business will suffer.
So, it's a combination of all these factors that makes it difficult even for banks to lend now. That's why they are awash – there are in so much liquidity and they will rather keep that liquidity or go for treasury bills and so on, which the government is discouraging. And a lot of the banks that were liquidated that we just discussed went under mostly as a result of bad loans that were recklessly given in some cases.
Sir, how much of consumer confidence is currently left in the banking system especially given the huge disruptions caused by the COVID-19 pandemic globally? As the outgoing MD of the corporation, what are your recommendations to strengthen the supervisory and regulatory framework in the industry?
Of course, it should always be the case anywhere in the world. If you don't have confidence in the financial sector or the banking sector, the consequences are obvious like I told you – you and I will keep our money at home – the banks will not lend to you if they don't have confidence in you and you cannot go to the bank and ask for a loan and so it is a vicious cycle. So confidence will generate a vicious cycle, a win-win for everybody for the banking institutions or for the financial sector – whether it is insurance or pension and banking or what have you. Confidence is key in any relationship and banking is founded, above all, on the basis of trust and confidence.
I think globally, supervisors and regulators need to continuously sharpen their skills and capacities and show more understanding of the rapid changes in financial landscape, the intrusion of technology and technology driven products and services which have disrupted the traditional channels of financial intermediation.
These must be reckoned with. It's about bringing about some kind of equilibrium between promotion of innovation and ensuring that the innovation is within limits, understood and managed so that the entire system is not threatened. Particularly for us in the third world, a lot of the talks now all over has to do with the emergence of Fintechs – financial companies that offer all manners of financial services to you and I and they are not necessarily banks.
And they are not necessarily deposit taking institutions and yet they are players, call them shadow banks. You can borrow in a minute using your phones and repay and they can easily track your record using your phone number – so it's about transparency in the whole manner which we transact and deal with one another in life now. There's almost no hiding place- as we speak. Somebody can Google and see us here and you can't tell your banker that sorry I am not in Abuja, I am in Lagos because he can see you in your bedroom if he likes. So, the task for everybody, whether you are in Japan or US or Russia or Uganda or Nigeria – it's almost the same as far as the provision of financial services is concerned. Understand the game, understand the products and services, the tools that are used, monitor them effectively, encourage innovation don't stifle it and at the same time regulate it so that there's fair play.
A point of course is the emergence of the pandemic globally. Various governments through their central banks, ministries of finance, deposit insurance institutions where they exist, have adopted various policies to support the revival of their economies and to shore up confidence in their systems by strengthening regulations and supervision, by relaxing some rules and regulations where necessary, by injecting funds which central banks do all over by coming up with monies for palliatives. COVID-19 loans in the US are cheap loans that are given to the SMEs, to the poor and we have all manners of COVID-19 type loans here in Nigeria as you know which is being issued either by the CBN or the ministry of humanitarian affairs or the National Directorate of Employment or many other arms of government and they are largely long term, not quite interest-free but low interest and long-term to refill the economy and get us out of recession, if you like.
Now, this as far as the fiscal authorities are concerned, the monetary authorities, the CBN is, we know, also participate in ensuring that the banks still stay safe and still give loans, still help the economy so that it is not strangulated. But at the same time they do it in a safe and sound manner. The CBN, for instance, has encouraged the banks to look at the totality of their loans (these NPLs we are talking about); what are the causes of the problems? In which sectors are they—manufacturing, services, hotels, transport, oil and gas? Look at how hard the sectors are hit and restructure the loans by giving them more time to pay, so that at the end of the day, you don't overkill. So, generally speaking, all hands must be on deck by the banks, the government, the CBN, deposit insurance.
And coming to deposit insurance, what is happening is that in recognition of the possible severe distress that some of the banks may experience, whether they are microfinance banks or primary mortgage banks or the big deposit money banks. In anticipation of that in some areas and in some parts of the world, they are now ready, may be, to grant some concession to the premium they collect either by deferring. If you are supposed to pay on the dot December or January every year but because of these experiences, we give you up to six months more or three months more to pay or we stagger it. Or we even give you like two, three per cent discount on your premium. So, there are lots of issues around this and a lot of policies are being adopted.
Here in Nigeria as far as NDIC is concerned, we are also looking at our framework for granting of financial assistance to these banks. If a bank comes to say, we have issued so much loans, and next year we may not make much and so this your premium we may not be able to pay 100 per cent at a particular time, can you give us more time – or can you give us a rebate. We will think in terms of that but if they come to us and say can you grant us temporary financial support or liquidity support so that we meet our obligations to our depositors? The moment you go to a bank and they say come tomorrow or a day after – you are sending a wrong signal and what you spread is that something is wrong with that bank. And before you know it everybody will want to withdraw their money.
Part of our responsibility is to consider granting of such financial assistance or temporary liquidity assistance to a deserving bank. I used the word 'deserving' bank because the trick here is what constitutes a deserving bank? You run short of money or your capital is gone, your shareholders cannot raise shares now, we will look at all the issues and see whether you deserve it. We must satisfy ourselves that you did not recklessly and deliberately almost run your bank aground and then come to me and say support me. No. It's your business, you have been given a licence in trust. Your job is to be capable and so you are expected to run that bank successfully and profitably.
What kind of NDIC are you leaving behind? Can it respond to modern challenges in the financial system?
Well, by God's grace I think we are leaving a very solid, well established, well-grounded organisation that has embraced a very good system of operating. One of our critical focus is to ensure that we are operationally efficient in the way we deliver, the way we examine banks outcomes, in the way we examine the conditions of banks, in the way we liquidate banks and in the way we grant financial assistance to banks, in the way we relate to other stakeholders – the media, the CBN, the National Assembly and everybody. So, that is always at the back of our mind to be efficient and prudent and to deliver on our mandate in that manner. In the process of course, things have changed; like I earlier addressed, the landscape is rapidly changing, the banking landscape is changing. We are no longer talking about brick and mortar banking; you can do banking in your bedroom, wherever you are and so we have to retool. We have to acquire the necessary skills, we have to understand the game and for instance, we just established the Fintech and Innovation Unit that will interface with the industry and other regulators and so we are on top of the game.
So, one is leaving behind a fairly solid, well established, well-structured and well managed organisation that has developed a crop of highly skilled, talented professionals that are largely upright. In the last decade, we've embarked on the recruitment of young staff fifteen years back given the fact that a lot of us are ageing. Those who started NDIC in 1989, a lot of them in the next five years won't be here, it will be the younger ones who will take over. So, that's why in terms of organizational renewal and change, you have to reckon with all these. But you are the jury and judges out there – the banking system, the media, everybody is out there and it is not for us to judge our success. It's for the industry and the generality of the people to do that.
Have you been able to pay all depositors of collapsed banks so far?
No, not at all. As we speak and like I told you, we started liquidation of banks around 1991/1992 and as at today, we have liquidated about 43 deposit money banks. These were banks some of you cannot even remember. These were small banks that were all over in Lagos, in Ikoyi and Victoria Island – that got their licenses during the military era. A lot of the names have even disappeared from my memory; there are many of them. Anyway, the process of liquidation and identifying debtors, collection of debts through lawyers, through recovery agents, through the courts even disposal of assets – these are long and tedious processes particularly debt recovery given what I said about the loans ab initio.
So, we have numerous cases in court that we have been pursuing and we have modified from time to time our debt recovery policy so as to attract more of these debtors to come forward to pay their loans; give them more time, more concession because again, to be fair, a lot of the loans went bad because of the terrible interest rates that they accumulated which were not realistic but at that time desperate people, individuals or companies will still collect those loans because there were no options and a lot of the banks will have to make money anyhow.
So, to answer you, we have not been able to pay all the debts owed to depositors because you have to have the funds to reimburse them…. If you go through our annual reports, you will appreciate that we have done that a lot. What we have not been able to reimburse is the extra or what we call the liquidation dividend. Even at that, there are about, may be, a dozen banks or thereabout that we have paid even the extra. And what I mean by extra is that okay, you have a million naira in a bank and the insured amount is N500,000, and the bank is in liquidation. We ask you to come and fill some forms offline, online just to give us some comfort and we check and say yes, we have this amount. Here, it is N500,000, give us your account and we send it to you.
But the balance of N500,000 – sorry, we don't have it now. We have to recover the loans we give you. If we do that and we see that for every one naira you have we can pay you 40 kobo or 50 kobo today, we pay you and then as we recover we pay you up to the end. It's a slow and tedious process particularly in our environment because most people are illiterates. We always give this example: a lot of these unclaimed deposits from our survey, a lot of them are below N5, 000; so you had N50, 000 in Allied Bank 10, 15 years ago when it was in existence may be in your neighborhood and you had collected everything and what was left was N1, 000 or N5, 000 – and then someone in NDIC tells you to come and fill a form and collect that money…. So, there are a lot of factors that discourage some claimants and depositors to come forward because the money is not enough. But with technology, with changes, all these things will come to pass because the processes would be much faster.
Do you really see the need for NDIC to extend cover to Fintech companies especially amidst the threats posed by the internet as well as the growing popularity of digital currencies? Is the corporation prepared for these emerging dynamics in the financial landscape?
Well, like I told you, you cannot manage it control what you don't understand. So, first thing first. We try to understand the game, it's an evolving game. And I addressed the issue of the emergence of these financial technology companies. There's an ongoing debate globally as to how you supervise and regulate them. You can't leave them to do anything they like because it will affect me and it will affect you in one way or the other. If they defraud him and tomorrow it gets all over the place, it could be you the next day. Like I said, we are re-equipping ourselves, we are retooling ourselves to understand the game and to be able to supervise and manage it in the interest of everybody.
Now, you talk of crypto-currency, it's one of the emerging channels or products of storing value. To those who are multi-millionaires of crypto-currency, they believe that they are millionaires: money is in the air, skies, in their phones but we don't see it, we don't smell it and we don't touch it. But my son and daughter believe so much in it and they transact – and in some parts of the world, you can pay for all your services in crypto- currency and there are some universities where you can pay your fees on crypto-currency. But we are not there yet. But all the CBN and NDIC are saying is that look, you are on your own – nobody is saying it is illegal or illegitimate. Do whatever you like but it is not recognized by the CBN, and it is not a legal tender and it is not insured by us. So if you like, gamble, we will not stop you. That's our understanding in the system so that when the chips are down… Obviously, it has to be regulated.
And the few Fintech companies that have been licensed; we are studying them, we are in touch with them and what we are saying is that the typical definition of a Fintech is that it's a non-bank, not licensed by the CBN, it's not a deposit taking institution and it's not insured by NDIC. This is a global definition of a Fintech that is issued even by the Financial Stability Board which is a global standard setting institution. And the World Bank, IMF have their own definitions which are almost similar. And if you recall, about last year, there was a huge debate. Just to give you an example, in the US where some large banks, a few banks and some of these technology companies, Google and so on were trying to come up with their own type of currency similar to the crypto currency and there was a lot of debate in the Congress and so on about the possible illegality- and President Trump descended on them and said the US Treasury will never recognise them. But it is innovation.
There's a limit to which you can stop it and one day it would happen and somehow you must find a way to tame it, control it, manage it in the interest of everybody. So, we are studying and if they are deposit-taking, we have to protect your deposits, but if they are not deposit-taking, just licensed as payment platform only then we don't come in. As you will recall, CBN has licensed about five payment service banks that are largely technologically-driven. Now, those payment service banks have only one leg – they can take deposits and therefore we are insuring them but they don't give loans. So, it's an evolving matter and the challenge for all of us is to understand the game, read and follow up.
What do you think are the roles of regulators and supervisors in avoiding systemic distress that could necessitate the setting up of the likes of AMCON in future?
Thank you. You see the role of supervisors and regulators is to minimise essentially risks, to ensure that undue risks are not taken by banks. And we have said a lot about giving bad and good loans, about good conduct of top management, of directors, the awareness of shareholders. You and I might be shareholders in banks – we need to follow what is happening beyond going for the annual general meeting (AGM), some of which are manipulated. Now, this is the responsibility. We all know what led to the accumulation of bad loans that culminated into the introduction of AMCON.
You were talking about what happened in 2007/2008 during the banking crisis globally and we are not immune from that. And we recall that during that meltdown, if you scan what happened in Europe and US, of course, there was collapse of commodity prices, there were issues relating to huge insider abuses, there were issues relating to phenomenal fraud and manipulation of records of financial institutions and the contagious effects of the collapse of major institutions in the US that had ripple effects globally. Now it's a long story but we should hold that as a background. Now, you see in the US for instance when some of these stability funds were introduced by the government, treasury, deposit insurance, some of the banks said no we don't want them; we gave out bad loans, we would recover them.
Some of them collected the loans happily and they repaid and you know automobile industry and many other industries got those loans and some said we don't want. There was a lot of dramatic or phenomenal foreclosure of real estate in the US given what had happened. Anyway, coming back to Nigeria, you see the truth is that yes, we were affected globally, commodity prices, foreign exchange issues, bad debts, among others, but our own problem, from all indications, were compounded by the reckless behaviour of a lot of the banks that could be attributed to some kind of flagrant connivance between the banks and those huge borrowers that borrowed in billions. And may be, me and you, if we go and knock and say we want an overdraft of N500,000 or N5 million, it would be a long story but there is some who will get billions and billions for many reasons, like I said – and they were either unwilling or unable to pay. The whole banking system was being strangulated.
We had an extensive audit of those banks at that time – 2007/2008 and the exposure was tremendous and therefore, it was like a growing cancer that had to be removed to save the body and to save the entire family and some surgical operations to be undertaken by carving out those loans, creating AMCON, selling them to AMCON so that AMCON could manage them, give those banks some liquidity because they were almost aground and if you recall, six or 10 of them had severe liquidity problems. But the CBN dished out over N600 billion in liquidity support to those banks apart from the monies they collected from AMCON by selling those "tokunbo" loans to AMCON. So, the system had to be saved and there must be a cost. Cost of resolution and AMCON is a temporary stop gate measure to resolve those monumental problems of the time and it's a noble project and programme. If you recall, in Europe, there were lots of debates about what to do with those bad loans and debtors and who will bail out and at what cost. Greece is a typical example, if you go back and read in depths, Portugal and Spain – I am picking some of the weakest economies and institutions which have the weakest banking system.
The whole of Europe had to come to the aid of these countries and the central banks in one way or the other because they have the European central bank and because of that as part of the reform in Europe for instance, they decided to establish a pan European deposit insurance, a central deposit insurance that will help; if the Greece deposit insurance or that of Spain have ran short of money, they can give them loan – it's like a reinsurance which we don't have here in Africa. The same thing happened in the US, during the banking crisis, the Federal Deposit Insurance completely ran out of money when it was busy helping and giving out loans to the banks; of course, they repaid. And because they ran out of money, they had to ask some of the banks to say, pay your premium upfront. Yes, AMCON is a thorn in our flesh, we the entire society to some extent; I am not talking or the common man who does not know what's happening – some segments of the society are to blame for what has happened – the banks, the borrowers, may be the economy and all of us in a way.
Now, in discussing all these, of course, there are issues around the regulators like where were you when these things were happening? There seems to be some laxity, connivance, incompetence, compromise, you name it, this is the debate. This was the debate all over. But you see without defending and duly defending the regulators, I will say that no matter the tools you employ, if somebody wants to steal from your assets, he will be much ahead of you and be smarter. And at that time we also know that the banks were not well managed. Those that suffered this crisis, because of the extreme unprecedented manipulation they embarked upon. These were banks that were deceiving their external auditors, that had compromised their internal auditing system and some of them had several severs where they stored information. Even within the banks, I keep saying that if you are an executive director, East or North, you are not sitting in the headquarters and you are not in the cabal – you don't know what's happening: the MD or the key ED or one or two external directors of the chairman will be running the bank in the night and you will not know. You are a GM or ED and so what? It's what they tell you and what they show you and if you don't like, go. They'll sack you that is assuming you even know.
So, these were part of the problems and like I said, this is generally in third worlds like Kenya, Tanzania or Zimbabwe. When you hear their story, you'll wonder where you are in this world. You can't do that in the US and get away with it or even in Greece. If you go through the history of Greece, I think even the central bankers were sent away and one or two ministers of finance were also prosecuted, not to talk of the banks themselves. So, all of us have to sit up, we have to do better, but I think what is very important is enforcement of the law. Even as regulator, somebody does something wrong, you investigate, you want to prosecute – you can sack him, sack the board, sack the management, go to court but we know what happens. So, we need to improve on our entire judicial system and to be able to enforce the law particularly in a situation where there is evidence of recklessness.
But then, until somebody is proved to be guilty, he is presumed to be innocent. And again, like we know, the court system, there are people who can hire the best lawyers; lawyers who can make sure that the case drags for 20 years until everybody is dead. Meanwhile, if you keep a loan of X amount, you keep 10 per cent, 20 per cent of it to fight anybody…There are dedicated courts for AMCON and they've been there for about four years. What have they achieved? Little, because of the judicial system and so it's part of the paradox; it's part of the contradiction of capitalism – banks are engines that would support growth of capital and growth of private businesses largely and they are privately owned but they have to be regulated by government for the good of the society. Again, this finally speaks to the issue of say okay, can we ever stop or check banking distress or banking crisis globally? And the answer is no. Life continues; you have cold today, tomorrow it's COVID-19, the other time it was HIV.
So, things would continue to happen, it's the fact of life and nobody can predict and nobody can give you that certificate that there will be no banking crisis. There will always be crisis, whether it is in the health sector, banking sector, whatever sector you pic. Banking cannot be treated on isolation. But then, there are many theories and models about what will trigger the crisis, what the dimension of the crisis would be, what the cycle of the crisis will be – may be 10, 15 or 20 years – and you have to tie it to so many factors globally. And that's why AMCON, may be, should have a lifespan of whatever is set out to be achieved is achieved. Then, you set it aside as a legal entity, keep it there and whenever there is a crisis you bring it back. As a weapon if there's a war you bring out your weapon and deal with it depending on the nature of the war.