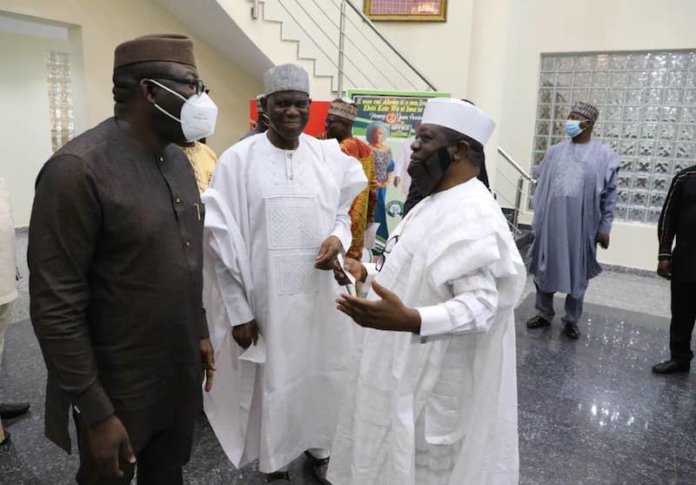 Bennett Oghifo
The Architects Registration Council of Nigeria (ARCON) has recommended that the Ekiti State government use the Architects Project Registration Number (APRN) to enable them track revenues from property transactions.
The President, Architects Registration Council of Nigeria (ARCON), Arc. (Sir) Dipo Ajayi gave this advice when he led members of the council on a courtesy visit to the Ekiti State Governor, Dr. Kayode Fayemi, recently.
The ARCON president said the APRN would provide the governor with a database of all building approval registrations carried out in all local government areas within the State. This database is updated in real-time, and would enable the governor to track revenues that accrue to the state from: building approval charges; land use and appropriate taxes; property taxes; ground rent; other building development related revenues; enable the collation of labour and employment statistics in the state from the tracking of building construction activity on the registered projects within the APRN database.
It will also initialise the development of a full database for all building development in the state to enhance IGR from the building sector; promote the immediate evaluation of buildings as they are submitted for approval in each LGA through communication with designers to meet required building regulations and standards; act as a strong preventive measure against building collapse; improve the beauty and landscape of the state, and grow the capacity of building industry professionals within the state.
This whole process, Ajayi said should be managed by Architects but expressed concern that there were very few of them in the state's public service because of poor remuneration.
He said, "To drive the above, the State Government is required to ensure the appointment of at least one ARCON registered and certified Architect to oversee the administration of the APRN System within each local government area and see to the appointment of a State Director of Architecture who shall also have direct access to the APRN database for efficient administration within the State."
Governor Fayemi said he liked the ARCON president's proposition and advised him to make it national by presenting it at the Governors Forum where he is chairman.
"We have noted the presentation by Arc. (Sir) Dipo Ajayi, ARCON president and I can tell you that we don't have any objection to APRN initiative. However, for this initiative to be grounded, ARCON should engage my colleagues through the Governors' Forum.
"For us here, we do not have enough architects in practice, particularly at the local government level. But we do have a Land Use Charge, which is really something that enables us to enumerate the properties we have in the state as well as having detail information on those properties. We are just about expanding and digitalizing our record in the area of property through the GIS system. That will help us to have accurate information that will assist the state for both assessment and revenue generation.
"So, I see your proposal of APRN as a product that could work very well with our Land Use Charge and our Master Planning Process, not just for the capital city but, for the entire state. We are also in support of other issues you have raised, though some may not be within our purview.
"Take for instance, entry point into the civil is not determined by us. The National Council on Establishment determines that, though Ekiti is a member of that council. Issue of this nature is deliberated there. And I think ARCON can find a way to approach the Council for proper redress. I expect Arc. Echono, a very senior federal permanent secretary and president, Nigerian Institute of Architects (NIA), to play a more active role over entry point of architects into the civil service. I do agree with you that with you that as professional such as architects cannot be placed on the same entry level with others, they should be given special consideration like doctors etc.
"On your request to employ more architects in the state, particularly, to get involved in our Farm Settlement Schemes, Urban Renewal Programmes and various building projects, we're already doing that. I can tell you that we are currently revamping our Farm Settlement Projects and architects are involved both on our side and the side of our partners. But for sustainability, we are doing this project through PPP initiative, rather than government driving it. And we have our processing zones and architects would be used in designing these zones.
"Also, I am glad to inform you that, an experienced architect is heading our Special Project Bureau, and he is helping us with quality and standards of these projects.
"We will need your assistance in providing oversight function for our Federal University, Oye, Ekiti, which is in the process of commencing programmes on environmental designs. We are counting on your usual support on this.
"Another area we would need a maximum support from your council is in the area of our Master Planning Projects starting from the capital, Ado-Ekiti. This is necessary to forestall the attitude by some, who keep building arbitrary. The Commissioner for Housing and Urban Development has been charged to drive that process. Master Planning is what we are focusing on. We also have Master Planning for our knowledge zone, which is our smart cities that sit in the heart of our universities namely: Afe Babalola University, Federal University, Oye; Ekiti State University and we would need the knowledge of architects and environmental designers. This is geared towards wealth creation and putting into good uses many of our young people, who have innovative ideas. We feel architects would definitely have inputs in these projects. And I am sure the head of Special Projects Bureau will be glad to discuss with ARCON further on this."