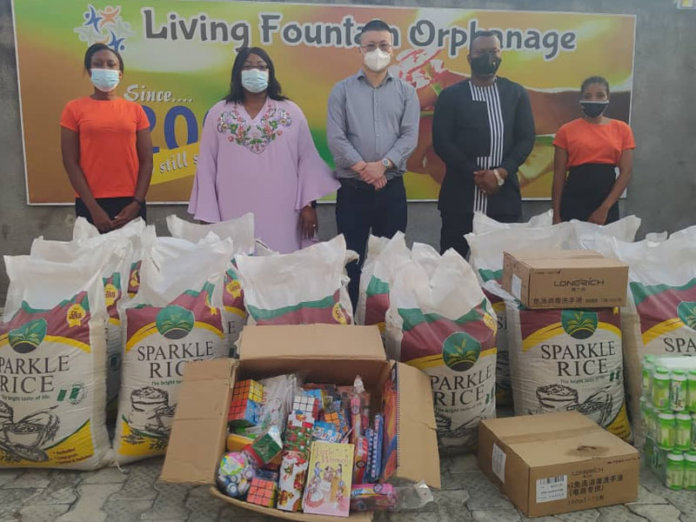 As part of efforts to cushion the effect of COVID-19 and reduce crime rates in the country, Longrich International Company has donated food and household items to the less privileged in the country.
Beneficiaries of the gesture included: Love Home Orphanage, Living Fountain orphanage homes and Pacelli home for the Blind, all in Lagos State.
The company represented by its senior management was led by the Chief Executive Officer, Longrich International, Mr Alex Jia, the Black' 5 Star Director, Titilope Olubisi Ejimagwa and 'Black' 4 Star Director, Seun Oshofisan.
Speaking at the event, Jia explained the gesture was part of the company's corporate social responsibility to give back to society and a way of identifying with orphans.
He said "The company find it necessary to extends love to motherless and fatherless people including the disabilities. We are not only doing this because of festive period but a regular projects. The company has been impacting lives not only in Lagos but across Nigeria and entire world and it will continue the good gestures to enable orphanage children have a good living and better future. We are a God sent company to provide solutions to entire world's needs. Better lives, better future is what we are preaching".
Speaking further, Mrs Ejimagwa stated that Longrich culture is about giving and impacting lives positively. She added that the company has over decade engaged humanitarian service provider across the whole world.
She said, "Longrich company reached out to communities through the donation of several palliatives during COVID-19 to cushion the effect of the pandemic in the society. We have decided to extend the love to the orphanages to enable them have a better and enjoyable festive mood during christmas and new year celebrations.
"There is hunger in the country, even those that are working can not afford a better living not to talk of those that are handicapped and do not have anybody to cater for them.
"I think its time for everybody to go out there and replicate this to enable the needy feel a sense of belonging in the society.
"Longrich mission is about touching lives and as of today, it has helped over two million Nigerians out of poverty. Infact, over a million Nigerians are earning little monthly through this platform. It could be better if other coporate organisations, governments and well-meaning individuals could emulate this, supporting the orphanage homes to enable the society free from crime related issues."
While disclosing brief about the company, Mr Oshofisan said that Longrich is a global manufacturing company that produced the daily households daily consumption.
"What people spend money on regularly, from daily needs to household needs, baby care items, skin care items and health care supplement even time and financial needs as well.
" The firm has over 2000 products from eight different categories such as: cosmetics, health care, household equipment, furniture, real estate and logistics.
" We are not only a manufacturer, we are a company that has been touching and impacting lives over some years. We are always giving opportunity to people to switch brand and share profit with them, which means people can be empowered and earn regular weekly income through the use of their daily needs such as soap, sanitary pad, body cream, shampoo, baby diapers and everything people use in their various homes.
"People should not only spend money on what they need but on what would definitely bring back money into their pocket, something that would enable them empower others in the society. Most of the successful people in the world are those that give people solutions . Longrich is a solutions provider," he said.
He stated that the company deemed it fit with not only extending people that can spend money but the needy.
"The children that can not even afford to put food in their mouth. Children that can not call daddy and mummy. The company's gesture has positively impacted Nigerians and entire world".
While thanking the company, Matron of Living Fountain orphanage, Victoria Solomon, said, "On behalf of the founder, staff and entire children of this home, I appreciate and say a big thank you to the company. This is more than christmas gifts, it will go a long way in meeting the needs of the children who doesn't have anybody to cater and provide for their needs."
The matron also appealed to other corporate organisations, individuals and government to emulate Longrich, saying that such is the only way to ensure better future for children and reduce crime rate.