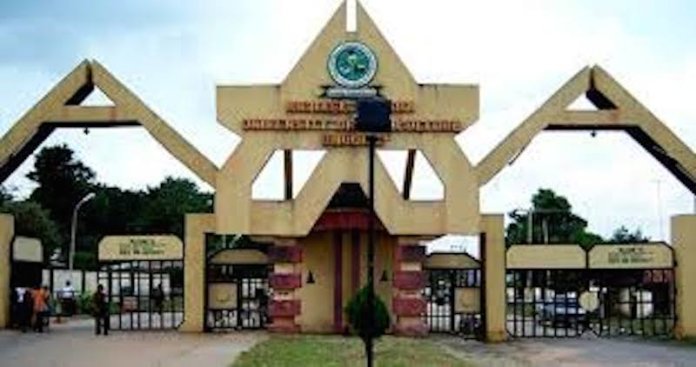 Amby Uneze in Owerri
After a two-day intensive screening process, a professor of Mechanical Engineering, Prof. Val Ekechukwu at the weekend ranked topmost as a choice candidate for the Michael Okpara University of Agriculture, Umudike.
Among 30 candidates that applied for the position, according to the Vice-Chancellorship Selection Board, Ekechukwu scored 88.93 points ahead of the first runner-up, Prof. Maduebibisi Iwe, who scored 82.35 points and Prof. Philipa Ojimelukwe with 69.67 points.
A member of the screening board, who spoke with our correspondent on ground of anonymity Friday, disclosed that about 30 candidates applied for the position.
The board member disclosed that Ekechukwu, Dean, Faculty of Engineering, University of Nigeria, Nsukka (2018-2020), scored the highest point in the selection process.
Already, the board member disclosed that the selection committee under the chairmanship of Prof. Victor Ndirika had completed its task and submitted the report of the screening process to the Governing Council of the university.
He said: "We need a neutral person, who would rescue the university. There are many cases in courts stunting the development of the university. It would be cleaned up and fresh air would be brought to the institution."
However, the governing council abruptly suspended the announcement of the new vice chancellor due to the invasion of hoodlums that disrupted the deliberation of the council Thursday night.
The attempt by the Pro-Chancellor and Chairman of the Governing Council, Hon. Lawal Zayyana to prevail upon the hoodlums, who invaded the venue of the meeting failed.
Consequently, the council resolved to move its meeting to Abuja in order to avoid undue interference in the process of announcing the successful candidate for the position.
Ekechukwu, who is a professor of Mechanical Engineering with specialisation in Applied Energy, obtained his doctorate degree from the Cranfield University, United Kingdom in 1988.
He was Director, Research and Innovation and later of ICT of NUC between 2007 and 2015; Fellow, Institute of Chartered Chemists of Nigeria (FICCON); Fellow, Solar Energy Society of Nigeria (FSESN) as well as Fellow, Renewable and Alternative Energy Society of Nigeria (RAESON).
He became a professor of Applied Solar Energy in 2001 in the Department of Mechanical Engineering, University of Nigeria, Nsukka where he was employed as Graduate Assistant in its Energy Research Centre in 1983.
Since 1998, Ekechukwu has been a member of the UNN Senate as well as member, Board of School of Post-graduate Studies of the University of Nigeria Nsukka for several years.