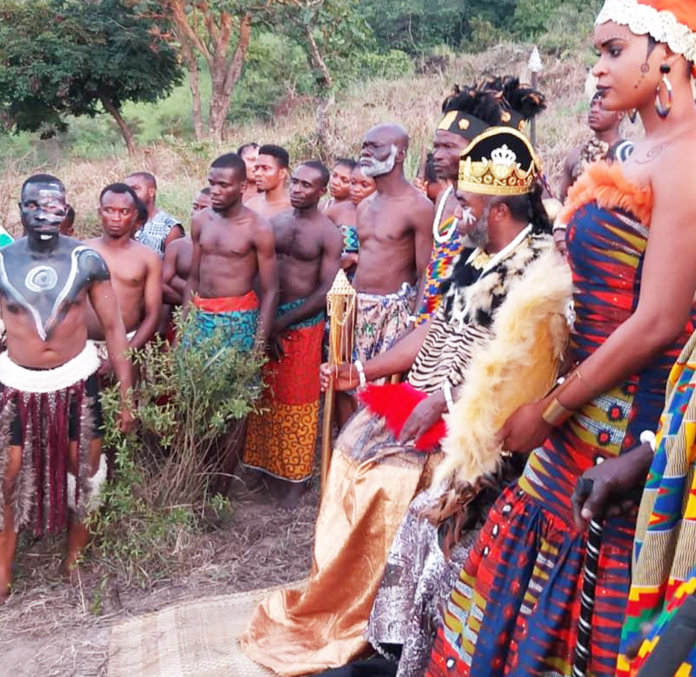 Biblically themed movie, Our Jesus Story, which opened in cinemas yesterday, is a love story on various levels and with its fair version that will make viewers wish for more. Ferdinand Ekechukwu reports
Our Jesus Story, the first of its kind African new interpretation and the use of an all-black African cast and crew, has opened in cinemas nationwide and promises to be a delightful watch and a totally deeper cinema experience this Christmas. The movie which premiered at the Imax Cinema in Lekki, Lagos had been put on hold just a few days after the event following the lockdown until yesterday when it started showing.
The much anticipated African twist and narrative to the universally-known story of Jesus the Christ titled, Our Jesus Story, offers resounding resonance of acclaims and praises, judging from the reactions and accolades already heaped on the film by those privileged to have seen the feature film at the much attended movie premiere. The movie tells the story of a pastor who went to a village and changed their perspective about their evil culture and embraced Jesus.
It follows the story of Tumbiika, a young man condemned to death for love in his pagan native land. He braves an escape from death by the whiskers, but twenty years later, he returns to his people and finds them as ready to put him to death as they were decades back, but they were in for a shocker as they find him now ready to die. His role model was Jesus Christ. His story would plunge the people into battle.
Speaking on the film, Ojiofor Ezeanyeache of OJ Productions said: "This movie is a special movie. It is a Jesus Story. The script for this movie has been written for 10 years now. . . As you know this is not our usual movie. I have watched this movie more than 10 times but each time, I have a different experience. So, there must be something supernatural about this movie. When you watch the foreign one some people don't connect."
Directed by ace filmmaker, TChidi Chikere, Our Jesus Story features top acts like Zack Orji, Sam Dede, Frederick Leonard, Eucharia Anunobi, among others. Giving insight to the movie, Chikere explains: "I've made faith based movies in the past but not for the big screen and definitely not on a big scale like Our Jesus Story. To make a movie that goes back in time we knew the basic places to get right apart from the story plot, and these were costumes and locations.
"Artistes' looks too – hair and makeup as well as props. Footwear which is part of costume was also a major thing to get right. Before we cast Frederic Leonard for the role we had cast other actors who ran away from the role because they discovered they couldn't play it or hold it down convincingly. Playing Jesus is not an easy task. And writing the script, I had to keep reading the bible back and forth and adding insights I got from studying theology on my own.
"New and deeper interpretations of the words Christ said while dying on the cross. Deeper meanings to his relationship with his Apostles, especially Peter who we know is very forceful and a fighter. At some point we had to deal with the elements…rain…sun.
They did not pity us while we were filming in exotic locations that best show the times of Christ."
Frederick Leonard who plays the Jesus character, made a really good attempt at portrayal. Perhaps, the most interesting part of it was when he recalls being asked, during the premiere, what he found most challenging about the role and he replies that it was the fact that he's very soft-spoken, very meek, yet very authoritative, very strong, very stern, and very direct. So how do you portray all of those emotions without coming off as brash? It took a lot of work."
The movie is a love story on various levels and with its fair version that will make you laugh, and cry, think, and wish for more. It is deep in its epic features, and it is African.