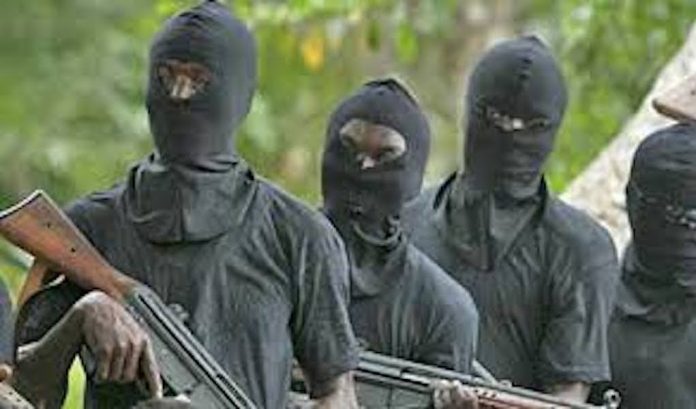 By Laleye Dipo
The District Head of Yakila in Rafi Local Government Area of Niger State, Alhaji Ibrahim Abdulhamid, has been kidnapped.
Also kidnapped were a staff nurse at Garin-gabas, whose name was given as Halima, and her two children.
THISDAY learnt that the kidnap took place around 2 am Thursday when the bandits raided both Yakila and Garin-gabas — two adjoining villages in the district.
According to the reports, the bandits, who were up to 20, rode on motorcycles and carried sophisticated guns including AK47 rifles.
"They shot sporadically into the air to instill fears in members of the communities, resulting in their running helter skelter.
"Some of the bandits entered the district head's room and forced him to go with them," the eyewitness said.
Several of the villagers were said to have run into the bush for their safety, it was learnt, while the bandits stole mostly their agricultural produce.
No life was lost.
The eyewitness said both the local vigilante and conventional police in the areas were caught unawares by the bandits, as such they could not repel the attacks.
When contacted, the Director General of the Niger State Emergency Management Agency, Alhaji Ibrahim Tanko Inga, confirmed receiving the report early Thursday morning.
"We will get the details and get back to you," Inga said on telephone.
Rafi Local Government has come under series of attacks by bandits in the last couple of days.
Last Monday, the palace of the village head of Pangu in Gunna district of the same local government area, was set ablaze by bandits.
Also burnt during the raid were the rural hospital built and donated to the community by the World Bank, several houses and freshly harvested agricultural products.
The incident also rendered many villagers homeless.
It was gathered that the bandits also rode on about 13 motorcycles and carried sophisticated and dangerous weapons.
The police have not issued any statement on the two incidents.
Efforts to reach the state command's Police Public Relations Officer, ASP Wasiu Abiodun, was abortive.