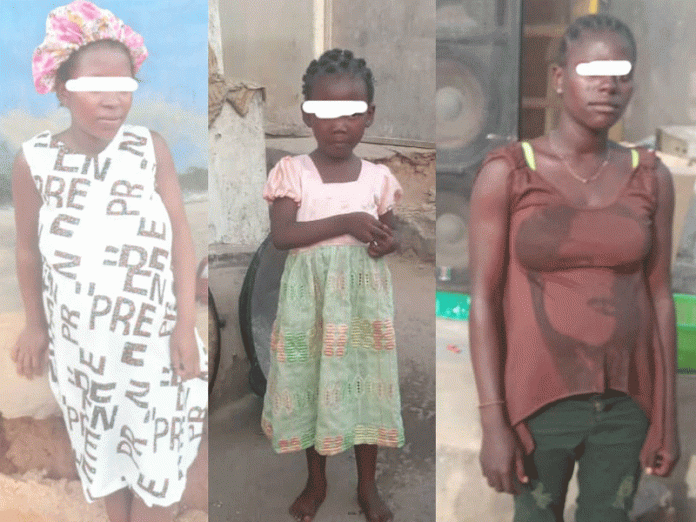 In this special report, Omolabake Fasogbon writes about how the COVID-19 era has forced more girls out of school in Lagos and Ogun States, despite the already alarming figure of out-of-school girls in Nigeria
With girls accounting for 60 per cent of the 13.2 million out-of-school children in Nigeria, Nigeria is notorious for being among countries with the highest number out-of-school girls in the world.
According to the United Nations Children's Fund (UNICEF), one in every five of the world's out-of-school children is in Nigeria.
Worried by this development, the federal government created initiatives to reverse the trend, one of which is the National Strategy to End Child Marriage (2016-2021), which aimed to enhance the retention of the girl-child in schools. On the global scene, the United Nations is also supporting the federal government to realise Sustainable Development Goals (SDG) 4 and 5, targeting gender equality, as well as inclusive and equitable quality education.
Unfortunately, the unexpected outbreak of COVID-19, which resulted in the closure of schools for almost six months, not only seems to have jeopardised the gains of these efforts, but has also amplified the existing situation.
Research by the United Nations Educational Scientific and Cultural Organisation (UNESCO) shows that 89 per cent or about 1.54 billion children and youths in primary, secondary and university, were out of school during COVID-19. This figure included over 740 million girls and already, the United Nations has warned that 11 million girls across the globe may never return to school after the pandemic. This bleak scenario will no doubt expose them to the risk of early pregnancy, early marriage and abuse.
THISDAY's investigation revealed that Nigeria is no exception. While some girls have not returned to school, other half-hearted returnees have become indifferent to education, as a result of other conflicting engagements. Sadly, most of the girls this reporter spoke with seemed to have lost hope in the current derivable benefits of education.
Opeyemi, 18, was a primary six pupil of Anglican Primary School, Iworo Ajido, Badagry, Lagos. Opeyemi's educational journey had already suffered some hitches, which explained why she was still in primary six at 18. This reporter sighted Opeyemi around 9:00 am. She had a bowl of pepper that she was meant to blend on a local stone at a neighbour's house. Out of curiosity, this reporter asked Opeyemi why she was not in school, despite the Lagos State government's instructions that all schools and classes should resume.
Sounding rather shy, she responded, "I don't want to go to school again, I want to learn tailoring." After further discussion, this reporter pleaded for her mother's phone number which enabled THISDAY to arrange a meeting. Mrs. Akintoyewa who is a petty trader, gave her own side of the story: "I didn't plan that she was going to stop her education at primary six despite the fact that she is over aged. The plan was that she would at least complete her secondary education, but when COVID-19 came and her school remained on lockdown for like half a year, I felt there was no need for her to return to school as the pandemic had wasted six months of her life."
She added: "Besides, I can't afford to train her in secondary school. COVID-19 has really dealt with me financially, I felt there was no need spending further on her since she has already clocked 18, moreover, being a girl, I feel learning a skill will be better, since getting education in this country doesn't even guarantee a job."
Opeyemi is one of the 11 million girls which the United Nations has predicted may not return to school due to COVID-19.
In the case of Esther, who lives with her grandmother in Abuleegba, Lagos, COVID-19 has been a blessing but it still rubs off negatively on her education. Esther, a JS 2 student of Exclusive Mustard College, Agbelekale, Abuleegba, Lagos, spent the COVID-19 break learning vocational skills and has since returned to school after the break. Although school is fully on course and students are under extra pressure because of the long break, Esther still resumes at the vocational centre whenever she returns from school.
"I had always wanted to learn make-up and hair styling, but I could not before now. This is because I didn't have the time when I return from school. Once I'm back from school, I always help my grandmother to make pap which we usually distribute to bean cake retailers on a daily basis. By the time I'm done doing that, there is usually no time left to do any other thing other than my home-work. But I took advantage of the lockdown period to engage myself in learning the skills as advised by my mother. Once I return, I help grandma with her pap."
Asked why she didn't connect with Lagos State learning platform on radio or learning arrangements by her school, she said, "I didn't have a phone to connect to the WhatsApp lecture arranged by my school and grandma does not have a smart phone." She said in any case, the period when Lagos teaching was ongoing on the radio platform, was a busy period for her.
For Esther however, when government cleared the coast for school resumption, she returned to school but still continued learning the skills. She is expected to stop at the expiration of the one-year agreement she signed with her trainer.
Although, Esther can now tie headgear, style hair and apply makeup for customers, she no longer has the time for after school prep that could have enhanced her academic performance.
For educationist, Prof. Helen Bodunde, Esther now wears two caps as a student and apprentice, which may have an ugly effect on her education. While Bodunde is not completely against the idea, she recommended that Esther and other girls in similar shoes need proper guidance.
She said, "This may be a good step towards building their entrepreneurial skills. It will also help to build their multitasking skills. However, this is where the role of counsellors is very important. The girls need to have a superior that they can open up to. Such a person should be in a better position to guide them appropriately to strike a balance between the two. For instance, they may be advised to go to the vocation learning centres after school on Fridays and the whole of Saturday, so that they can concentrate on school activities during the week.
A visit to some public secondary schools in Lagos revealed that there are many more girls like Opeyemi, who have not and may never return to school for different reasons. Some of the schools visited by this reporter in Lagos state were able to prove this with data and some by observation.
In Ifesowapo Senior High School, Aboru, Iyanaipaja, it was gathered that not all students, especially the girls, have returned to school, six weeks of resumption. The counsellor of the school backed this up with data gathered from the school register and student's attendance.
He said, "After the school resumed, we carried out a resumption test to know the students who reported and those who did not. In SS2 for instance, we expected 432 to report for the test and only 356, mostly boys, turned up. The same thing was with the SS1 students, while we expected over 700 to resume, we only registered 550 of them."
When this reporter approached the counsellor of Oke-odo Junior High School in Ile-Epo, Lagos to enquire if all the girls have returned to school and if there were any attempt to reach those absent, he replied in the affirmative, saying, "Yes! We don't expect all of them to return but some may return may be next year. When asked if there are known cases, "How do you expect me to know? This reporter politely asked whether they have not been signing the student's register, since schools were called back. In response, he asked the reporter to visit the Vice-Principal Administration, who in turn asked the reporter to get a letter from the district before the school could provide data of returning students.
A lot of combining factors have been established for girl's disinterest in education after the COVID-19 break, including the death of parents from COVID-19.
Bodunde weighed some of these factors, saying, "First, many of them were too free and not looked after and got involved in relationships that made them sexually free, which sometimes resulted in pregnancy. Furthermore, some were harassed sexually and abused as a result of insecurity which also led to pregnancy. Thirdly, many of them engaged in various business activities that fetched them money to spend on themselves and augment their families' needs. Consequently, they could not leave the business engagements for school and then there are those whose parents could not afford to provide their school needs because of the economic effects of lockdown".
In Ogun, education plays second fiddle to vocational skills, petty business
The Chief Executive Officer of the Global Partnership for Education, Alice Albright and Girls Not Brides, Dr. Faith Mwangi-Powell believes that being out-of-school this period will heighten girls' vulnerability to child marriage, adolescent pregnancy and gender-based violence; all of which decrease their likelihood of continuing their education.
Evidence obtained by this reporter from some communities in Ogun State, indicates that Albright and Mwangi-Powell are not far from being right. The situation in Itori and Ifo area of the state was such that emergency intervention may be required. Due to COVID-19, learning hours has been reduced to four hours in Ogun for both junior and senior secondary school in order to enable enough space for physical. It was just two minutes past 11am, when THISDAY visited Ifo High School, only to find that the junior school was already closing, while the senior school students were resuming for lectures.
All efforts to patronize the teachers to get them to talk was abortive. They politely asked this reporter who presented self as an NGO worker, to meet with the school authority for any information. On approaching one Aisha, a JS 3 student who was on her way out of the school premises after the day's classes, she confirmed that after almost five weeks of resumption, not all her friends have returned to school. "Like three of my classmates and friends have not resumed and any time I go to their house to look for them, I am always told they have gone to learn a skill."
She added that the parents of her friends have denied her access to them and won't really tell of their whereabouts. This reporter asked Aisha to take her to one of her friend's homes and although she initially refused, she eventually dropped an address of another friend of hers from another school, whom she said has been hawking for her mother since schools resumed after the COVID-19 break.
Getting to Ifelodun community in Ifo, Esther, the girl in question, was not at home. Neighbours confirmed that she has followed her mother to the market to sell wares. After four visits to the community, Esther was still not available. It was said that she always followed her mother to a distant market and they could not give a specific address. One of the neighbours said it would be hard to see her during this period because of December sales. "She is the only one assisting her mother in the market."
In Ifo, this reporter got a tip-off of some girls in Itori in need of urgent intervention. This reporter thus headed for Itori in Ewekoro Local Government Area, which is about 30 minutes drive from Ifo.
At Itori, THISDAY met 18-year-old Awawu, who before COVID-19 break was in JS 3. She was already carrying a four-month-old unwanted pregnancy and consequently could not join her colleagues to write her Basic Education Certificate Examination (BECE). Her pregnancy is now five months old and unfortunately, Awawu lost the father of her unborn child in a recent auto crash. However, she vowed not to go back to school even if she gets help, muttering: "Who school help?" According to Awawu, she has no regrets. She hopes to eke out a living and take care of her unborn baby from the hair dressing skill that she is presently learning.
On her part, 19-year-old Bukky, who is also carrying a seven-month-old pregnancy, had a poor upbringing which had already dampened any educational zeal she might have had. Listening to her, one could but tell that she had written off the option of education, which the COVID-19 break had only further reinforced.
Relaying her story, she said, "I didn't have the privilege of living with my parents as a child, my father's elder sister whom I lived with, deceived me for years that she would put me in school only to use me to hawk fish for years. By the time she put me in school, it was already late and as the eldest in my class, I was always too shy but I vowed to get education. I later on return to my parents, hoping to continue with my education, although it was struggle for me to learn. I was already in JS 3 before COVID-19 outbreak. I started selling fish during the break and I got pregnant in April. I was unable to write my JS 3 examination in October because of the pregnancy and because I didn't prepare for the exam." Bukky is now married and trades in fresh fish at Itori market. She said since she is married, she has lost interest in education and is not ready to go back to school. "Even if I get any educational support, I will divert it to something else, but definitely not to return to school", she confessed.
In the case of five-year-old Senah, her farmer parents could not even afford to put her in a public school. When sighted in front of a mud constructed house seated alone, neighbours told THISDAY that Senah's parents had suspended her education till further notice, because they didn't have enough money. Her parent's usually go to farm in the morning and return at night, leaving Senah at the mercy of neighbours who look after her before her parents return each night.
Gender Disparity, Inappropriate COVID-19 education response, poor governance, selective palliative distribution, blamed for girls' plight
Girls' apathy to education would not have been this bad, if the government had got its education emergency intervention right, during COVID-19 break. This was the take of some experts who feel that the situation can still be remedied.
Shortly after schools were shut down in March, 2020 as a result of COVID-19 spread, both federal and state governments came up with emergency education interventions to engage students during the break.
The Federal Ministry of Education and the Universal Basic Education Commission, (UBEC) came up with the Nigeria Education Sector COVID-19 Response Strategy. This included plans for the Learn at Home Programme (LHP), that aimed at minimising learning disruption during the pandemic.
According to the ministry, it also partnered with technology companies to launch virtual learning platforms and provided links to e-learning resources. Lagos State on its part came up with the "Work-From-Home, Remote Teaching and Learning Initiative", meant to train and equip teachers with remote teaching skills, using mobile devices and computers.
The state also distributed radio devices to students across the state for them to be able to access radio learning.
Lagos State Commissioner for Education, Folasade Adefisayo, said up to 10,000 radio sets were distributed to pupils in underserved communities to enable them to continue with their schooling. The radio devices were distributed in June, about three months after schools were shut down.
Ogun State on the other hand intervened with the launch of "Ogundigiclasses" where it broadcast education programmes on state-owned television, OGTV, scheduled in the morning (9am-11am) and afternoon (1pm-2pm). Ogun, like Lagos also enjoyed the support of private organisations and NGOs to roll out other initiatives.
Experts however faulted the implementation and planning of the process which, according to them, rendered the interventions ineffective. Prof. Bodunde submitted thus, "the government at the national and state levels attempted to engage students during the lockdown. I used the word attempted because it was an ill planned programme, without thinking of the economic and social background of the students in terms of the tools for virtual learning. It included electricity, internet, phones and television. Not all the children in the cities have access to electricity and internet. So, many of them did not benefit from the programme. In fact, the situation is worse in the rural areas where many homes have no electricity, not to talk of television and internet. Many parents could not generate electricity through generating sets because of their financial incapability and the cost of fuel.
"Worse still, the programme was not level specific, hence it to address the needs of the students according to their levels. In some cases, only general subjects (English, Mathematics, Science and Social Sciences) were taught, at the expense of the other subjects".
Corroborating Bodunde's submission, a primary school counsellor in Badagry who preferred anonymity, confessed that the state intervention was just a waste of efforts for most students in Badagry. According to her, most parents utilized their children during this period to boost their fish business, which is a major source of livelihood in the Badagry community. She said: "In one of my visits to a parent to check on one of my students to see how she is coping with the radio learning, her mother said she has gone to hawk fish. This was at the same time when she should have been tuned into the radio class. I asked her why she did not allow her to listen to the teaching on radio, since it had been provided for that purpose but the mother retorted, saying that she wouldn't mind returning the radio to government, since the radio will not bring food to her table"
On his part, an education consultant and child rights advocate, Akin Benjamin feels that poverty and selective distribution of palliatives may have contributed to the status of girls' education in Nigeria, after the COVID-19 break.
Benjamin said: "The fact that real palliatives did not reach the grassroots as it was intended made the girl child most vulnerable to dropping out of school. If the economic stability of homes was assured, most girls would have had no need to either drop out of school, get pregnant or get distracted away from schooling."
Again, Benjamin posited that gender stereotypes has a hand in the challenge. He said: "In a country with the highest population of out of school children in the world, and a preference for educating the male child, coupled with harsh personal and family economy post COVID-19, the boy child stands more chance of returning to school. Many of the girls who were in school pre COVID-19 would have been encouraged to take up informal apprenticeship and a large percentage would either get pregnant or be married off, depending on which part of Nigeria they live."
Lagos, Ogun mute as FG says COVID-19 awaits World Bank intervention to support girls' education
Meanwhile, both the Ogun and Lagos State governments have refused to respond to questions on what plans are being put in place to support and return out-of-school girls to school. When contacted directly, the Ogun State Commissioner for Education, Prof. Abayomi Arigbabu tried to excuse himself on the ground that he had only spent few weeks in office and may not be able to answer all questions directed to him.
Although this reporter had earlier sent questions to him via WhatsApp, which he ignored, the message was backed up with several calls which he ignored. When he finally answered, he agreed to look at the questions and promised to respond to those that he could cope with, since he is new in the office. He asked the reporter to send the questions again. Although they were forwarded, he neither responded to the questions nor did he receive any calls, thereafter.
On her part, Adefisayo said she doesn't like to answer the kind of enquiries presented to her.
Adefisayo, who spoke through her PRO, Mr. Kayode Abayomi, said: "I don't like this kind of interview. Where did she get the data?" The reporter forwarded the source of her data on the projected number of girls that will not return to school as a result of COVID-19, but that still did not get the commissioner to react.
The World Bank in July announced the approval of a sum of $500 million loan to help end female education inequality in Nigeria with the Adolescent Girls Initiative for Learning and Empowerment (AGILE). The scheme was meant to be implemented in seven states in Nigeria, including Kano, Kebbi, Kaduna, Katsina, Borno, Plateau and Ekiti. Four months after the approval of the fund, the ministry of education said that it has not been able to access the fund.
The Director, (Press and Public Relations) in the ministry, Mr Ben Goong, said, "If you are talking about the Adolescent Girl Child education program (AGILE), I can confirm to you that COVID-19 has slowed down that project and the money is yet to reach us. Efforts are still on to reactivate the program"
Implications for Girls, Society
UNICEF reports that 132 million girls across the globe are out of school, including 34.3 million of primary school age, 30 million of lower-secondary school age, and 67.4 million of upper-secondary school age.
The body equally expressed worries on the multiple challenges that girls in Nigeria face in completing secondary school education.
Alarmed at the situation, The World Bank recently issued a statement declaring that if nothing is done to address these challenges in Nigeria, about 1.3 million girls out of the 1.85 million who began primary school in 2017/2018 in the northern states, will drop out before reaching the last year of junior secondary school.
Should this happen, Bodunde feared that the wheel of girl-child emancipation for sustainable development will be further dragged down in Nigeria.
She said: "Girls who don't have education will be left behind as far as the sustainable development of the society is concerned. When girls are not educated, their responsibilities as mothers will be affected. The personal development of a woman prepares her for her present and future roles as well as the socio, political and economic development of her family, community and the nation. If the opportunity to be educated is missed, then it will be difficult for her to fulfil her roles."
Although, the choice of vocational skills have not been totally condemned, experts advise that if such must be considered, a girl must have at least completed her basic nine school certificate in JS 3.
As has been established in the United Kingdom, Benjamin wants government to formalise basic nine school certificate, such that it can be used to admit girls who choose to attend a vocational and apprenticeship program. "This should be recognised officially and certificates issued in order to make them employable if they don't want to be self-employed."
He maintained that no matter what, the education of girls is non- negotiable. "When you educate a man you educate an individual, when you educate a woman, you educate a family and a nation."
Experts have also linked the realisation of the SDGs to the education of girl children, failure of which they said would threaten the actualisation of SDG mission.
Albright and Mwangi-Powell expressed that the interruption in girls learning in COVID-19 era would exacerbate inequalities and poverty as well as threaten the futures of the most vulnerable children.
Giving it a psychological perspective, a clinical psychologist, Bernadette Nyam said that girls who dropped out of school would always have a feeling of being inferior to others. "This in turn could stir up feelings of shame, incompetence, anger and frustration, which could lead to inability to develop their potentials maximally or actualize their dreams and ambitions. This would result in acts of delinquency, teenage pregnancy, crimes, and so on".
Dropping out of school before JS3, should be criminalised, experts say
Given the implications of illiteracy on girls, Bodunde insisted that they must be made to return to school and complete their secondary education even if they plan to pursue other ambitions. She said, ''education is important in their lives, businesses, homes and the society". She harped on motivation, indiscriminate acts, incentives, a cosy learning environment and counselling to save the situation. "Pregnant girls should have their babies and be counselled to return to school. Teachers should encourage their female students and education should be made attractive. A situation where many degree holders roam the streets for many unavailable jobs has discouraged many from choosing education."
She also called for female friendly policies, community dialogue as well as legislation and enforcement against child marriage.
On his part, Benjamin suggested that if girls must leave school at all, they should at least have a JS3 certificate, which they can use to pursue other ambitions. "Every child in Nigeria male or female is expected to complete the first 9 years of basic education. The basic nine school certificate in JS3 should be enough to admit those who choose to attend a vocational and apprenticeship program. "The girls who are willing and capable of proceeding with academics; science, art or commercial subjects, should proceed to the regular SS1-SS3. There should actually be more of vocational technical secondary schools for those who desire to go into vocations and artisanship. The curriculum should be structured in such a way that empowers girls to have deployable skills even after secondary school.
He advised that: "Government should consider the option of penalizing and criminalizing not putting a child through the first nine years of education, but before government will do that, the first nine years of education must be made free, then compulsory".
According to Benjamin, "as a matter of urgency, there should be investment in radio and television jingles, which should stress the value of girl child education."
This report was facilitated by the Wole Soyinka Centre for Investigative Journalism (WSCIJ), under its COVID-19 Reality Check Project