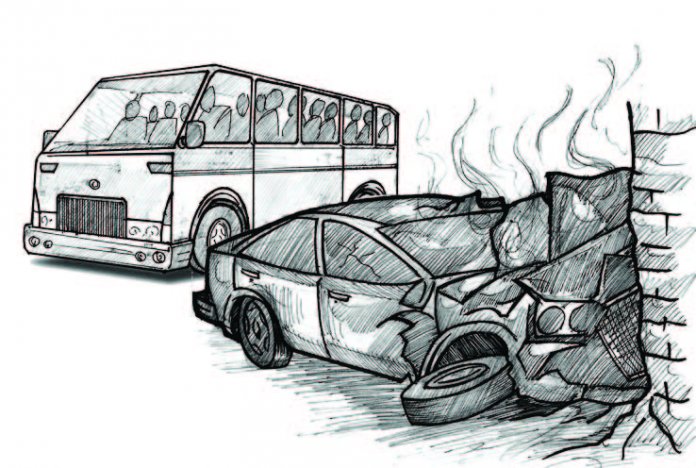 The regulators must do more to minimise the scourge
The rise in number of crashes on our roads is frightening. The high rate of carnage demands appropriate and adequate policy interventions by the regulatory authorities. Hardly any day passes without report of a road accident that leaves on its trail grisly tales of fatality, injuries, wrecks, traffic hiccups and loss of productive hours. Apart from the socio-economic burden that these road mishaps place on victims' families, they also take a huge toll on the country's economy. Some N450 billion is estimated to be lost annually from goods and services that perish in road accidents.
The recent accident in Akungba-Akoko, Ondo State which claimed no fewer than 16 lives is typical of the state of affair. It occurred when a trailer rammed into a crowded market due to brake failure. Before that sad event, a truck also ran into a bus carrying school children and teachers, killing 21 in the South-east. Almost on a daily basis several lives are lost on the Lagos-Ibadan expressway. In the past three weeks alone almost 100 lives were lost on the roads either due to ill-maintained vehicles or bad roads. The Federal Road Safety Corps (FRSC) said that 3,947 road crashes and 1,758 deaths occurred in the first quarter of 2020.
Indeed, driving on Nigeria's approximately 200,183 kilometres road network can be risky and arduous as large swathes have broken down, ridden with potholes. But there are other things responsible for the rise in road carnage in the country. These factors range from faulty road design to poor road quality, insufficient safety features in vehicles and speed limit violation by reckless drivers, who disregard all safety codes. Some are half asleep behind the wheels under the influence of alcohol and drugs.
However, the tragedies and mounting body count from accidents can be curbed by inexpensive remedial interventions. It is common knowledge that there are too many rickety vehicles on our roads. The tyres of several vehicles plying the roads are either worn out or are in a state of disrepair, just as their brakes are suspect. Some drivers drive in foggy condition with malfunctioning headlamps. The prospect of accident is enhanced when vehicles owners do not take the precaution to ensure their vehicles are road worthy.
The government and its agencies, the FRSC, vehicle inspection offices and Police traffic departments should take drastic steps to ensure that our roads remain safe all the time. Besides, government should consider enacting a National Road Safety Policy that will outline various policy measures pertaining to safety and should continue raising awareness about road safety, creating a road safety information database and promoting safer road infrastructure. In addition, it should encourage training and sensitisation of drivers, identifying needs of vulnerable road users, enforcing road safety laws and ensuring medical facilities for road accident victims.
Critical stakeholders in the transport sector, particularly tanker drivers, must be held accountable for reckless driving. As we have argued repeatedly, what is happening on most of our highways across the country is anathema to decency in road usage while the armada of trailers and petroleum tankers will be considered primitive in more civilised societies. Much as we therefore appreciate the primacy of the long vehicle drivers in the product distribution chain, we plead that they should render their services carefully and within the ambit of the traffic rules and regulations in order not to endanger the lives of innocent citizens. As we gradually move towards Christmas and the holiday season, it is important that critical stakeholders in the road sector are alive to their responsibility.