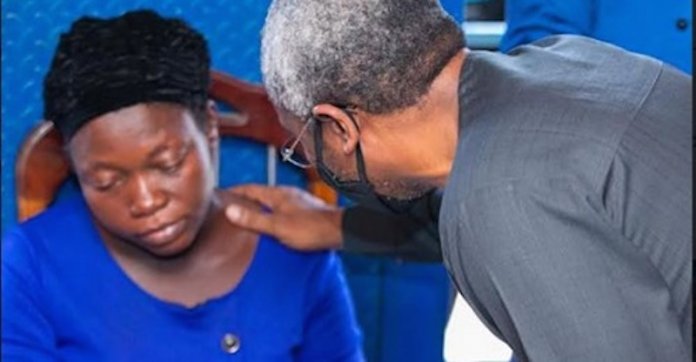 Udora Orizu in Abuja
Mrs. Josephine Okereke, the wife of the newspaper vendor, the late Mr. Ifeanyi Okereke, who was killed by a security operative attached to the Speaker of the House of Representatives, Hon. Femi Gbajabiamila has disowned her husband's family over their demand for N500million compensation.
The family of the vendor, through their lawyer, Chief Mike Ozekhome, had in a letter dated November 23, 2020, and addressed to Gbajabiamila, demanded N500 million as compensation for their loss.
But addressing journalists in Abuja, the widow said she was not aware neither did she give her consent to her husband's family to make the demand.
She urged Gbajabiamila to ignore the family and fulfill his promises to her and her two children.
According to her, "the Speaker also made promises to take care of the welfare and the well-being of the immediate family of my late husband and to institute a Trust Fund in his name. We are just looking up to him for the fulfillment of his promises and not fighting the man. I got to know about the said N500million demand as compensation on the killing of my husband through the media; nobody told me before embarking on that; the Speaker visited us and assured us that justice would be done which is what I am after and not monetary compensation.
''When I heard that my husband's (family) are demanding an amount, I said, 'Ah, but they came here and did not tell me that this is why they have been running around all this while.' I was shocked. "How will they be demanding such an amount? I did not sleep throughout. The Speaker had already come to help these children. If they are demanding this, how will the Speaker help these little children again? The rent at where I am living is almost expired. How will I cope with these children? Where will I stay with them? I am not in support of it. They did not even tell me. I did not even know. It was in the news that I heard it.''
Also, the legal adviser to Newspaper Vendors Association, Mr. Wilfred Okoi said the steps taken by the speaker were highly commendable because there is no vicarious liability to him.
He urged Gbajabiamila not to be discouraged, but should go ahead and implement what he had said he would do for the family.
Okoi said, ''The Speaker is not DSS (Department of State Services). The DSS deployed this trigger-happy security operative to join the convoy of the Speaker. So, steps must be taken for proper investigation and prosecution of the overzealous and trigger-happy DSS agent who killed this innocent and young man."
"I want to also commend Mr. Speaker who has taken steps to reach out to the wife and children of the deceased, Ifeanyi. It is not found anywhere; I have not seen that in the 12 years of my practice; I have not seen this kind of humanitarian steps taken by Mr. Speaker, to reach out immediately to the wife and children of the deceased.''