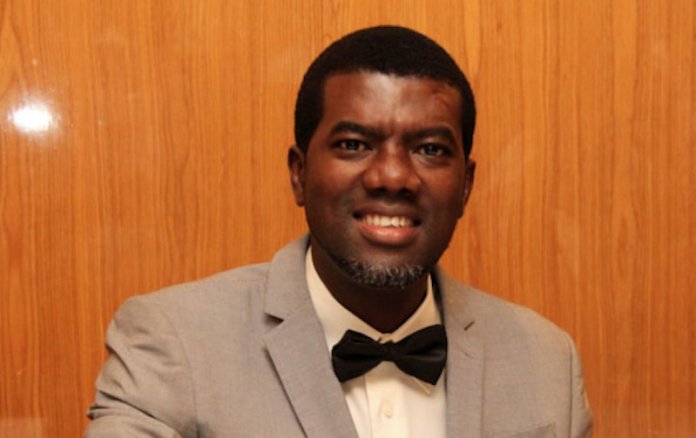 THE ALTERNATIVE By Reno Omokri
Three weeks ago, I released a video in which I vowed to provide irrefutable proof to the media that the Lekki Massacre of peaceful, unarmed #EndSARS protesters happened. And with the CNN Independent Investigation, which was aired on Tuesday the 17th of November, 2020, I am pleased to say I fulfilled my promise.
The Lekki Massacre happened. And anyone who is still denying it should be treated like a holocaust denier. And one such person is Lai Mohammed, Buhari's unshameable minister of information. Even in his house, Lai Mohammed is known as a liar, because his son, Folajimi Mohammed, admitted into writing that the massacre occurred, while his father is still claiming it did not happen!
The CNN Independent Investigation is so detailed and should put the issue to rest. The only thing we should now be discussing is not whether the Lekki Massacre occurred, but when and how the International Criminal Court should charge and try President Buhari and General Buratai for their crimes against humanity.
Not only is Lai Mohammed doing a disservice to his boss by continuing to labour under his delusion that in the year 2020, he can use propaganda to deny a scientifically proven historical event like Lekki Massacre, he is also making a fool of himself by sparring with DJ Switch, a lady that is young enough to be his granddaughter.
Lai is 68 for goodness' sake. Why is he still behaving like an 18-year-old jambite? Look at him talking of sanctioning CNN. His government is on life support. They borrow to pay salaries. They have no clout in the international community. Their weapons are imported. They are independent in name only. And they want to sanction CNN?
It is just as former Reagan White House official and Johns Hopkins Professor, Steve Hanke said, "Ever since Sleepy Buhari took office in 2015, #Nigeria's government has been among the least effective in the world. Sleepy remains asleep at the wheel."
In fact, after CNN's independent investigation, Nigeria stations fined by the politicised NBC for reporting the truth should head to court. Buhari's administration has lost all legitimacy. By ordering and actively covering up the Lekki Massacre, Buhari has violated his oath of office and should be impeached or otherwise legally removed!
If people like me and others had not gathered evidence and provided such to the international media, this government would have audaciously continued to kill Nigerians that resist its dictatorial tendencies and pretend that such killings did not take place.
They did it with the Shiites in Zaria in 2015. They did it in the Southeast, with Operation Crocodile Smile. The only people they do not do it with are Boko Haram and killer herdsmen. I wonder why.
Just two people died in Peru. Their President acknowledged it and resigned. In Nigeria, several unarmed, peaceful #EndSARS protesters (at least 15 according to eyewitnesses) were killed by Buhari, yet he still can't acknowledge their deaths? Nigerians are just too docile!
But if every Nigerian is docile, I will not be. My friends and I will continue to insist that all those responsible for the Lekki Massacre of peaceful, unarmed EndSARS protesters must be brought to justice. The same way Charles Taylor was tried in the Netherlands and jailed in The UK is the same way Buhari must be made to pay for his crimes against humanity!
Another sad thing about the CNN investigation is that Nigeria still buys bullets from Serbia. Fifty years ago, Biafrans made their bullets during the civil war. In 2020, Nigeria still can't make bullets. We have to depend on a small poverty stricken nation like Serbia. So shameful. So shameful indeed.
Under Buhari, we look like a nation that is just big for nothing. We hardly produce anything. Other countries produce even the food we eat. We are little more than an eater up of other men's efforts. We consume, and consume.
Look at our debt situation. President Obasanjo paid off Nigeria's entire foreign debt of $32 billion when oil was $22 per barrel. Buhari has borrowed an unprecedented $28 billion when oil is above $50. No matter how much money you give a man, it will never be enough if he does not know how to use it.
Happy Birthday President Jonathan
The best President in Nigeria's history, in my opinion, is Goodluck Jonathan. He identified the single biggest problem in Nigeria, illiteracy and addressed it by building 165 Almajiri schools, and 14 new universities (13 built from the scratch and one, the Police College, Wudil, Kano, upgraded to a full university.)
He was and is entirely detribalised. That is why he did not focus on development in his state or region. Some people mock him for this. But that is a father's heart. You spread your love equally. You have no favourite child.
I remember once when we were at London's Heathrow, and the Nigerian High Commission sent a car to pick President Jonathan up. I was waiting to pick a taxi to join him at his destination, when he said 'don't be silly', and shifted from what we call the owner's corner in Nigeria, for me to sit, he sat on the other side. Which other Nigerian leader can be that humble?
The single largest infrastructure project ever built in Nigeria is the 187KM Abuja-Kaduna railway. President Jonathan built it. And today, that is what is saving the North from kidnappers along Abuja-Kaduna road.
Humility is often seen as weakness. But in hindsight, Nigerians can now see that what they thought was weakness, was actually strength under control. Herdsmen were afraid under Jonathan. Bandits were unknown. Yes, we had Boko Haram, but they knew they would be devastated when caught, rather than be rehabilitated.
And after the Presidency, Dr Jonathan has been going around Africa to inject his peace serum in many an African nation, as the Face of Democracy in Africa.
This man gave Nigeria her highest ever increase in life expectancy since records were kept. From 49.7 years in 2010 to 54 years in 2015.
God used President Jonathan to better Nigeria when our nation was bitter. I am so proud of you sir. Happy 63rd birthday, my friend and mentor. God bless you sir!
Reno's Nuggets
The only thing that has been on Earth longer than anything and anybody else is land. That means, the only purchase that you can make that will outlive you forever is land. Your car will grow old. Your clothes will age. Even companies die. But land is forever. Food comes from land. Accommodation comes from land. Water is sourced from land. The three basic human needs, food, water, and shelter, are tied to land. That is why you must own land. It may not make you a billionaire. But it will save you from poverty!
#RenosNuggets #EndSARS