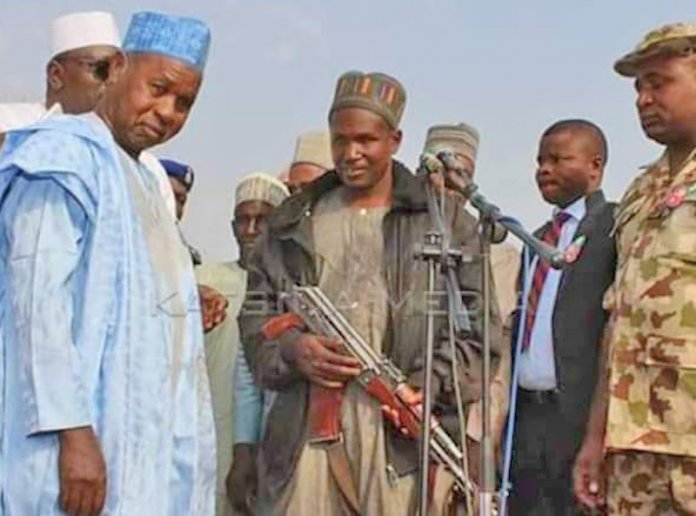 Unencumbered by meaningful deterrence, rewarded for raping, robbing and murdering both the rich and the poor while governance slumbers, several Northern governors are still bent on negotiation – cuddling the bandits – reinforcing perceptions of a failed state. Louis Achi writes
Saint Augustine, the Algerian-Roman philosopher-theologian, who lighted the candle of Christianity in pagan Roman Empire, moved the poser: "What are kingdoms without justice? They're just gangs of bandits." But the American writer and futurist Robert Anton Wilson took this further, when he cynically observed that, "Every national border in Europe marks the place, where two gangs of bandits got too exhausted to kill each other anymore and signed a treaty…"
Sociologically and historically, these are surprisingly valid postulations. But the genre of banditry that has evolved in the Nigerian space probably represents a novel addition to this peculiar criminal entrepreneurship.
Some four years ago, Governor Nasir el-Rufai of Kaduna State, revealed that his government traced some violent, aggrieved Fulani to their countries and paid them to stop the killings of Southern Kaduna natives and the destruction of their communities. El-Rufai spoke while fielding questions from journalists in his office in Kaduna.
In the Kaduna State governor's words: "Fulani herdsmen from across Africa bring their cattle down towards Middle Belt and Southern Nigeria. The moment the rains start around March, April, they start moving them up to go back to their various communities and countries. Unfortunately, it was when they were moving up with their cattle across Southern Kaduna that the elections of 2011 took place and the crisis trapped some of them.
"Some of them were from Niger, Cameroon, Chad, Mali and Senegal. Fulanis are in 14 African countries and they traverse this country with the cattle. So many of these people were killed, cattle lost. They organised themselves and came back to revenge. So, a lot of what was happening in Southern Kaduna was actually from outside Nigeria."
Four years later, under his watch, the carnage in Sothern Kaduna has not changed. In March, this year, El-Rufai declared that his administration would not negotiate with bandits or grant them amnesty. While visiting Karewa and four other villages in Igabi and Giwa LGAs, where bandits in an early morning attack massacred 51 villagers, he apologised for his administration's inability to protect the people of Southern Kaduna.
"If not for the security agencies prompt intervention they would have wiped out the entire villages," he observed.
It cannot be denied that audacious banditry has scaled up in Northern Nigeria, adding to the region's many security challenges especially, the bloody Boko Haram insurgency. In the North Central geo-political zone, herders' impunity has become a key security concern. Brutal rural banditry in the North West zone has taken centre stage.
According to Chukwuma Okoli, Lecturer/Resident Researcher Department of Political Science, Federal University Lafia, "Rural banditry refers to armed violence driven principally by the criminal intent to steal and plunder. It is motivated by the quest for economic accumulation. The victims are individuals and communities with material valuables. The most common examples of rural banditry in Nigeria are armed robbery, kidnapping, cattle rustling and village raids."
Today, rural banditry in the North Western states of Zamfara, Kaduna and Katsina has reached alarming heights. Bandits terrorise villages with impunity. They have actually cozily settled in the Zamfara State, setting up fortified enclaves in the hinterland and on the frontiers, from where they plot and carry out their operations.
Many incidents of extreme banditry have been recorded within the past two weeks. A BBC Hausa Service report revealed that bandits have imposed 'harvest fees' of between N300,000 to N900,000 on farmers in some communities of Zamfara State.
Folks unable to pay should simply forget harvesting their crops, which would rot in the bush while they agonise over feeding their families. Bandits in Katsina, Kaduna and Niger states also reportedly impose these almost unbelievable charges.
Rural farmers here were forced to pay at the onset of the season to access and cultivate their farms. Now, their crops are ripe and they're starving, but they can't harvest until they incur more debts to settle the same gangs.
Just last week, the story of 26 kidnapped women and girls made the headlines. While Governor Bello Matawalle of Zamfara State claimed they were "rescued" after only one week in captivity without ransom payment, the victim relatives contradicted the governor and declared they paid N6.6 million to get them released – revealing they sold everything they had including their unharvested crops and incurred debts to raise the money.
More, last Tuesday another BBC Hausa reported that 12 Assistant Superintendents of police on deployment from Borno to Zamfara, were kidnapped by bandits in the North West zone
Curiously, when the Northern Governors' Forum (NGF) hosted northern political and traditional leaders recently, including the Senate President, ministers and the chairmen of Northern State Traditional Rulers led by the Sultan of Sokoto, they largely focused on condemning the #EndSARS protests and expressing support for censorship of social media.
It was Matawalle, who declared that dialogue with bandits was still relevant and would not abandon it, because firepower alone could not solve the problem of banditry in the state. Bandits in Zamfara and neighbouring states have kidnapped hundreds of people mainly for ransom in the past few years.
During a visit to his counterpart in Zamfara, Governor Aminu Tambuwal of Sokoto State suggested that governors in the North West region should consider reconciliation with bandits to end the security challenges facing the region. These come amid reports that Al Qaeda and ISIS elements were operating in the region.
Governor Aminu Masari of Katsina State had also tried a policy of rapprochement with the bandits and kidnapper, but the results have been mixed. Killings and kidnapping have continued in the state.
It could be recalled that in June, the House of Representatives had kicked against negotiations with bandits by some governors in the north after it summoned the nation's service chiefs over the rising insecurity across the country.
It certainly cannot be denied that the security agencies with their various challenges have been recording some successes against the bandits. But this clearly does not seem enough especially, against the background of the country's current North-centric security architecture.
But is "treaty" with bandits a viable option? Big question!