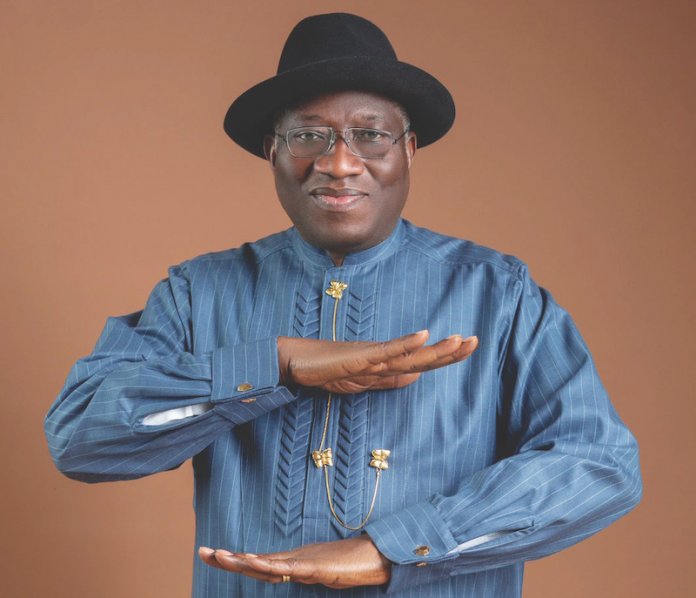 Former president seeks consolidation of democracy
Omololu Ogunmade, Deji Elumoye in Abuja and Omon-Julius Onabu in Asaba
President Muhammadu Buhari; Delta State Governor, Dr. Ifeanyi Okowa; Senator Ike Ekweremadu and a former aide to the ex-president, Mr. Reno Omokri yesterday rejoiced with former President Goodluck Jonathan on the occasion of his 63rd birthday anniversary holding today (Friday).
Buhari, in his congratulatory message, said Jonathan's life of service has brought honour and goodwill to the country.
This is coming as Jonathan has made a case for the consolidation of democracy in Africa, describing it as a leverage that could ensure that the continent's future would be better than its past.
The president's spokesman, Mr. Femi Adesina, said Buhari expressed appreciation to the former president for his dedication to service following his astronomical rise to the highest level of service and eventual emergence as ECOWAS envoy in recent times.
The president prayed God to grant Jonathan long life, wsdom and good health so that he can continue to serve humanity.
The statement read: "On behalf of the federal government and Nigerians in general, President Muhammadu Buhari warmly felicitates with former President Goodluck Jonathan on his 63rd birthday, November 20, 2020, congratulating him for a life of service that has brought honour and goodwill to the country.
"The President notes with appreciation the peculiar and remarkable climb of the former president on Nigeria's political ladder, and dedication that has kept him working most recently as ECOWAS envoy to bring peace to the Republic of Mali.
"As the former Nigerian President turns 63, President Buhari prays that the Almighty God will grant Dr Jonathan longer life, good health and more wisdom to keep serving the nation and humanity."
Governor Ifeanyi Okowa has also congratulated Jonathan, as he clocks 63 years today, saying his efforts at promoting democracy particularly in Africa are impactful and commendable.
The former president's "unique statesmanship and graceful disposition to issues" has also endeared him to democrats globally, Okowa said through his Chief Press Secretary, Mr. Olisa Ifeajika.
He said that Jonathan's bourgeoning role in entrenching democracy across Africa through his observer-mission activities was impactful and laudable.
Okowa also noted that the former president's role in the peace process in Mali, describing it as "truly statesmanlike".
Ekweremadu has also hailed Jonathan, for his democratic temperament and selfless leadership.
Ekweremadu commended the former President for not only the electoral reforms recorded under his administration, but also for providing the right democratic atmosphere to ensure that the reforms were implemented by the Independent National Electoral Commission (INEC) and other relevant agencies and stakeholders.
On his part, Omokri noted that the best President in Nigeria's history, in my opinion, is Goodluck Jonathan. He identified the single biggest problem in Nigeria, illiteracy and addressed it by building 165 Almajiri schools, and 14 new universities (13 built from the scratch and one, the Police College, Wudil, Kano, upgraded to a full university)."
He described Jonathan as entirely detribalised.
"That is why he did not focus on development in his state or region. Some people mock him for this. But that is a father's heart. You spread your love equally. You have no favourite child," he added.
Meanwhile, Jonathan has made a case for the consolidation of democracy in Africa, describing it as a leverage that could ensure that the continent's future would be better than its past.
The former President noted that democracy might have its flaws but pointed out that various academic studies had demonstrated that the system of government "yields better economies, better health for its citizens and better respect for human rights."
He stated this yesterday in his keynote speech at a virtual conference organised by the Kofi Annan Foundation which focused on 'Democracy in East Africa in the age of COVID- 19: challenges and opportunities'.
Jonathan further affirmed that it was no coincidence that the countries with the best human development index scores are all democracies, while the worst performers are not.
"We have made enormous strides in Africa in terms of democracy. According to Freedom House, there were only two democracies in Africa in 1980; now there are no fewer than
forty."
Stressing that not all of these democracies meet the required standards, the former President however emphasised that they are mostly big improvements on what came before.
Comparing democracies to dictatorships, Jonathan stated that dictatorships around the world tend to underperform "because they are subjected to little or no accountability, either from a free press, an independent judiciary or a vibrant opposition."
Conversely, Jonathan said that democracy "is fundamentally a competitive system, and competition keeps people, even politicians, on their toes", adding that they are meant to be in power to serve their people and their countries, not themselves.
Jonathan noted that although democracy has its challenges in many countries, the aspiration to democracy has taken root, especially among our youth.
"From Washington to Abuja to Nairobi, democracy is always a work in progress, everywhere: each generation has to address the challenges left by its elders."