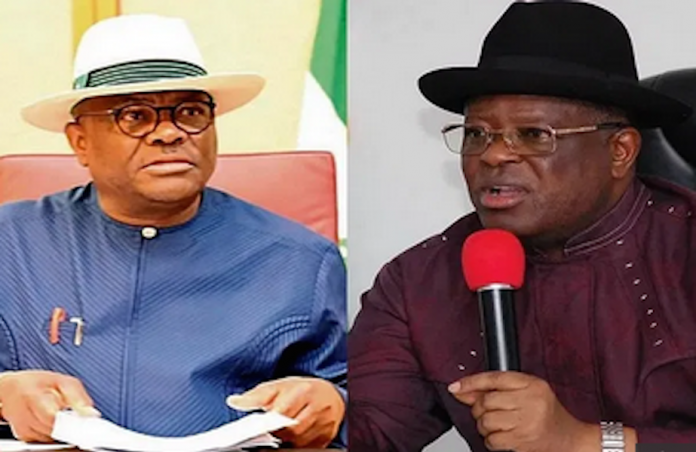 •Ebonyi gov: I refuse to take issue with Wike because he is my friend but Wike must know that he is a dictator
•Rivers helmsman: Your defection will not have any effect on us
By Eromosele Abiodun, Emma Okonji and Nosa Alekhuogie
Governors Dave Umahi (Ebonyi State) and Nyesom Wike (Rivers State) yesterday came out smoking over the defection of the Ebonyi State helmsman from the Peoples Democratic Party (PDP) to the ruling All Progressives Congress (APC).
While Umahi insisted that he deserted the PDP in the interest of the South-east, Wike contended that the action was in the selfish interest and ambition of the Ebonyi State governor to run for the presidency in 2023 on the platform of the APC.
Both gladiators spoke on the raging controversy on ARISE NEWS Channel, the broadcast arm of THISDAY Newspapers
Umahi, who defected on Tuesday, had cited alleged injustice meted out to his zone for dumping the party under which he was state chairman, deputy governor for eight years and elected twice as governor.
But Wike faulted Umahi's allegations, saying the PDP has been fair to the South-east, which, among others had produced Senate presidents, deputy president of the Senate, deputy speaker, and chairmen of the party, and in the last presidential election, the running mate of the party's presidential candidate.
Umahi repudiated the allegation that his defection to the APC was driven by selfish interests, saying that he is offering himself as a sacrificial lamb to force the PDP to redress its shabby treatment of the South-east.
The governor dismissed claims that he joined the APC to pursue a presidential ambition, adding that he nurses no expectation from the party and the party did not give him any assurance to zone its presidential ticket to the South-east.
Umahi told ARISE TV: "My problem is with the PDP; there is a saying in my place that where you work is where you chop. You cannot wash your body in Sokoto and starts going to Enugu to collect your dress. My position is that this PDP we are talking about, I don't know about the APC.
"APC in 2023 would have stayed about eight years. It is very obvious that we have not supported APC in the South-east. But I am talking about a place, the home that we supported. We are part of the founding members of the party; in fact, our elder statesman, the late Alex Ekwueme, was the major breakthrough for the birth of this PDP.
"And I am saying what is wrong? Don't we have anybody that since 1998 going to 2023 we cannot be asked to fly the ticket? "It is an insult on the collective sense of the Igbos. It is very insulting and nobody talking to me to stay back has been able to convince me. What is wrong in convening a National Executive Committee (NEC) meeting to say, 'Yes we are talking of justice, let us give the South-east the opportunity?' Whether we win or not, other people have been given opportunities and they did not win; but it will be on record and I am sure that you will love to compete with your peers. More so, the affairs of the PDP in the South-east are being conducted elsewhere."
When asked how certain he is that the APC will treat the South-east better or zone the presidency to it, he said: "How will you know about a house you have not entered? I am still outside the house. When I enter the house, I will know but I want you to know that my moving to APC is not because they will give their ticket to the South-east or they will give it to me. I don't ever fight for myself. I am a pencil in the hand of God. It doesn't matter what anybody says, I stay within the limit of my calling. So, I am protesting against the injustice by a political party and that is where it ends."
On what likely impact he will make in APC being a new member rather than the PDP where he had more influence, he stated: "You do not stay at your comfort zone when your people are being marginalised and maltreated and you have to understand that protest is constitutional and people do not protest because they are not comfortable in that place. They protest because some of the people around them and within them are not comfortable. I protest because the South-east people are being maltreated. It is all about protest and if it doesn't yield results today, it will yield results tomorrow."
The governor also said he will not be disappointed if the APC fails to zone the presidency to the South-east, adding that his reason for defecting to the APC is not because of zoning the presidential ticket to the South-east.
According to him, "It depends on what you are thinking. If I am going to the APC because they must zone the presidency to the South-east and they fail to do that that is when it will become a blow. When you protest, you do so because of the injustice done to others. "And so, I am not protesting because APC must do this or do that. I am telling PDP, 'look you must put your house in order, you must be fair to all," that is just the message.
"If the South-east stays 23 years in APC and they fail to zone the presidency to them, that is when you have a grouse to also protest and to agitate. But now, you don't really have the mouth to insist that they must zone it. But if you look at the mood of the nation, I believe strongly that the APC may consider it…and I want you to check the running of the APC as a party and that of the PDP.
"In APC, even though the president is the leader of the party, he does not remote control the party. But one or two persons are remote controlling (sic) PDP. I cannot belong to such a party."
When asked if he will support a northern candidate by the APC in 2023, he said: "When we get to the bridge we shall cross it. This country is in the hand of God, no man dictates what happens. When we sleep, we are at war with death. It is only the good Lord that wakes up the winner. So no man can rightly say what happens tomorrow. Nobody knows who will be alive in 2023, but I have made a mark and it is that I offer my life as a sacrifice; if I perish, I perish. You must take a risk in life. If you win, you reign, if you lose you learn. In 2023 after the election, if God permits, I will like to resign from politics and continue with my business."
Reacting to comments credited to Wike that he defected to pursue his presidential ambition; he described Wike as a dictator.
He warned that if Wike does not desist from teleguiding the PDP, many governors will defect from the party, adding that many governors are not happy with Wike's alleged dictatorial tendencies.
"I refuse to take issue with Wike because he is my friend, but Wike must know that he is a dictator.
Wike must know that one person cannot be called a crowd and Wike must know that a lot of governors in PDP are very sad with him. He remote-controls (sic) the party and he said that I made my brother the vice-chairman of PDP South-east. I found the South-east PDP from A to Z and he has forgotten that he singlehandedly made Uche Secondus the PDP chairman.
"He has forgotten that he also wanted to impose one of his own as the minority leader in the House of Representatives. He must know that there is nothing that happens in PDP without his authorisation; he must know that he said the PDP NWC members are bribe-takers and armed robbers; he has called them all kinds of unprintable names and I have told him he should not let us take on ourselves because it will be very dangerous. This is by no means personal because the party does not belong to him," he stated.
According to Umahi, while he will not like to bandy words with Wike, he should be mindful how he addresses his colleagues.
The governor also attributed his problem in PDP to his refusal to castigate President Muhammadu Buhari.
He said: "PDP wants me to be castigating the president. That's not in my character. The president remains my father and boss. I am happy doing what I am doing. Everything is not politics. My respect for Mr. President will never change. Mr. President is a man of character and he has been very fair to all the governors irrespective of political differences."
He added that his joining the APC was not at the behest of Buhari.
Umahi Told Me He Wants to Run for Presidency, Says Wike
Wike yesterday insisted that Umahi's ambition to be president of Nigeria in 2023 was the reason behind his defection to APC.
Wike stated this last night on ARISE NEWS Channel in response to Umahi's allegations against him in an interview with the same TV station.
The Rivers State governor said Umahi told him in confidence that he wants to be president of Nigeria in 2023.
"He told me he wanted to run for president, and I told him it was not a matter of personal interest and personal decision of one man to become the presidential flag bearer of the party, but a collective decision of all the party members," he said.
According to Wike, "When he told me about it, I said listen, PDP as a party has to sit down and talk, the presidency of Nigeria is not by you saying I will be president. It has to do with everybody in the party sitting down and looking at the pros and cons and say okay yes we think that the South-east should have it. That is the way it is done; it is not because you are interested and, therefore, it must be done your way.
"If you look at his interview, he said he will retire from politics in 2023. So, when is he going to fight against the injustice against the people of South-east? You heard what members of the PDP in the National Assembly have said. We all want the South-east to have a shot but you cannot achieve that by giving the PDP conditions that if they don't zone it then you leave. The party you are going to, have they zoned it to the South-east? If that was the case then you would have been able to convince people that because the APC has zoned it to the South-east I am leaving to fight for the injustice done to the people of South-east."
He said Umahi's defection will not affect the fortunes of the PDP in Ebonyi State adding: "The mistake people often make is that if a party do not have a governor in a state they cannot win an election in that state. Umahi's defection will not have any effect on us. Why are we even talking about it? Like I have said, the constitution guarantees him freedom of association."
He accused Umahi of trying to blackmail the PDP and jeopardise its chance of winning in 2023 stating that Umahi has been romancing with the APC for over three years.
Speaking on Umahi's claim that he singlehandedly made Uche Secondus the PDP national chairman, Wike said it is an indictment on Umahi as a sitting governor to say he was forced to vote for Secondus as PDP chairman.
He said when the PDP chairmanship was zoned to the south; he personally went round to see all PDP governors explain why Secondus should be the National Chairman.
"If you look at the way he spoke you will know that all is not well with him at this time. He said I imposed Secondus; that is an indictment on him. Secondus is from my state and he wanted to run for an election, I went to him and said please support Secondus; I went round to all the governors and beg for support.
"All of the governors agreed including Umahi who told me that when Secondus was National Organising Secretary of the PDP, Secondus helped him, stood by him and, therefore, he is going to support Secondus. How can Umahi being a governor go to the party convention and said, 'Wike said I should vote for Secondus,' and he went and supported him. You can imagine the kind of governor you are talking about.
"Umahi has shown the kind of character he is made of. He said that I said that the members of the NWC of the PDP are armed robbers. I never said anything like that. I am not one person to say one thing today and come tomorrow to say another thing. What I said was that some members of the NWC are tax collectors.
That was what I said and I will not run away from it. That is the stuff some of us are made of. Umahi cannot threaten me; he knows me very well."