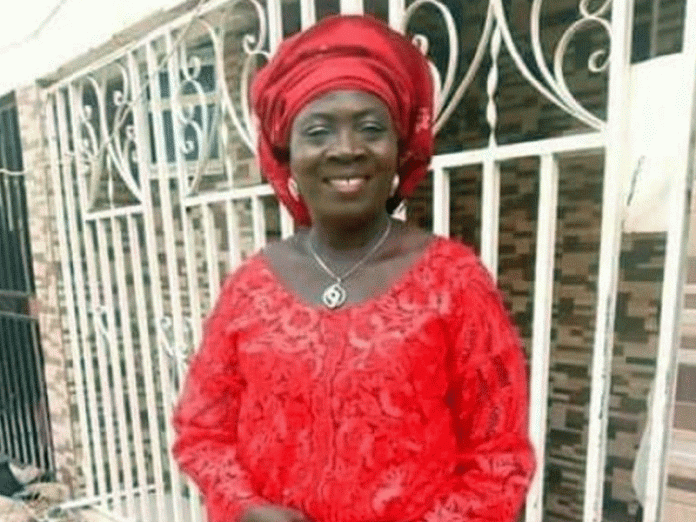 By Kingsley Nwezeh
The families of the slain former Peoples Democratic Party woman leader in Kogi State, Mrs Salome Abuh, yesterday called on President Muhammadu Buhari to bring to book perpetrators and sponsors of the gruesome murder of the politician, who was burnt alive in her residence to serve as a deterrent in order to avert a future occurrence.
The widower, Elder Someone Babani Abuh, also called on the president to compensate the family, whose houses were burnt down by thugs during the last gubernatorial election in Kogi State.
The family demanded justice for her murder, one year after she was killed in a gruesome manner during the Kogi State governorship election.
Salome was burnt to death in her family house at Ochadamu, Ofu Local Government Area of Kogi State on November 18, 2019, by suspected political thugs.
Her killers also set ablaze four other houses allegedly belonging to key PDP members in the community.
Though six suspects were arrested in connection with the incident, only one person was being prosecuted for Salome's murder.
Speaking at the first memorial anniversary of her death and the launch of a foundation in her honour in Abuja on Wednesday, the widower, Elder Simeone Abuh noted that the family was still waiting for justice, adding that he had instructed his lawyer, Daniel Makolo to institute a suit at the ECOWAS Court against the Federal Government for failing to protect his family during the election.
Simeone who recalled the events that led to the murder of his wife disclosed that her assailants, as well as their families, were known, adding that the government had failed to prosecute them.
He also lamented the destruction of his building which had rendered him and his family homeless for the past one year.
The widower appealed to President Buhari to order a thorough investigation into the incident and ensure that justice prevailed.
He stated, "We also pray the President to treat our homelessness as an emergency by resettling and reconstructing our burnt down houses and those of key PDP members in Ochadamu. The government should also compensate us for our losses to justify her rights to life and association."
An activist, Aisha Yesufu condemned Salome's murder and the silence by the nation over the tragedy, noting that the society can not afford to move on without meeting out justice to the perpetrators.
A family member, Jubril Okutepa (SAN), knocked the Kogi State Governor Yahaya Bello for not condoling with the family or visiting the scene of the incident.
The PDP governorship candidate in Kogi, Musa Wada and the party's National Publicity Secretary, Kola Ologbondiyan similarly lamented Salome's death and criticized the failure to prosecute the culprits.