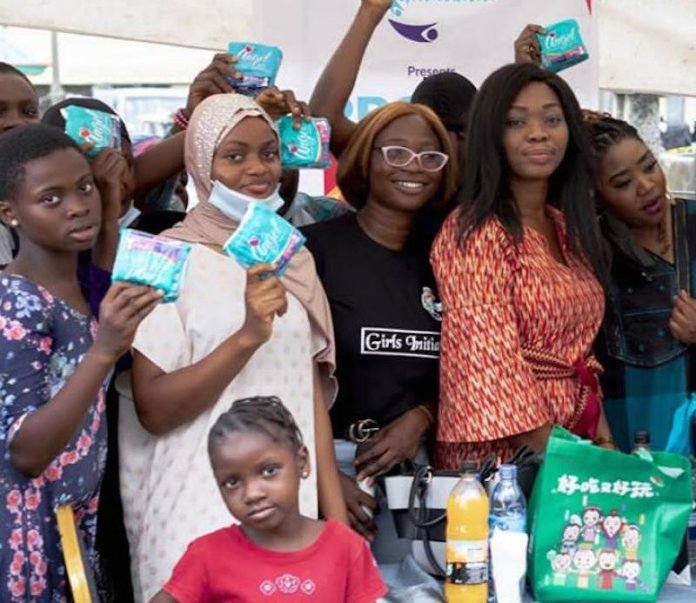 Funmi Ogundare writes that teenage girls need to be empowered on menstrual hygiene practices, especially during this COVID-19 period, as this would guard against urinary tract infections and untreated health problems, as well as ensure that they are not vulnerable to gender discrimination and exclusion
In the district of Orile-Iganmu, Lagos, Miss Sherifat Isah, 13, a student of Community Junior Grammar School, Surulere, lives with her poor parents in their one-bedroom apartment (popularly referred to as face me I face you). Her mother ekes out a living from her petty trading to feed the family and also cater for Sherifat's needs. One Saturday morning, during the COVID-19 pandemic, amidst the hustle and bustle of Orowunmi Street, where they live, Sherifat started her menstrual period which usually comes in the middle of every month. Unfortunately, rather than use sanitary pads like most of her mates in average homes would have done, she opted to use tissue paper because her mother could not afford N300 to buy her the pads.
Regrettably, poverty erodes hygiene in the community and access to a good toilet facility where she lives with her parents is a problem. The same filthy and decrepit toilet and bathroom is shared by seven different families in the same compound. Worse still, the house has only one hand-dug well which everybody also shares.
She told THISDAY when this reporter visited that throughout the COVID-19 lockdown, her mother could only afford to buy tissue paper, which costs N50 each, adding that she usually does not feel comfortable each time she uses it.
"I usually make several folds from the tissue each time I am menstruating. The only time I use a sanitary pad is when I am going to school but I have to use tissue most of the time because there is no money to buy sanitary pads."
Asked her knowledge of menstrual hygiene and how she was able to manage menstrual pain during the lockdown, she said, "I usually have menstrual pain, but I don't take any medication and I avoid sugary things. I used to have my bath at least twice a day when I am on my period and each time I have to dispose of the used tissue or pad, I tie it up in a black nylon and throw it in the dustbin."
Miss favour Ojiaku, 13, is a JS three student of Araromi Junior Secondary School, Ajegunle. She grew up in the slum characterised by derelict toilet facilities. When Favour was 12, she went to the toilet to urinate and discovered that her pants were stained. She was menstruating. It was her first shock transition to adulthood. She began to have menstrual pain and decided to inform her mother who later gave her lessons about how to behave whenever she is menstruating.
Although, all the tenants use the decrepit toilet, Favour did not see anything abnormal about her situation. She also did not know of the dangers associated with her use of local herbal mixtures, popularly called agbo, which are always available whenever she has menstrual pain.
According to Favour, "during this COVID-19 period, I usually take agbo or local herbs prescribed by a neighbour anytime I suffer menstrual pain. The pain usually lasts throughout the day unless I take the local herb."
Sherifat and Favour are not alone in this predicament as so many girls their age find themselves in the same condition. They either lack the knowledge of menstrual hygiene practices or resort to using local herbs for menstrual pain, not knowing that these herbs could result in health complications.
From communities in Orile-Iganmu, Ijora, Ajegunle, Ebutte-Meta/Oyingbo, the story is the same. Investigations by THISDAY revealed that girls from rural communities have poorer hygiene habits during menstrual periods. These are amplified by some cultural expectations and restrictions, which prohibit many of them from being adequately informed about the realities of menstruation.
Dr. Alexandra Adeyemi is a physician working with young people in a school health setting. She confirmed to THISDAY that the cultural expectations and restrictions could handicap the girls from preparing effectively for their periods.
According to her, "poor menstrual hygiene practices can lead to a condition called toxic shock syndrome. Infections of the reproductive system are also a concern and could impact negatively on the health of adolescents."
She said it is imperative to teach pubertal girls good menstrual hygiene practices such as changing sanitary napkins or tampons within every four to six hours, adding that menstrual blood attracts some micro organisms from the body when released and these can multiply over time.
Adeyemi listed other steps to prevent micro organisms, stressing the implications of the non-availability of good toilets and facilities for menstruating girls.
"Poor toilet and sanitary facilities can cause a number of problems for menstruating girls. Menstrual pads need to be changed frequently and preferably in private, with facilities for proper disposal and adequate hand washing afterwards.
Where toilet facilities do not meet these needs, it poses problems like wearing a pad for too long, leaving used pads lying around in toilet corners and girls may choose to stay away from school on such days. Some may try to flush their used pads down the toilets and cause blockage of the pipes. Others may throw theirs into open drains or water bodies, providing good breeding grounds for harmful germs."
She also advised girls to wash their genital areas properly from front to back and not vice versa, preferably with just water or unscented soap, adding that bathing at least twice a day would help to stay clean and fresh.
A medical practitioner based in Amuwo-Odofin, Mile 2, Dr. Taiwo Oke emphasised the need to teach teenage girls how to manage their menstrual period effectively especially during this COVID-19 season.
He explains: "COVID is a viral infection. It all has to do with hygiene through regular washing of hands, and when they are menstruating, they need to be taught proper disposal of their sanitary pads and the importance of washing their hands regularly. Girls must be clean and must ensure the regular washing of hands with soap and water or alcohol-based sanitizer. Proper hand washing techniques during COVID-19 must be adhered to because it is one of the ways Coronavirus, can be transmitted."
On the use of toilet roll during menstruation, Oke said people use it out of ignorance or poverty. "Once young girls start seeing their period, the mothers should sit them down and let them know the importance of using proper menstrual pad. Some use clothes, towels and other items in place of pads which is not good because of the effect. One of the things we try to prevent during a woman's period is urinary tract infection. Some don't have money to buy pads, so they find toilet roll more accessible and affordable. We however advise such girls to dispose of it properly, wash their hands regularly and use sanitary pads."
He confirmed to THISDAY that during the height of COVID-19, so many teenage girls between the ages of 13 and 19 had come to his clinic to complain of heavy and painful menstrual periods, and that he usually gives them antispasmodic injections or tablets and non-steroidal anti-inflammatory injections, for those whose complains were persistent.
"Yes, we have had regular patients between the ages of 13 and 14, sometimes 18 or 19, who came to complain about dysmenorrhea. We gave them pain killers or analgesics and injections. It is a common thing among women. If it is recurrent, we advise them to go for further investigation to find out what is causing it. "
Asked what happens when such girls are not able to access a doctor during this COVID-19 period, Oke said: "Some girls go to pharmacies to procure common drugs such as Buscopan or some anagelsics such as Aspirin. These are off the counter drugs which they take and they calm the pain down within two or three days. "
For girls who decide to use herbal mixtures during their period, he said, "I don't subscribe to such practices, but they do it. When they come here to complain, I ask them which drugs they have taken and they tell me such herbal mixtures work for them. Sometimes it does not work, so they are forced to come to the hospital for medical treatment.
Sometimes they take too much of the dosage of the herbal mixtures which result in other complications, so I try to discourage them from taking such mixtures. As a doctor, I tell them not to use herbs and I advise them to take injections. It is out of ignorance that people run to Iya Alagbo (herbal mixtures sellers) when they have heavy periods," he stressed.
According to a report commissioned by the United Nations Population Fund (UNFPA) in 2018, there is ongoing cultural stigma around menstruation, which contributes to serious human rights concerns for girls. The report, a comprehensive review of available evidence on menstrual health management in East and Southern Africa, was undertaken by a non-governmental organisation, Womena, and released ahead of the Menstrual Health Management Symposium in Johannesburg, South Africa. It underscores the ways periods shame and how misinformation undermines the well-being of the girls, making them vulnerable to gender discrimination, child marriage, exclusion, violence, poverty and untreated health problems.
Mrs. Anuoluwapo Omotayo is the Head, Counselling Unit, Ajeromi Ifelodun Local Governent Education Authority (LGEA), Awodi-Ora. She confirmed to THISDAY the cultural stigma and how teenage girls were perceived especially during the COVID period, saying, "for instance, the white garment churches and mosques do not allow menstruating girls into their worship centres because it is believed that they are filthy. Sometimes, because of poverty and their inability to afford sanitary pads, they stay away from school."
Omotayo cited cases of some teenage girls she had counselled who stayed away from school as a result of the shame they might face when the boys in the class make jest of them, especially when their uniforms get stained.
"It is not advisable to stay away from school because you will miss the topics for the day. We usually advise them on different types of pads available especially for mild and heavy flows. We advise them to go for the ones for heavy flow which sell for N500. There is also the one which costs N200, but it is not good for heavy flows. That is why NGOs are stepping in to give out pads to the girl-child."
Omotayo expressed concern that many girls from less privileged backgrounds cannot afford pads, adding that what used to be sold for N200, now cost between N400 and N500, depending on the brand.
"That is why you see the girls using cloth pads, which are not hygienic at all. If you must use cloth pads, the proper way to use them is to wash them properly, dry them in the sun and iron them. If not properly managed, cloth pads can lead to infections."
She stressed the need for the government to ensure that sanitary pads are made available so that girls from poor communities can have access to them.
In order to influence positive change in the area of education and reproductive health for teenage girls, some non-governmental organisations, have taken the bold step to teach them about menstruation and menstrual hygiene, during this COVID-19 period.
Mrs. Biola Adegbuyi is the Founder of Nineteen Youths Foundation. She expressed concern about the issue of menstrual hygiene, saying that it is a big challenge to teenage girls. She recalled her interactions with some of the girls from rural communities, saying that most of them were not able to attend school because of their inability to afford the pads and access good water supply.
"During the COVID-19 period, I found out that menstrual hygiene is a challenge to many of them. In the course of donating sanitary pads to girls in Ebute-Meta, Lagos, and some selected schools in Anambra State, most of them complained that during their periods, they are unable to attend school because they cannot afford the pads. There is need for them to be hygienic when they are menstruating and have access to clean water supply," she said.
The founder of Girls Talk Initiative (GTI), Miss Morufat Azeez, 19 told THISDAY how she had to partner with some foundations to ensure that teenage girls in poor communities not only have access to sanitary pads, but are also educated about the importance of menstrual hygiene.
"Our mission is to sensitise and support the teenage girls by equipping them with knowledge about their reproductive and sexual health and donation of sanitary pads. We realised that many girls, especially those at the grassroots, still use clothes, toilet tissue and cotton wool while menstruating, which is unhygienic."
Since the inauguration of the programme in September 19, 2020, she said the organisation had donated pads to at least 170 girls in Surulere and Sagamu, in Ogun State.
"Our target is 200 girls. We invited guests to talk to them on menstrual hygiene, why pads are more important than tissue or cotton wool, how long they can use a pad and the importance of menstrual hygiene. We also educated them about the type of infections they may experience in the future if they use toilet tissue or clothes."
Recently, she said her organisation embarked on a sensitisation walk within the poor communities to speak to people and create awareness about menstrual hygiene for teenage girls, as well as a capacity building exercise to empower them on basic knowledge and skills regarding menstrual hygiene management.
For those who preferred to take herbal mixtures for their menstrual pain, Azeez said, "I have been advising them to stop, as this could lead to health complications. Besides, there are several other ways to relieve yourself from menstrual cramps, such as drinking warm water, having a period tracker, avoid taking sugary things, reducing any form of stress and taking analgesics.
"The training has not been easy, but it's really worth it," she said.
Miss Fathia Olajide, 15, a JS 3 student of Peterbay College, Orile-Iganmu, expressed excitement about the enlightenment programme aimed at educating teenage girls on how to better manage their menstrual hygiene. She told THISDAY that there should be more NGOs providing pads for girls who cannot afford them, adding that there should be proper management of toilet facilities so that the girls would not be exposed to infections.
A parent, Mrs. Funbi Fabunmi said though parents tend to shy away from teaching their children the basics as far as menstrual hygiene is concerned, such issues should be everybody's concern for the well-being of their children.
Counsellors, who deal with this issue on a regular basis are of the opinion that the government needs to commit to initiating a campaign that will ensure that topics on menstruation and menstrual hygiene are taught in schools so that girls are fully equipped to manage themselves properly when their periods come and boys are adequately enlightened.
Fortunately, government has seen the need to take appropriate steps aimed at providing an enabling environment for discussions on how adolescent girls can effectively manage their menstruation and menstrual hygiene.
According to the Coordinator, Adolescent Sexual Reproductive Health, Lagos State Ministry of Health, Dr. Olawoyin Imosili, government has identified the need to act in that regard as young girls lack appropriate guidance as to how to manage their menstrual hygiene and sanitary facilities.
She said though the COVID-19 pandemic affected the mentoring sessions which usually hold in secondary schools because schools were shut, no gathering was allowed and sanitary pads couldn't be distributed.
She also revealed that the ministry of health, in collaboration with other stakeholders will, on December 2, be convening a meeting on menstrual hygiene to proffer solutions on the way forward.
"There's also going to be a menstrual hygiene assessment which will take place in secondary schools just before schools close in December, it's a kind of research whereby questionnaires will be administered to girls for feedback which will also inform the government on way forward following the meeting that would be held."
Menstrual hygiene has apparently not been given enough attention by all stakeholders. Although the issue has been aggravated by COVID-19, the pandemic has also provided the opportunity for all concerned to see it as a critical part of teenage development, which if not adequately handled by girls, could cause avoidable and unfortunate reproductive health challenges in future.
This report was facilitated by the Wole Soyinka Centre for Investigative Journalism (WSCIJ), under its COVID-19 Reality Check Project