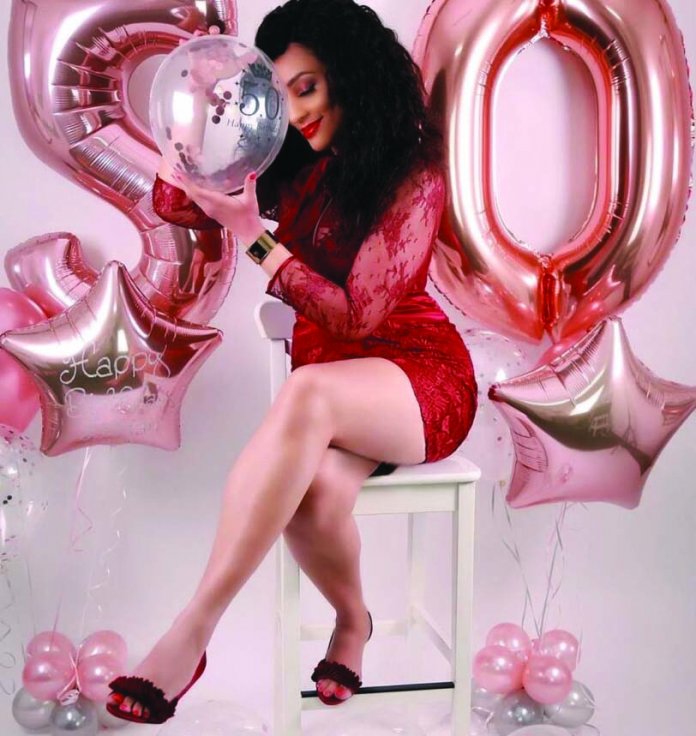 Veteran Nollywood actress, model and former beauty pageant contestant, Lilian Bola Bach, clocked 50 last Monday. The emotion in her celebration was intense, reports Ferdinand Ekechukwu
• It's Not in My Character to Disappoint People
Stunning pictures that speak to roving eyes, encapsulated with terse comments that captured her mood, heralded Lilian Bola Bach's special day last Monday. The series of posts pushed out to mark her fabulous 50th birthday anniversary were indeed emotional. The half Polish, half Nigerian was really excited last Monday. Her face was cheery, devoid of the teary stare she wore after the EndSars unrest. Bach's sexy underwear store located at the Adeniran Ogunsanya Mall in Surulere was one of those affected during the unrest. Not even a thong or G-string was left behind and she took to the social media to lament the situation.
In the Instagram post she shared on her birthday, the Lagos-born star donned a simple red dress, curly wig, and melting smile, with balloon decorations that spelt 50. She looked years younger than her age. Bach accompanied each of the photos with short comments, and thanked God for the milestone. Taking to the photo-sharing app, Bach, who was born to a Yoruba mother and a Polish father, captioned the post thus: "Thanking God for fifty fabulous years. #oluwamimodupe".
The ageless thespian added: "Excited and thanking God @50 modupeoluwa. I see you, 50, and I am embracing you joyfully. Cheers to 50 blessed years #iamgratefuljesus."
The former Most Beautiful Girl Nigeria contestant, who appears to be on hiatus from the screen for some time now, gained prominence in the 90s after her stint at the popular beauty contest. It earned her slots in several television commercials. Her popularity soared in the movie industry after appearing in Tade Ogidan's "Married to a Witch." As most believed, her fame did not come from modeling, which she first entered in 1989. Lilian joined Nollywood and even started producing her own movies years back in 2008.
She said in a recent interview: "I believe I have always been in the limelight. It's just that modeling didn't give me much publicity when I started out. But like I said, I got into the acting profession in 1997 and then, I guess, I didn't have enough experience. The first two jobs I did were not rewarding at all, as one of the producers absconded with my fee. The second job was not encouraging to me, resulting in my taking a break for some time. When I came back, I did movies like, Married to a Witch, From Grace to Grass. And these movies, I would say, brought me into limelight in the acting."
Growing up, Lilian loved the showbiz industry from childhood: "I actually thought I was going to become a singer first before becoming an actress. As a child, I used to sing a lot and I watched a lot of detective movies. But because I'm a very shy person, I could not get into it so well when my modeling colleagues like Kate Henshaw, Euchaira Anonubi and many others were veering into the world of make-believe. I never saw myself as somebody that could act."
She speaks about her weakness: "There's one thing I'm praying to God to change about me and that's what I don't like about myself. I'm too trusting. I trust a lot and it backfires on me especially with women. People come to me and start lying and I don't expect them to lie. I just trust people, I trust them with money and it backfires. I just have to change in that area to be on a safer side. Not as if I'm gullible but sometimes you miscalculate. It happens most when you're dealing with people you already know. I do not want to mention names."
Naturally, Lilian is a very shy person. She is tall, beautiful and her skin glows even in the dark. Lilian attributes her enduring beauty to the Supreme Being. She also maintains a tough beauty regimen. "First of all, just like we say in the movie industry, when we are rolling the end credit, to God be the glory. I thank God that I am a beautiful woman. Everything good needs maintenance otherwise, that's the end. If you don't maintain your skin and everything around you, they get spoilt easily. We have harsh weather here. For somebody like me with my natural fair skin, I have to maintain it.
"I do a lot of exfoliation, I do that daily. I moisturize my skin twice daily, against the sun and harsh weather. And I drink water, water is very good. And I sleep a lot anytime I have to sleep otherwise; you know the bag under the eyes will surface." Not forgetting that she has a polish blood running in her veins and that makes her an 'Oyinbo woman'. . . "So talking about outer beauty, my own man loves everything about me; my legs, hips, boobs and everything. I'm wonderfully made. God has made me so well that I appreciate every organ of my body physically and even the ones internally that I can't even see. Every part of me trips my man . . ."
Truly, she's got the figure, the kind most men would die for. But Bach has perpetually left everyone wondering for long. . . "For me the secret of coping with men is just to remain courteous. You do that by saying just a polite no to their advances and offers. Funnily, some of these men come as fans and will not allow you to rest. How they get one's phone number is amazing. Some are just fans, they want to appreciate your works and some live in fantasyland. Saying, 'oh my God, I want to date that superstar,' in that case, you put them where they belong, but like I said earlier, a gentle polite no will do. The stubborn ones I handle with some level of harshness.
Bach has never been single but she has never been married. How many men has she disappointed and how many of them have disappointed her? "May be, I will see myself as a bad girl because I have actually disappointed a lot of men. But I believe these men I disappointed were not good men. It's not in my character to disappoint people especially the opposite sex. And again, it's better for me to end a bad relationship rather than hanging on to it and regretting thereafter, or ending up in marriage and recording a broken home. I guess, these are 'bad men' that are not meant to come on board. If I disappoint them, I have no regrets whatsoever."