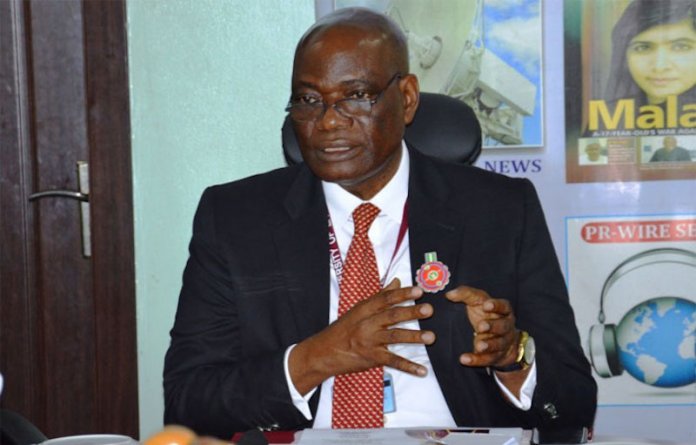 The Vice-Chancellor of the University of Lagos, Prof. Oluwatoyin Ogundipe, has resumed work a=fter his reinstatement by the Visitor to the university, President Muhammadu Buhari.
Ogundipe was earlier asked to 'step aside' by the Visitor of the university pending the outcome of an investigation over allegations of infractions and gross misconduct.
When Ogundipe resumed work yesterday, he was received by members of staff of UNILAG, including top management personnel, at the Senate Building foyer.
He urged the workers to allow peace to reign in the institution.
"Let us all be united. It is not about the academic or non-academic staff; it is about UNILAG. Let us all work together and allow peace in this institution," he said.
The former Pro-Chancellor and Chairman of Council of the University of Lagos, Dr. Wale Babalakin, and Ogundipe, were directed to recuse themselves from official duties, pending the outcome of the Special Visitation Panel set up by Buhari, on August 21, 2020.
The UNILAG's Governing Council, headed by Babalakin had removed Ogundipe at its meeting in Abuja on August 12, over allegations of infractions and gross misconduct.
The council, however, appointed Prof. Theophilus Omololu Soyombo of the Faculty of Social Sciences as the Acting Vice-Chancellor.
But Ogundipe denied the allegations and subsequently approached the court to challenge his removal.
In a bid to return calm to the university, Buhari asked both Ogundipe and Babalakin to "step aside".
But Buhari on Wednesday, approved the reinstatement of Ogundipe, saying his removal by the Governing Council did not follow due process.
This was as the UNILAG branch of the Academic Staff Union of Universities (ASUU) and the Non-Academic Staff Union of Universities (NASU) lauded the decision of the President to reinstate Ogundipe.
The government said the process adopted by the council in the appointment of Prof. Omololu Soyombo as acting Vice Chancellor of the university was inconsistent with the provisions of the law relating to the appointment of an acting Vice Chancellor.