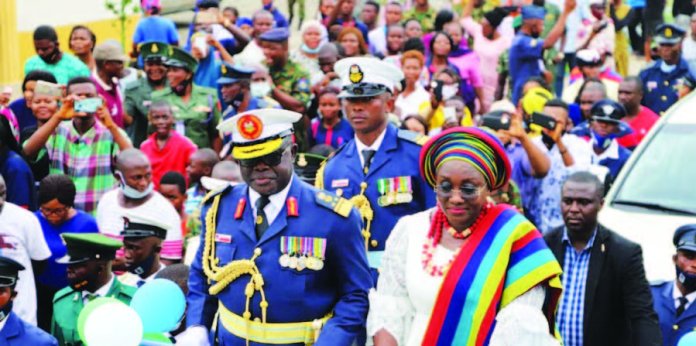 Chiemelie Ezeobi writes that the retirement of the former Commandant, Nigeria Armed Forces Resettlement Centre, AVM Lar, was an ample opportunity for the military to showcase their long standing tradition in the most colourful valedictory parade
If there is any institution which adheres to tradition no matter how long ago it was established, it is the military. Tradition they say never dies and that particularly holds true for the military. The Nigerian Navy, one of the tripod arms of the Nigerian Armed Forces, is not an exception.
For them, instead of tradition being deemed as archaic and outdated, these customs and traditions are seen as an anchor to their past, constantly reminding them of where they have been, where they are now and where they hope to be. It would therefore be safe to say that the very tapestry or fabrics that holds the military together is its customs and traditions. Even though those traditions might not be understood by civilians, because of what they deem excessive regimentation, for the military, those same traditions are their heritage, even as they seek to align
themselves with contemporary modern day structures and practices.
Thus, the observance of the customs and traditions of the military is an integral part of their way of life because a well defined
and strong military built on past traditions is germane to its growth. The Traditional Valedictory Parade So, it was in line with military traditions,
that they recently rolled out the drums and celebrated their own and immediate past Commandant, Nigeria Armed Forces Resettlement Centre (NAFRC),
Air Vice Marshal (AVM) Kingsley Lar, whose 10-month tenure as commandant came to a close after having reached his pinnacle after many years in the military.
Lar who clocked 56 years on November 4 and in accordance with military rule, had to retire despite that his course would reach the mandatory 35 years on July 21, 2021. The pulling-out-parade, which is a traditional military ceremony to mark officers' retirement from service, is often held with pomp and pageantry. This recent one was no different.
The retirement ceremony was kick-started by a series of events beginning with a Jumaat prayer and Tennis games on Friday, October 30, a Golf Tournament; interdenominational thanksgiving service and dinner on Saturday, Sunday and Monday respectively. The final process was the pulling/sailing out parade proper, and the quarter guard was stationed at the gate of the centre. When Lar arrived the parade ground, a mammoth crowd had gathered to bid him farewell. He marched on to mount the Dias at the parade ground to take a salute while the band piped. He soon went on to review and inspect the parade mounted in his honour. This soon gave way for the parade march past led by the parade commander. After which he went on to read his speech and bid farewell to officers and men of the centre. Sojourn in the Military Overwhelmed by the outpouring of love towards him, an emotional AVM Lar in his valedictory address thanked God for bringing him to the limelight through the military from village in Pankshin, Plateau State, despite that he never wanted to join the Armed Forces.
He recalled how God picked him from a village with just 21 compounds, till date, to honour him, describing his sojourn to the military as an act of divine providence. Going down memory lane he said: "When I arrived in Lagos as a four-year-old in 1968, I never in my wildest imagination contemplated that 52 years after, God, in his infinite mercies will grant me the opportunity to end my very eventful and meritorious military career here in Lagos where I started a new life after my place of birth, Pankshin, as a little boy. "It was on August 1, 1978, exactly 42 years, two months and fifteen days ago,
that I began my military career as a soldier. I would like to place on record that but for my dear friend, now Barr. Similola Diya, I probably will not be standing here.
"I recall that in September 1982, shortly after I resumed form five in the Nigeria
Military School (NMS), it was a Saturday and the day we were to write the entrance examination into the Nigeria Defence Academy (NDA) for the 34th Regular Course. "That morning I decided that I was not going for that exam. Even though the school bus that was arranged to take us parked at the back of my room being the number one room in the NMS, I decided that I was not going to take the exam.
"But my dear classmate, Barr. Similola Diya, came to my room and compelled me against my will to go to Kaduna to take the entrance exam that eventually got me into the Nigeria Defence Academy, as a member of the 34th Regular Combatant course in the military. "God in his infinite mercies made room for me and today to his glory, I have attained this high rank of AVM and have the opportunity to contribute my own quota to the growth and development of the Armed Forces and the Federal Republic of Nigeria. "It might interest you all to know that my village, even as we speak today, has only 21 compounds. This is to tell you that
I come from a very small town and yet by the grace of God, here I am being celebrated by all of you". Recounting how the country trained him through school, he said: "I hereby charge us to continue to love Nigeria and continue to speak good about this country. Stop complaining about what leaders are
doing or not doing. "Yes, things may not be as we want to see them. But what are we doing in our own small space to add value? Let us begin to
do something from our own small corners so that together we can build a more united and greater Nigeria. "We all have a stake in this country. If Nigeria goes into chaos, we will all be consumed by that chaos. So, we must do our part to ensure Nigeria continues to wax stronger and becomes greater.
"I can tell you boldly that but for Nigeria, I will not be standing here this morning. I have the privilege of going to school- from primary level, the NMS and the NDA at no cost. Nigeria has sustained me from that time until now and I am grateful," he said. AVM Lar appreciated President Muhammadu Buhari for alleviating the pains of retired military personnel, just as he thanked the Chief of Air Staff (CAS), Air Marshal Sadique Abubakar for finding him, an Air Provost officer, worthy of significant and strategic appointments in the Nigerian Air Force (NAF). Pulling Out After this, another important military tradition took place. It was time to pull him out.
Climbing the light green painted jeep, which has pulled out countless others before him, he and his wife, Sheila were pulled using a white thick rope. Lined up on both sides of the road were personnel of the service who saluted and cheered Lar as he was pulled out. At his pulling out, a mammoth crowd gathered including primary school pupils, who lined the road and waved the Nigerian flag and banners. Also present were officers and staff of centre who noted that the centre witnessed remarkable infrastructural and environmental transformation under Lar.
The procession ended at the gate of the centre where he boarded his vehicle with his wife and thus he was sailed out of the military. With that, tradition was kept and adhered to.