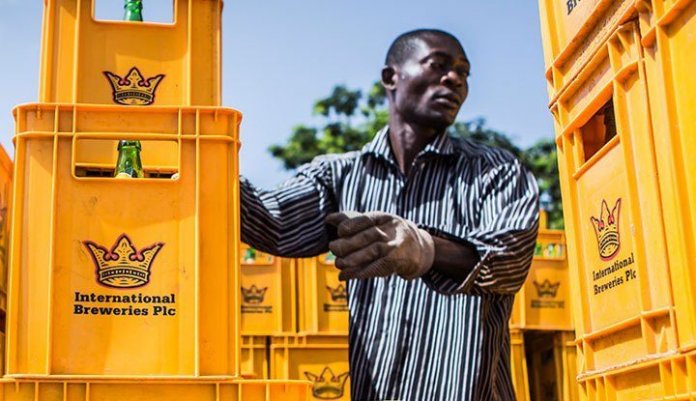 By Goddy Egene
International Breweries Plc has reduced its loss after tax (LAT) for the nine months ended September 30, 2020 to N10.877 billion from N16.445 billion in the corresponding period of 2019. The reduction in loss resulted from a significant decline in financing cost and other cost reduction strategies.
Details of the results showed that International Breweries Plc posted a revenue of N95.768 billion, down from N97.26billion in 2019.
However, the company was able to reduce administrative expenses from N19.5 billion to N17.613billion, while market and promotion expenses fell from N11.812 billion toN8.416 billion. Financing cost took a big plunge from N13.136 billion to N1.8billion.
Consequently, loss before tax stood(LAT) at N17.719billion in 2020, compared with N24 billion in 2019, while loss LAT reduced fromN16.44 billion to N10.877 billion in 2020.
Commenting on the third quarter (Q3) performance, analysts at Meristem Research said unlike the first half of the year, where revenue was down 11.68per cent, International Breweries Plc, posted a
comparatively stronger Q3, which lifted overall revenue for nine months toN95.77 billion, a 1.53 per cent decline from 2019.
"The upsurge in sales during the quarter rode on the back of recovering demand for alcoholic beverages, particularly as on-trade sales channels came back on stream. Although we consider International Breweries Plc's product-price mix as a source of competitive advantage, we envisage that alcohol demand would come in slower than is usually witnessed in the celebration ridden Q4 period. Our view is also informed by pressured disposable incomes and even weaker purchasing power as consumers continue to grapple with surging inflation," they said.
The analysts noted that higher finance income and lower finance costs reduced the burden from interest payments.
"At just N1.83bn, net finance charges for 9M:2020 showed a significant 86.09 per cent improvement over 9M:2019 levels. The brewer also benefitted from tax credit of N6.84 billion which settled its LAT position atN10.88 billion. For the rest of the year, we reiterate our expectation of the firm remaining in a loss position due mainly to lingering cost pressures," they said.
Looking ahead, they said as they highlighted in H1:2020, their bearish outlook for International Breweries is informed by pre-existing industry headwinds (intense rivalry, excise duties and
soft consumer spending)as well as the impact of COVID-19 on sales.
"For 2020FY, we have revised our EBITDA margin estimate to 6.50 per cent (N8.18 billion) and cut our target EV/EBITDA multipleto20.70x. This yields a target price of N4.05 –presenting a downside potential of 41.30 per cent when compared to its closing price on 9thNovember, 2020," they said.