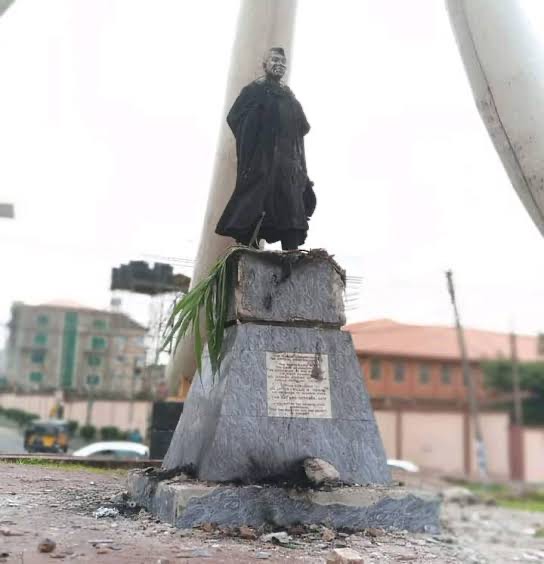 To this day, almost all the governors across Nigeria who addressed their states over the activities of protesters have dissociated youths from their states from the wanton destruction, killings and arson. David-Chyddy Eleke in this report, asks where the youths came from
On October 24, 2020, Governor Willie Obiano of Anambra State in a statewide broadcast to address the destructions by youths said that most of the destructions were not by people of the state. He said, "Intelligence at our disposal shows that those that have been causing trouble these past days in the state are from neighbouring states. We will not allow them to destroy our infrastructure, including police stations and other government facilities, some of which we built through self-help and community efforts".
The governor in doing so called on youths of Anambra State to unite and guard their communities, saying that the security agencies have been strengthened and will continue to maintain peace and order in Anambra. He said enough was enough, and warned those who still plan to cause trouble in the state to desist or face the consequences.
Obiano is not alone in this claim. In Ebonyi State, Governor Dave Umahi said, "We leaders did not see anything wrong in the demands of our young children, however, it is very unfortunate that these wonderful young children have been infiltrated by hoodlums who now burn property of innocent citizens. In my state, Ebonyi, I have noticed with sadness, how peaceful protest in the state has been hijacked by hoodlums and cultists who were shifted from outside the state into our very peaceful state".
Lagos Governor, Mr Babajide Sanwo-Olu; Cross River State's Prof Ben Ayade; Rivers State's Barr Nyesom Wike; and Enugu State's Rt Hon Ifeanyi Ugwuanyi, as well as many others in their broadcasts denied too that the youths were from their states. In Akwa Ibom, there have been insinuations that irate youths who embarked on destruction were from Calabar. But the Cross River government has denied that youths of the state were responsible for destructions in the state.
In Anambra, the news of the burning of the statue of former Nigeria President, Dr Nnamdi Azikiwe, was first attributed to member of the Indigenous People of Biafra (IPOB), but later moved to youths from Ebonyi State. There was huge disagreement over the identity of the youths who perpetuated the violence in Anambra. The argument snowballed into a disagreement, with many people insisting that youths of Ebonyi, resident in Anambra were responsible to the destruction.
Though Obiano did not mention the identity or state of origin of the youths involved, but in his reaction to this, a public affairs analyst, Chima Christian described the argument as an attempt to make scapegoats out of Ebonyi youths in Anambra.
"I find a troubling thought pattern that needs to be addressed immediately. Governor Obiano said last weekend that 'over 85 per cent of the invaders came from neighbouring states'. He has repeatedly and, even more recklessly, publicly claimed that the destructions that visited the state was caused by non-Anambra indigenes. This is the same claim he made when Python Dancers shot and killed IPOB agitators not so long ago. He conveniently ignored that a lot of young men from Anambra are sworn IPOB loyalists and claimed the agitators that turned violent after the military gunned down some of them were 'miscreants from neighbouring states'.
"This thinking resonates with a lot of people in Obiano's government. But they are hardly alone in this faulty, if not bigoted, thinking. A lot of Anambra people, including the super educated and exposed bunch believe and openly say that what happened in Anambra last week was caused by "Abakiliki people." Let's look at the facts. In one of the social media videos I watched documenting the destruction of a police station in Ihiala, not only were the hoodlums speaking Anambra Igbo, they were speaking highly concentrated Ihiala dialect".
Similarly, in Lagos, governors of the South Western region who visited Lagos State Governor, Sanwo-Olu, after reviewing the level of destruction concluded that the destruction was a deliberate attempt to weaken the economic strength of the South-west. This implies that that the vandals came from outside the state.
There were also direct accusations at Igbo people in Lagos as being some of those who engaged in the carnage in Lagos State. This also led to one Adeyinka Grandson, making a broadcast and asking Igbo people to leave Lagos within 48 hours, claiming that at the expiration of the 48 hours grace period, there will be massive attacks on them and their properties.
The broadcast, which was made in the form of a video and circulated on the internet may have been a fall out of claims by Nnamdi Kanu that he commanded his boys to engage in the destruction; a claim that has been dismissed as false. But the video by Grandson sent a wave of fear up the spines of most Igbo people living in Lagos. Mr. Joe Igbokwe, an Igbo and a prominent member of the All Progressives Congress (APC) in the state, is also a senior special assistant to Governor Sanwo-Olu of Lagos. He is one Igbo man considered to be close to the seat of government in the state, and also to the Yoruba race.
In a panic video broadcast made on the internet, Igbokwe who mostly spoke in Igbo language claimed that he had felt the pulse of the Indigenes of the state and concluded that all was not well. He attributed this to verbose claims by Nnamdi Kanu, while urging Igbo leaders to quickly; both individually and collectively disown Kanu as the mouthpiece of the Igbos, and also distance Igbo youths from the destructions that happened in the state. His plea may have been heeded, as Kanu was quickly dismissed by many, while Ohanaeze Ndigbo, the pan socio-cultural umbrella organisation housing all Igbo people also distanced themselves from Kanu's alleged command, thereby bringing relief to the people.
Enugu State was not left out in the claim, as a statement by the state governor, Ugwuanyi had also claimed that the vandals were from outside, and targeted the state for vandalism. The argument was taken far, when a picture of a billboard purportedly erected in Enugu State and sponsored by an aide to the governor, Hon Mrs Vivian Aniekwe surfaced on the internet.
The billboard had pictures of popular musicians; Flavour and Phyno, with an inscription – Don't use EndSARS protest to blackmail Enugu State government, go to your state, our governor is working. The implication of the message was that both musicians who hail from Anambra State but have all their lives resided in Enugu were targeted for condemnation for leading EndSARS protest in Enugu State, before it turned violence.
Also, the duo of Rivers State Governor, Wike and leader of IPOB, Mazi Nnamdi Kanu are still locked in bitter altercation, over the identity of those who destroyed public properties in Rivers State.
Governor Wike had placed a bounty on the head of the leader of IPOB in Rivers State, insisting that most of the damage was from IPOB members, who are not even from the state. In a bold address, Wike dismissed claims by the separatist IPOB members that the state was part of Biafra land.
In all the denials, one would be tempted to ask where the youths who destroyed public and private properties across the country came from if they were not from the respective states where the destructions were carried out as the governors have claimed
. A lawyer, Mr Chukwuemeka Okonkwo who spoke to THISDAY dismissed the claims of the governors, saying they were only trying to save face, and also not to annoy the youths of their states.
"If you ask me, every governor who tried to extricate the youths of their states from the destructions were only being diplomatic, also trying to placate the youths and then put blames where blames should not be, just to curry the some favour from the same youths. You remember that while the protest lasted, all hell was let loose and it was almost as if anyone who spoke ill of the youths is attacked. Do you think the governors themselves were not afraid of the youths? So, those comments by the governors were just face saving and meant to placate the youths.
"Destructions in Anambra were not done by anyone else but Anambra youths. Destructions in Rivers were not done by anyone but youths of Rivers State. You can say they are IPOB members, yes, but truth is that Rivers youths are also part of IPOB. In Lagos, the destructions in Lagos were not done by people who are not from Lagos. Let these governors face the fact and know that such comments are divisive and can cause further trouble."
Also speaking, China Christian who spoke about the activities of looters in Anambra said, "We know the people who caused these destructions. We know our people have a hand in it. Some of us even cheered them on at the early stages. Abakiliki people are now the fall guys. I don't understand how we can in one breath claim Abakiliki people are responsible for the carnage in Anambra while at the same time calling Adeyinka Grandson and others blaming Igbos for what happened in Lagos bigots. It appears we now feel our own bigotry is justified but when it is done against us we shout the loudest.
"I understand some people making the unfounded claims are shocked by the barbarism displayed last week. They don't believe our people can behead a police officer, for instance, and then dance with his head. I say to those people "you know so little about contagion effect and what people can do in a turbo-charged atmosphere. Despite our relatively low unemployment rate, we still have a large swathe of unemployed and underemployed young people who are so angry and frustrated by the state of affairs.
"Until we routinely address those issues, they will not hesitate to seize available opportunities to exact what they understand to be vengeance on the state. What happened was terrible but it will be naive to assume that we've seen the full destructive capability of our misguided young people."