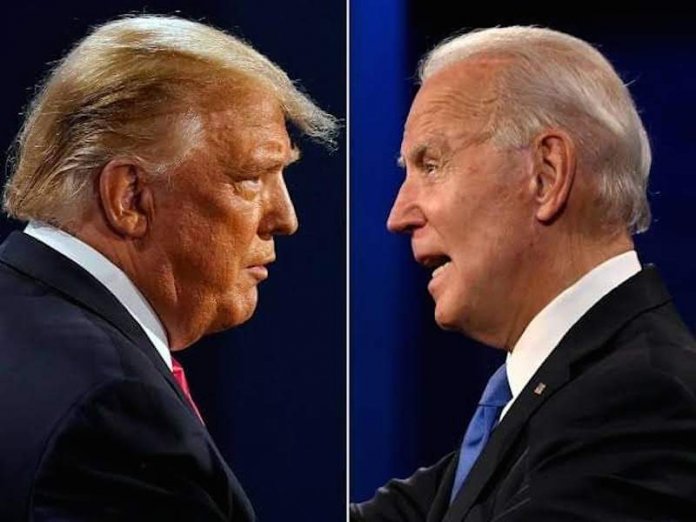 By Martins Ifijeh in New Jersey, USA
Following months of bruising presidential campaigns in the United States between the candidate of the Republican Party, Donald Trump and that of the Democratic Party, Joe Biden, anxiety mounts as Americans and the world await outcome of the poll.
A record number of Americans had cast their votes Tuesday in what has been termed – the most consequential election in the US history – to either re-elect Trump, who is running on the promise of delivering a strong economy and law-and-order; or replace him with Biden, who has vowed to make defeating the Covid-19 pandemic his top priority, as well as unify a strongly divided nation.
Although results from early voting of over 100 million voters had shown that 43 per cent of the votes had gone to the Democrat while 37 per cent tilts towards the Republican party, both candidates are optimistic of victory.
Analysts believed early lead by Democrats do not determine results, as the party has a history of voting early, while Republicans are often termed late voters.
National polls give a firm lead to Biden, but it is a closer race in the states that could decide the outcome. Trump believed winning would be easy for him even though he told reporters Tuesday that losing was not going to be easy for him. "I will not speak about the election tonight until after results," he told reporters
He also told Fox News during a phone interview that he felt good about his chances of victory, predicting he would win "big" in key states such as Florida and Arizona. "I think we have a really solid chance of winning." Asked when he would declare victory, he said: "When there's victory. If there's victory… there's no reason to play games."
Biden on his part, said he was sure of a multiple path to victory, and that he hopes to put America on its position if he assumes office as president.
In the US election, voters decide state-level contests rather than an overall single national one. Among the first swing states to begin election-day voting on Tuesday were the key battlegrounds of North Carolina and Ohio, followed by Florida, Pennsylvania, Georgia, Michigan and Wisconsin. Arizona – another closely-contested state – followed.
To be elected president, a candidate must win at least 270 votes in what is called the electoral college. Each US state gets a certain number of votes partly based on its population and there are a total of 538 up for grabs.
This system explains why it is possible for a candidate to win the most votes nationally – as Hillary Clinton did in 2016 – but still lose the election.
Control of the Senate is also at stake in these elections, with the Democrats seeking to gain control of both houses of Congress and the White House for the first time since early in Barack Obama's first term.
The COVID-19 pandemic has at times overshadowed the election campaign, with the epidemic in the US worsening over the final weeks of the race. The country has recorded more cases and more deaths than anywhere else in the world, and fear of infection has contributed to an unprecedented surge in early and postal voting. There are fears that pockets of post-election violence could break out as the results come in.
A new "non-scalable" fence has been put up around the White House in Washington DC. Businesses in the nation's capital and also in New York City have been seen boarding up their premises due to concerns about unrest.
Americans are also voting to elect 435 members of the House of Representatives, which is currently controlled by Democrats, and 35 members of the US Senate (including special elections in Arizona and Georgia), dominated by Republicans. Democrats are expected to keep control of the House, but the big fight is for the senate.
Also on the ballot is an Indian American who stands to make history if elected: Kamala Harris, the Democratic nominee for vice-president. She will be the first black woman and the first of Indian, South Asian and Asian descent, elected to the high office. Four Indian American members of Congress are seeking re-election — Pramila Jayapal, Ro Khanna, Ami Bera and Raja Krishnamoorthi — and a few others, who are running for their first terms.
Biden has led Trump consistently in national polls and battleground states; the race has remained remarkably stable. The former vice-president is leading the incumbent by 8.4 percentage points (51.8-43.4 per cent) in the 538 weighted average of polls and by 6.7 (50.7-44 per cent) percentage points in the Real-Clear-Politics average, but only by 2.3 points in the aggregator's polls in the top battleground states.