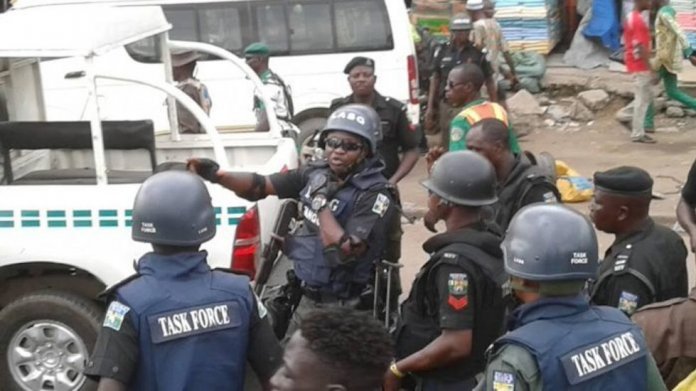 By Chiemelie Ezeobi
Furore greeted the alleged murder of a journalist with GBOAH Television, Pelumi Onifade, by officials of the Lagos State Environmental Sanitation Enforcement Agency (Taskforce).
Onifade, a 20-year-old student of Tai Solarin University of Education (TASUED), Ogun State, was interning with the online television because of the ongoing ASUU strike.
He was deployed by his office to cover looting of palliatives at Oko-Oba, Agege, on October 24, when men of the Taskforce allegedly shot and took him away.
According to reports, Onifade had a GBOAH TV jacket on and was conducting an interview with residents of the community to know what was happening in the neighbourhood when he was hit by a bullet fired by policemen attached to the Taskforce to disperse the crowd.
The officers were said to have taken away the wounded Onifade despite his colleagues showing his media identity card.
Subsequent efforts by the family and the broadcast station to locate him proved abortive and after days of searching for him, his corpse was discovered in a morgue in Ikorodu.
Trending #JusticeforPelumi on social media, his friends said his body was discovered at Ikorodu General Hospital last Friday after his family received a call from the police following a missing person poster that was syndicated.
They said the family had since October 24, been looking for the young man and even went to the Taskforce, which denied having him in its custody.
Narrating on Twitter how the incident happened, Shoetan Opeyemi said: "On October 24, there was crowd in a compound at Oko-oba, Agege.
"Onifade Pelumi and his colleague were sent as media personnel to know what exactly was going on in that area. While in an interview with the residents, Taskforce officers came with cutlasses, throwing bottles and shooting live bullets as they attacked the crowd.
"Out of fear, the crowd including Onifade Pelumi ran for their lives. In a short while, his colleague saw that Pelumi Onifade had already been injured and was being carried by four Taskforce officers into their Van (Black Maria).
"His colleague tried to defend him by showing his ID Card and making them understand that he was putting on a GBOAH TV jacket. They threatened him with a cutlass and cocked their gun at him.
"A thorough search was conducted from police stations to prisons all over Lagos State for four days (Saturday, October 24th to Tuesday 27th) after which a 'Missing Person' graphics was shared across all social media platforms to aid the search of Onifade Pelumi, which went viral.
"That same evening of Tuesday, October 27, the head of Taskforce Lagos State called, saying he saw the post, and they agreed to meet on Wednesday, 28th of October at the State Headquarters, Ikeja.
"After the meeting with taskforce, the officer that led the squad said they arrested five people at the Ministry of Agriculture Abattoir, Oko-Oba, Agege, but one person died and they have dumped his corpse at Ikorodu Mortuary.
"They scheduled a meeting for Thursday to confirm if his name was in the list of those arrested, if not they will go to the mortuary at Ikorodu to confirm."
Noting that the appointment was rescheduled for Friday because of the public holiday, he added, "On Friday morning they got to Ikorodu and behold it was Pelumi Onifade's corpse.
"We are not against the police, police reform is a fight in the country. At age 20, he was the breadwinner of his family that consist of his father, mother and two younger sisters; responsible in his church and also a member of the boy's brigade.
"The youth in the community are asking for these four agenda: That whosoever pulled the trigger be identified and prosecuted accordingly. In the absence of the culprit, the person who led the squad must be held responsible and prosecuted.
"The family of Onifade Pelumi should be compensated and a public apology from Lagos State Government and the Police Command."
Contacted for reaction, Taskforce Officer-in-Charge, CSP Yinka Egbeyemi, referred THISDAY to the state Police Spokesperson.
When contacted, SP Olumuyiwa Adejobi said all issues around the #ENDSARS protest were being handled by the Judicial Panel of Inquiry, noting that the bereaved family should channel their complaints to the panel.