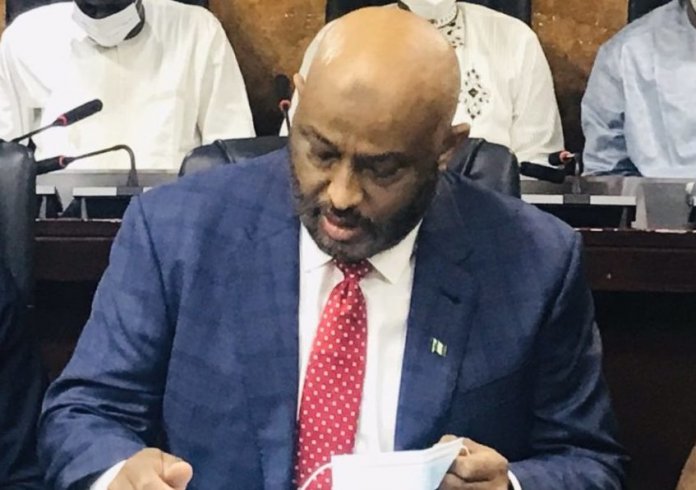 Chris Uba
The Pharmaceutical Society of Nigeria (PSN) has honoured the Director General of Standards Organisation of Nigeria (SON), Mallam Farouk Salim, along with five other pharmacists for attaining great heights in the public service.
The awards were conferred on the recipients at a forum organised by the PSN in Abuja.
Chairman of the occasion and Publisher of Leadership Newspapers, Pharmacist Sam Nda-Isaiah congratulated all the awardees on attaining key positions in the public sector and described them as great pride to the pharmacy profession.
He enjoined the award recipients to strive to make meaningful impact in their various positions to pave way for the appointment of more pharmacists into key positions of responsibilities in the public and private sectors in the near future.
Commenting on the recent protest against police brutality in the country, the publisher expressed support for the idea, but condemned the wanton destruction and arson that followed it.
He stressed that even President Muhammadu Buhari supported the protest by acceding to the immediate disbandment of the outfit.
Nda-Isaiah stressed the importance of dialogue in achieving noble objectives.
In his keynote address, President of PSN, Sam Ohuabunwa commended the SON Director General on his appointment and expressed confidence that the organisation was set for positive changes to improve on its achievements in years past.
The PSN President expressed the pride of the society, "in having pharmacists occupy key public service positions such as Permanent Secretary in the Federal Ministry of Budget and Planning by Mrs. OlusolaIdowu; Salim; Dr. Kelly Nwagha as Acting Director General, National Social Insurance Trust Fund (NSITF); Dr.Zango Mohammed as Managing Director, NNPC Medical Services; Mrs. Christiana Akpa, General Manager, Medical Services, Nigerian Ports Authority and Professor Isa HussaniMarte, Chief of Staff to the Governor of Borno State."
Ohuabunwa noted the efforts of all the appointees in expanding their knowledge base as well as building their capacities beyond pharmacy as a profession but rather as effective managers of men and resources.
He commended the various organisations in the health care sector in particular for opening the turf for leadership to all professionals in the sector and challenged practicing pharmacists to provide avenues for the professional development of those upcoming.
The PSN President challenged the awardees and all members of the group to join hands towards the speedy completion of the Secretariat building project in Abuja and invest in a similar project in Lagos for good returns.