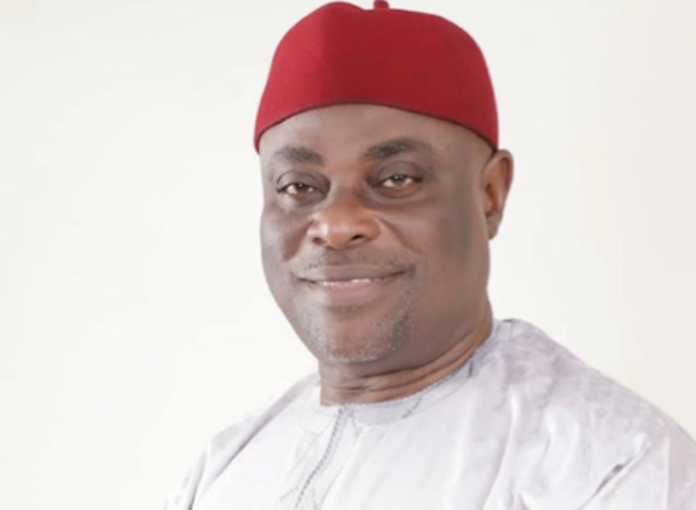 The World in Trouble Because We've Lost Family Values
The trajectory of Chief Victor Ozonkpu Oye, businessman and politician deserves a book. Oye, the National Chairman of the All Progressives Grand Alliance, APGA, lost his mother at age 19 and his father at age 20, but survived and became a success, thanks to the training his father, an ex-service man, gave him. He describes his late father as "a bit high-handed" but admitted the high-handedness helped to shape his life. Oye reminisced: "If not because of the way we were brought up, how could I have survived." He trained in the seminary and almost became a priest but "God didn't choose me." This religious man attended All Hallow's Seminary, Onitsha and the University of Lagos. He worked variously as a reporter, Chief Sub-editor, Sports Editor, Associate Editor at Daily Star, Satellite, and The Guardian Newspapers. Oye shares the story of his life with Onyebuchi Ezigbo
Growing up in Aba
I was born in Warri which was then in the Mid-western Nigeria and today, it is called Delta State. My father was a civil servant. He worked with the then Nigerian Post and Telegram. He worked in Warri and from Warri, he was transferred to Burutu, to Sapele and from Sapele to Aba and by the time we got to Aba I was three years old which was in 1959. I schooled at Bismal School Aba with people like Eze Isaac Ikonne, the traditional ruler of Aba – Enyi of Aba. In those days, we used to swim at Waterside and only very strong boys swam at Aba Waterside because of the high current.
Then after school, I would go and meet Omega, a herbal drug seller who used to deal in malaria drugs and so on. He would take me round some streets in Aba where I would dance as he advertises his products.
So I was an 'Ajasco boy' for Omega and I will dance for Omega for one hour and I will dance for Omeire, another medicine seller, for another one hour and these would take us to all the major streets in Aba.
After dancing for them, they would give me three Pence each which was six pence back then. It was a very huge amount and I would end up at Ngwa Road by the eastern axis to buy cow legs, cow skin, chicken legs, wings; assorted meat . All you do is to use a big spoon to scoop anyone you are able to scoop and pay one penny. I usually do three times which is three pence and I will take three pence for my mother to keep for me for Christmas which I would use to buy "knockout" and other things.
On one occasion, my father was coming from work and sighted me dancing 'Ajasco,' he just parked his car and said 'my son dancing Ajasco? unbelievable! So he went home and told my mother that he saw me dancing 'Ajasco' at Ngwa Road and asked her, 'Are you sure he is ok?
When I came back from school that day, he asked me: 'Why are you coming back from school by this time?' I told him I went to dance 'Ajasco' and he asked me to go because I told him the truth. Then he called my mother and said, 'maybe your son gets the inspiration of coming first in class through dancing Ajasco.' So let him continue as long as it doesn't affect his studies. That was the way my father treated us.
We were brought up strictly under the family tradition
Back then, every family had a tradition and we were brought up strictly under the family tradition. For instance, every Sunday, they would give us Diapharm, an anti-malaria drug, before we eat the Sunday rice. Rice meal was only consumed on Sundays and during festive periods like Christmas and Easter. It is not like nowadays that you eat rice anyhow. We never ate chicken except on Sundays.
They would put the rice in one big tray and position meat in front of each person so everyone knows his or her own. We were trained not to be greedy and as we were eating we would consider the other person especially the younger ones among us. We would leave some portion for them and that was the spirit but today one person would eat one basin of rice alone.
Christmas at home
At every festive period and at Christmas, my father would kill a goat. He would buy the goat at least five days to Christmas so we would be feeding the animal, taking it out to stroll and people would be looking at us like aliens. On the day to slaughter the goat, my father would wait for his elder brother who usually came with his knife to slaughter the goat. After this, it would be the turn of the other members of the family to roast and clean the animal. Then we would make pepper soup. My uncle, Joseph, would take his portion and go back to his family. He is late now; he died at the age of 91.
Stuck to normal routine
We were brought up strictly under the family tradition and we were not reckless, we stuck to the normal routine. For instance, you wake up in the morning; you pray, take your shower, eat your breakfast and go to school. Once you are back from school, you do your homework. We were allowed to watch television for only an hour from 7pm to 8pm every evening. My father would bring out his television and put it on a stool and everyone in the compound would come out to watch. All his tenants would watch a common television.
Bonding with common television
That was bonding, no quarrel amongst neighbours like we have today. When we live in flats, people are estranged from one another. Living together the way we lived in Aba in those days helped us to bond and we saw one another as helpers. We helped one another. If your salt finished, you could ask your neigbour 'please can I have some salt' and he would give you salt and nobody feared anybody. We lived as brothers and sisters but today you can't do that. When I was growing up, my father would insist we travelled home at every long vacation so we learn the tradition of our people.
Death of my mother and father
My parents died when I was in the seminary. My mother died first. My father died because he couldn't stand the absence of my mother. They were very close. They slept together holding hands. But these days, we have different rooms from our wives and there is no bonding anymore. In those days, my father slept with my mother on the same bed. Till they died, they never separated, they did everything together. The only thing they didn't do together was eat together because those days, women made sure that their husbands ate very well and they would be the last to eat after their children had eaten. But today, the mothers will eat first before their children. Some fathers will come back home and say they are not hungry because they had eaten outside.
Taboo eating outside as a married man
Back then, it was almost a taboo to eat outside as a married man. What will you tell your wife when she serves you food? So things have changed; that is why we have this level of moral decadence. That is why Nigeria and the entire world are in trouble because we have lost family values. Remember when you talked about socialisation, one of the functions of mass media is socialisation. This is the transmission of cultural heritage from one generation to another and that is why I identify with our youths in their present predicament. But they should learn to under-study the elders. Age comes with experience and leadership comes with experience. We have a proverb in my place that what a father sees sitting down, his son may not see it standing up.
Growing up in a comfortable home My father wasn't a rich man but he was a comfortable man because he was a senior civil servant. Back then, we used to know senior civil servant by kind of cars they drive.
They used to live in a good accommodation, with television and radio.
There was a radio my father brought from England. He schooled in Cambridge and went to Second World War as well with the West African Frontier Force. Every four o'clock each time, I had the opportunity to stay with him, we never sat on the sofa we sat on the floor at the feet of my father and I was the one always very close to him. So each time he switched on the radio listening to news on Western Nigeria Broadcasting Corporation (WNBC), I will just sit at his feet listening. If I pronounce anything wrongly, my father would correct me. So, it was my father that triggered me to take particular interest in the way English is spoken which is called phonetics.
I feared my father more than mother
My father is a disciplinarian and we used to fear our fathers more than our mothers. You know mothers inculcate maternal care and affection and my father was a military man, so he was a bit high-handed which helped us shape our lives later. If not because of the way we were brought up, how could I have survived after losing my mother at the age of 19 and my father at the age of 20? I was able to survive because of the training and the way we were brought up. We were trained to be honest in our dealings with one another to avoid evil; stealing, promiscuity, greed. I didn't know of all these things until much later in my life. These things had robbed off in my life as an adult.
Tell me anybody that can boast today that he/she is my friend? I don't have friends because my life is very private and I don't think there is anything anybody can do for me aside what God can do for me because all my hope and trust is in God. They speak based on what they read on the social media. For instance, someone said Victor was a shoe shiner before he became a national chairman. With what I have told you, does it look like I was a shoe shiner? I grew up under very strict parental guidance and throughout my days in school, nobody ever overtook me in class because of the foundation my father laid for us. I never took what was not mine and I have never up till now. I work very hard for whatever I have earned.
Best gift received as a child
The best gift I received was education, moral education. My mother and father made sure we were brought up in the Catholic tradition. I had my baptism when I was just three months old, my first holy communion when I was 16 years old, my confirmation at the age of 18 and got married at the age of 29. I would have become a priest at the age of 25 but I didn't make it. I scored two over three, God called me, I answered but He didn't choose me. Some people were called, they didn't answer and they were not chosen as well but God called me, I answered but He didn't choose me so I scored two over three.
Training at the Seminary
My seminary training also helped to shape my life because it was strictly life of discipline. How I wish every parent would send his/her child to the seminary even if the person doesn't want to become a priest, the seminary would shape the child. He won't be in any secret cult; the prayer life of the child would be improved. I have four beautiful girls and a son. One died last year. The first one is a logistics engineer; all of them have Master degrees. My son has a master in engineering but he has no job so when this people are protesting I should be protesting too.
I meet my wife while in the seminary
I met my wife even when I was in the seminary. Her mother and my mother were Catholic Women Organisation leaders in my church and each time my mother saw my mother in-law she would say 'is like my son will get married to one of your daughters if he doesn't become a priest''.
It was like prophecy. I never had it in mind. I never met my wife in the formal way until I got married to her in 1985. We were friends for two years. I never slept with her. She was a virgin when I got married to her. How many women can boast of that? And that is the respect I have for my wife till date. I know that the love I have for her is till death do us part. The woman has stood behind me. We got married on the 5th of February, 1985; that was my traditional wedding. She was an English teacher when I got married to her. She was in Anambra and I was in Lagos. So it took me a year to transfer her from Anambra to Lagos. So we had our wedding on the 9th of August 1986.
My peculiar wife
There is something peculiar about my wife which I want to bring to public knowledge. When my wife came to Lagos, she had her first baby and she told me, 'honey, I must take care of my children, go and look for what they will eat while I take care of the home' and my wife took care of the children from the first one to the last one without working. She was a full housewife even with her master degree. How many people can do that today?
We are enjoying the fruit today because my children are behaving well. They don't give us headache. If I call any of them today I know where they are as we speak. In Nigeria our youths have been neglected due to absence of parental care. Can you see what the youths are doing? It is as a result of frustration. Let us diagnose the problem, the youths are suffering from frustration due to lack of parental care, lack of societal care. The first care must come from the family because the family is the first socialising agent. After the family, the next is the school and the third is the society itself because when you leave school you now mingle with the wider society known as peer group influence. By the time they go to university, cultism and all that, you start losing grip if you are not properly brought up. You would be attracted to the opposite sex, start engaging in sexual orges, sex for money because of societal influence and pressure. So I empathise with our youths.
The deaths of my parents affected me but…
The worst thing and the best thing that also happened to me was the death of my parents. Worst in the sense that when my parents died, it seemed all hope was lost. My father was grooming me to become a medical doctor or a mechanical engineer. That was why my son had to become an engineer because I could have become one but after the death of my parents, I had to find my way and that is it. How many youths can boast today of the creativity they need to survive under such environment? You need creativity. You know what happens in our society today is that all attention is paid to formal education, no one talks about skills.
Memorable high points
When I went to the seminary, it was a beautiful experience for me. It was a high point in my life. I mingled with hot brains and we slugged it out and at the end of every session, I would come first. It was very interesting and some of my classmates are Reverend fathers today, some are professors in various universities. So they know me and they know my capabilities.
Involvement with Orji Kalu
Another high point is my involvement with the man they call Orji Kalu. I met Orji Kalu in 1989 and I made a prophecy to him that he would become governor of Abia State even when Abia State hadn't been created. I told him he would be governor and he said 'no, how can he be governor', that he is not even a politician and I said 'ok, wait for it'. So after two weeks, he came to me and said he couldn't sleep any more that the prophecy was affecting him and I said he should join a political party. He joined NRC and I was with SDP. We worked with Abiola in those days and I went to SDP convention in Jos where Abiola emerged the presidential candidate of SDP. Many people didn't know my past, they underrated me, they thought I didn't have any experience because of the way I came into the party as national chairman and today some of them have been proved wrong. So after meeting Orji Kalu, he went to House of Representatives. After that he contested for governorship and won. I had my business in Lagos and I still have my business in Lagos but he insisted that since I own this vision, I should join him in Umuahia and make the vision come true. So, in 1999, I moved to Abia State and became Special Adviser on General Duties. I could do anybody's job and I did the job dedicatedly and religiously for eight years. After Orji Kalu, Theodre Orji said I must work with him and I said 'I can't serve two masters at the time' and he said why not become a consultant and I became his consultant for five years. When he quarreled with Orji Kalu I found my way around it, but they are all still my friends.
Aborted dream
Then another point I regret and feel very bad about was the fact that my university did not take off. We built a university in Igbere in Abia State on 150 hectares of land. The site was ready, National University Commission (NUC) came and certified the university ready but there was one dangerous politics played in Abia State then. Someone went to Jonathan and said Orji Kalu was working against his interest so they stopped the university from being registered. We would have been doing our third graduation by now but the blocked it and all the hundreds of millions of Naira spent on that project was wasted but the place is lying fallow and that is why people shouldn't play politics with education. So that is one thing that gives me pain every day. I pray that this university would be able to start one day in my lifetime.
I dread failure
Failure! I dread failure and that is why whatever I do, I do it well. I came into APGA and I found out that those that took charge of the party in the past did their best but their best wasn't good enough. So, I thought I could do something better and today we have a national office as a reward for that. I would have pocketed the money but I didn't do that. This is the only political party with an office in Abuja that it can call its own. The other parties are on rented offices including PDP and APC. This is a 4000 square metres of land wholly owned by APGA and we have won elections in Benue; three House of Reps at a go, House of Representatives in Taraba, one House of Reps in Abia, three house of assembly seats, five House of Reps in Anambra, twenty four house of assembly seats in Anambra. I think we have done very well.
I desire to still serve God
I desire to still serve God in what capacity I don't know, but I know I can't become priest but I am serving God in other ways. Like in my church, in 1984, I started as member of the harvest committee in Our Lady of Fatima Catholic Church and I served in that committee for 14 years and I helped to build an outstation. I was the chairman publicity committee of the harvest as well at various times. I was also the chairman, building committee of the church and from there, I moved to Umuahia. I worked in various positions in the church. I was the CMO chairman; I helped to build many churches in Abia State. I supported the harvest. I helped in the building of their pastoral centre that hosted the first bishops' conference in Nigeria. In my parish, I have been chairman of harvest from 2007 till date and that is why some people say all I parade is chairman of harvest. Is it a bad thing that you serve God? It is a good thing they didn't say that I am an armed robber but that I work for God. To me, it is a complement. I want to know the word more and then bring it into practise to touch life and convert people. That is my next mission.
Life has taught me to be careful with people
Life has taught me to be careful with the people I mingle with and in choosing friends. That is why I don't have friends in the real sense of the word. Nobody can say I am his friend today, what I have are professional colleagues like you are my friend, you are my colleague.
Another thing I dread is lies. My father taught me that it is cheaper to tell truth than to tell lies. If someone asks for support, give him the much you can, you can't please everybody; whether he is happy or not, just do your best and leave the rest to God. Life has also taught me to know how to love people, help people in need, in fact it is my biggest apostolate, helping those in need quietly. I do about 18 orphanages in Nigeria every month since 2004 till date and I support them financially.
I thought politics could provide the platform for me to serve and bring to fusion some of my ideologies and vision. I think that is what politics has offered me today.