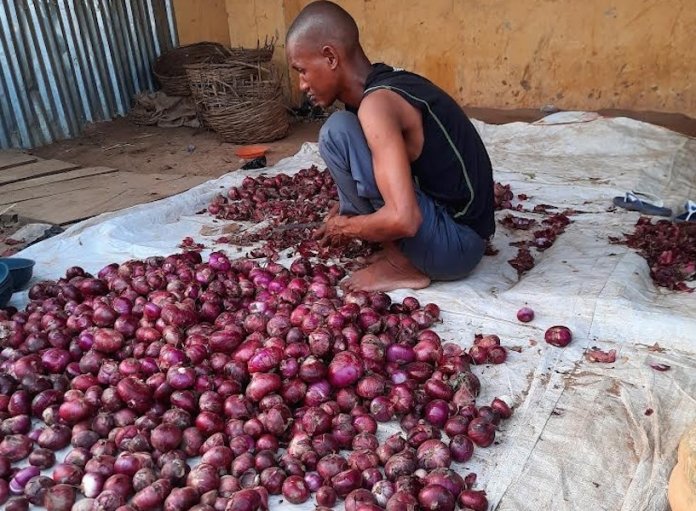 Francis Sardauna writes on the need for people living with disabilities in Nigeria to emulate Aminu Lawal, a blind businessman in Katsina State, by venturing into the business world instead of roaming the streets for alms
Physical disability in Nigeria, particularly in Northern part of the country, is almost synonymous with begging because it has always been an excuse for the affected persons to roam the streets asking for alms for survival and even their medical bills.
These groups of people, mostly women, children, youths and the aged, apparently believe that they have been deprived of physical ability to compete favourably with able-bodied persons for the basic means of livelihood.
In Katsina State, this category of persons, alongside their underage children, move around major lucrative areas within the metropolis in search of alms, particularly food, cash and clothes.
Investigation by THISDAY revealed that hundreds of these vulnerable people, including Almajirai are mostly found in Automated Teller Machines (ATMs), restaurants, supermarkets, shopping malls and billionaires's houses seeking for money or medical attention.
But for Aminu Lawal, a blind businessman, who broke the decade-long jinx with his onion bussiness, the story is different because he believes that there is ability in every disability and begging is not an alternative for visually impaired persons in the country.
Lawal, born into the "poor family" of Lawal Abdulkadir in Sabon Unguwan Community of Katsina Local Government Area of the state, has never believed that because you are disabled that is the end of your life and you cannot embark on any activity.
The 31-year-old man, who completed his secondary school education at Government Day Secondary School, Yandaka, also believes that just like the normal person, persons with special needs have a lot to contribute to the society if they are given adequate business opportunities and education.
Married with two children, Lawal started his onion business in 2014 at the popular Yarkutungu neighbourhood market in Katsina city before moving to the modern Central Market and the business remains his only source of income that caters for feeding, clothing, shelter, electrical and medical bills of his family.
Our correspondent who was in the market for shopping, met Lawal at the gate of the multispectral market transacting his business with numerous customers patronising him, decided to have an exclusive interview with him to ascertain how he is driving the onion business despite his blindness.
During the interview, Lawal said: "I got blind two weeks after I married my beautiful wife, Fatima from Dan-Isa in Maradi region, Niger Republic in 2012. Few days into my blindness, my parent took me to Aminu Kano Specialist Hospital, Kano for treatment.
"After series of eye tests, I was diagnosed of glaucoma and cataract and all the monies spent by my parents and relentless efforts made by doctors in the hospital to ensure that I regain my sight proved abortive as the situation deteriorated day by day.
"We spent more than N500,000 at Aminu Kano Specialist Hospital and Federal Medical Centre, Katsina but nothing changed my situation. My parents later took me to Abubakar Eye Clinic in Maradi, Niger Republic for further treatment but there was no improvement so we returned to Katsina".
He added: "after seven weeks in Katsina, they moved me to Ogun State for herbalist treatment but the situation was worsening so we came back to Katsina. As we speak, I can't see you. Well, some people said the suitors of my wife were responsible for my blindness, because there was serious competition before I finally won her heart but I leave everything to Almighty Allah".
Miffed by the ill-treatment of people living with disabilities in Nigeria, particularly in Northern part of the country, he said: "I decided to buy one bag of onions from the money I realised from my wedding party and started selling at Yarkutungu market to enable me become self-reliant and avoid disgrace by people.
"But I left Yarkutungu in 2015 to this market due to lack of patronage there. I thank Allah because people patronise me now. Still, most of the customers don't buy onions from me; they often say how can they buy something from a blind man. Some said I use charms to sell because they don't believe that an ordinary blind person can do what I am doing now".
Asked how he differentiates currency given to him by customers, he said: "My brother, it is not easy but Allah is helping me. Some customers do assist me in differentiating the currencies for me and sometimes my fellow business friends. Let me tell you a story that befell me few weeks ago; some women came and bought onions and ran away with my N650 just because I can't see them".
However, with the hitherto measures put in place by the Katsina State government to contain the spread of the COVID-19 pandemic, Lawal's source of income has depleted, he now finds it very cumbersome to feed his family as prices of foodstuff have ballooned beyond proportion.
"During the lockdown, I feed with the little income I have saved over time together with my wife and children and the situation has drastically affected my business. Now, instead of three bags of onions I buy only one. And if caution is not taken, hunger, starvation and eventually death will set in.
"I struggle to get two square meals per day now. I stayed indoor 24/7 without going out for my business during that time as a result the little business I ventured into has stopped yielding more returns for the past few months. Life has halted," Lawal lamented.
Consequently, Lawal called on the federal and state government to come to the aid of people living with disabilities in the country by supporting them with start-up capital that will enhance their businesses in order to cater for their families.
While decrying that he did not receive COVID-19 palliatives distributed by both federal and state governments to mitigate the effect of lockdown earlier imposed in the state, the blind businessman alleged: "people like us who are supposed to get the palliatives were excluded by government".
However, he admonished his counterparts in the state to desist from begging and venture into business or skill acquisition trainings, saying "there is ability in disability and you can prove them wrong by bringing out the ability in your disability".
He, however, said negative stereotypes and discrimination, including among state social workers and medical workers, also impede access for people with disabilities to essential services.
As a result, he said many people with disabilities spend their lives isolated at home and totally dependent on family members or relatives for support for the most basic daily tasks.
Despite his visually impaired condition, Lawal said his wife (Fatima) lives with him without any domestic violence. This is against what we see on daily basis in many matrimonial homes where people without any form of disability engage their wives with fight that often result to loss of life, property and even divorce.
Meanwhile, people like Aminu have the right to access the physical environment, including buildings, roads, schools, housing, medical facilities, workplaces, and other facilities and services open or provided to the public, in both urban and rural areas, on an equal basis with others.
They also have the right to be included fully in their communities as well as the right to the highest attainable standard of health, including rehabilitation and services specific to their disabilities. These groups of people require differentiated services. For example, assistive equipment such as motorised wheelchairs and elevators in public buildings.
To live an independent and dignified life within society, people with disabilities should have access to services and devices that facilitate their participation in the community on an equal basis with others.
Therefore, government has an obligation to raise awareness about the rights and dignity of people with disabilities and to combat stereotypes, prejudices, and harmful practices bedeviling them in different parts of the country.