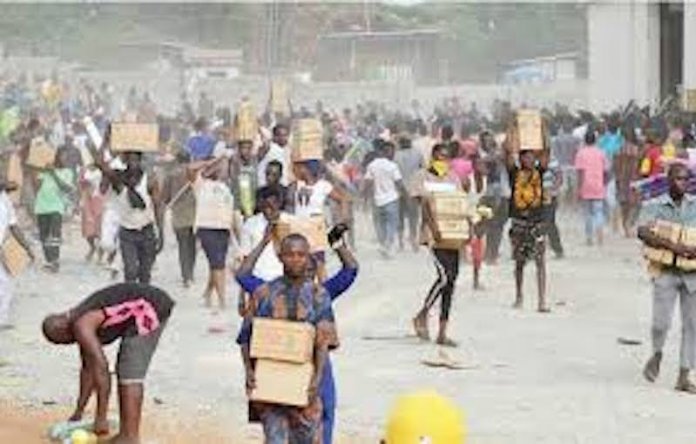 Ibrahim Oyewale in Lokoja
Four persons have been confirmed dead while others were seriously injured in a stampede at the warehouse where palliatives were stored in Lokoja, the Kogi State capital, yesterday.
THISDAY gathered that youths in their hundreds had converged on John Holt Warehouse at Ikpata, the accredited government warehouse, at about 10 a.m. yesterday.
The victims of the stampede were said to have died while struggling to carry available food items in the warehouse when the gates were forced opened for people to move in and get their shares.
It was gathered that one of the dead victims, said to be a cripple, could not immediately escape when the crowd rushed in.
The state government had last week commenced the distribution of the COVID-19 palliatives to all the 21 local government areas with each local government area getting one trailer and one canter truck loaded with items such as rice, Semovita, noodles, pasters all on 10 kilogrammes packs.
It was also learnt that the invasion of the warehouse followed the state governor's order that the remaining items should be distributed to the people. So, the protesters said that they were only responding to the governor's order.
The security agents deployed to the area were civil with the people as they went inside the warehouse to collect their own palliatives without problem.
The security agents were seen advising the people to maintain peace and avoid anything that would lead to stampede.
Some of the women at the scene of the looting told journalists that they were there in response to the governor's directive that the remaining items should be distributed to the people, saying the officials must obey the governor's directive.
"I am here to see if I will be lucky to get some food items for my family since things have not been easy for us since COVID-19 pandemic," one of the women said.
Meanwhile, the state Commissioner for Information and Communication, Mr. Kingsley Fanwo, when contacted, denied that anyone died in the stampede.
According to him, "No one was killed. It is sensationalism. Media practitioners should stop killing people with their pens. There were reports of injured persons, and they have been treated. Some of them had already been discharged. "Those journalists that reported death thought they could stir crisis in our dear state. But they will fail. Peace will continue to reign in our state."