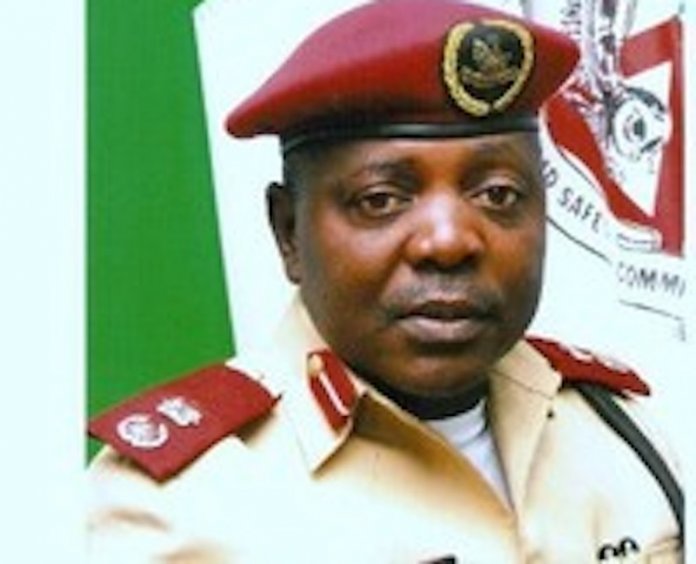 ROAD SAFETY
Last week, I concluded with the unfortunate death of Jeffery who was killed by a female driver while crossing the road in the heart of Abuja in the Federal Capital Territory. Jeffery's death reminds me of a similar tragedy I shared a couple of weeks ago on this same page about the death of another young man even though the circumstance was different.
According to the story, Franz Uzor (not real name), his wife and their one year and six months old daughter were heading to church on a sunny Sunday morning in their black Lexus Jeep. He stopped by a bank to make a withdrawal for offering. After parking his car at a spot he believed was safe enough, Frank crossed over to the other side of the road, made his withdrawal at the ATM before crossing back to his vehicle parked at the other side.
He got into his car but before he could start his car and move, a Toyota Hilux lost control and crashed onto their Jeep. Frank who was anxiously waiting to lavish his lavish on their third-year marriage anniversary just few weeks ahead, died on the spot while his wife went into coma and was unconscious for two days before she eventually regained consciousness. Miraculously, their daughter who was strapped to a car seat behind was found just the way she was-strapped and unhurt.
I know that there are other cases within the Federal Capital Territory and across other parts of the country. One thing that is clear is that a lot of people who claim to be drivers are really not one. A good number are learner drivers who rather than allow the process of maturing as a driver would rather cut short the process in order to show off like others. I wrote about this in a piece I titled, ''Learners or Lunatics'' for which some readers responded with insults for my choice of words.
While I maintain that a measure of insanity has taken over our roads, I must also state here that there is lot that is wrong with pedestrians and drivers irrespective of age or sex. For some drivers, it has to do with pride and ego as a handful would rather conceal their learner status and drive without their instructor as contained in the National Road Traffic Regulations. There is also the increasing traffic indiscipline such as driving against traffic which calls for stiffer penalty by traffic officers.
But while I lament on this increasing development, I must note that pedestrians all over the world, including developed climes such as the United States of America, United Kingdom and others face similar risk of being knocked down. In the United State of America which I love to cite often on this page, pedestrian deaths totaled nearly 6,000 in 2017 for the second straight year amid mounting signs that walkers and drivers are dangerously distracted. Although reasons for the recent rise have not been scientifically determined, smartphones and marijuana use are suspected key factors in the deadly trend. A report released estimates that 5984 pedestrians lost their lives in 2017, a figure almost similar to the 2016 record. According to Richard Retting, Director of Safety for Sam Schwartz Consulting, who authored the report for GHSA. "People outside cars are dying at levels we haven't seen in 25 years. "This increase in pedestrian death is coming despite improvements in vehicle safety such as the recent introduction of automatic emergency braking systems, rear-view cameras and collision- alert technology.
A study by The Insurance Institute for Highway Safety has identified poor headlights as a problem while poor design and failure to adopt lights that swivel with the curvature of the road are hurting especially at night. Despite these identified challenges, experts' obverse that pedestrians are sometimes to blame, as well. While it is okay to state that we have a handful of distracted drivers, I must also state again and again that we also have a handful of distracted pedestrians who are also not even literate on how to use the road. What we see daily on our roads are people both behind the wheel and walking in the street failing to take responsibility for their behavior by learning to walk or drive without using the phone. Even okada and tricycle riders have joined the bandwagon
In the case of the United State of America, increased use of marijuana was identified as another potential factor causing the increase. In the United Kingdom, pedestrians are not left insulated as they face some problems. The problems include overcrowded streets, narrow footpaths and roads that are difficult to cross. In many areas there are not enough places to sit, inadequate protection from the weather and footpaths are so crowded that pedestrians are forced into the road. The category of pedestrians mostly at risk include children, older adults, people who are intoxicated. The result is that deaths in the United Kingdom as at 2018 involving pedestrians stood at 456, a 3percent decrease on 2017.The report shows that 26 percent of all road deaths were pedestrians. There were 99 cyclist deaths in the UK in 2018, a 2percent reduction on 2017
The story in other parts of the world including the African continent and other developing societies is not different. This is why road users especially pedestrians must take precaution while using the road. Those living in satellite towns along the airport road and other parts of Abuja in the Federal Capital Territory should desist from endangering themselves despite the provision of pedestrian bridges provided for their safety.