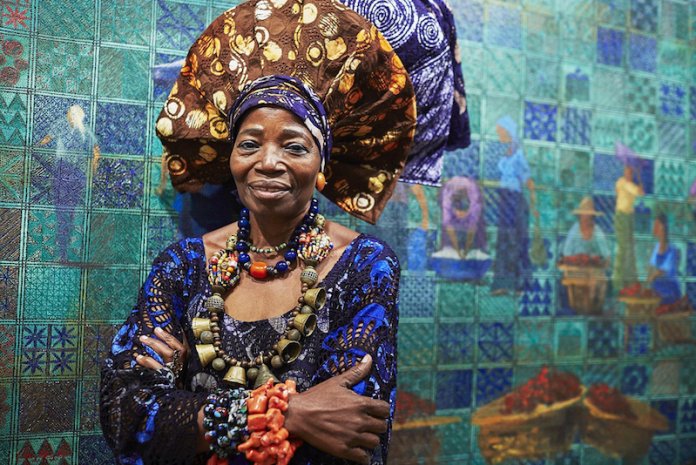 Meristem Securities Limited (MSL) recently partnered the Society of Nigerian Artists (SNA), Lagos State Chapter to honour a veteran artist, Mrs. Nike Okundaye.
The event, which took place in Lagos during its 22nd Annual Juried Arts Exhibition October Rain 2020 tagged: Resilience, held at the National Museum, Onikan, Lagos.
In his address, the Group Business Development, MSL, Mr. Saheed Bashir said Meristem has always stayed true to her brand promise, hence the award.
According to him; "we will continue to put our clients at the heart of our product and service offerings. We have identified gaps within the ecosystem.
"We are currently finalising plans to launch some innovative products that will help clients and prospects access various financial services regardless of the point they are in the their wealth journey."
Bashir also noted that in order to create impact for all stakeholders, the company has leveraged the unique platform of the 'Resilience' art exhibition to meet and understand the needs of participants and players within the art and craft segment.
"We are definitely convinced that we can bridge the financial services gap that exists within the industry," Bashir said.
Meanwhile, the Chairman, SNA, Lagos State Chapter, Mr. Idowu Sonaya in his welcome address, hinted the award was a unique one towards showing their resilience against COVID-19 pandemic, corruption, tariff increase and a lot of anomalies in Nigeria.
He added the award is a statement to show productivity, professionalism and integrity.
"We're celebrating Okundaye for her contributions to us. She's an icon. She's worth being celebrated," Sonaya said.
The special guest of honor, His Royal Majesty, Oba Aderemi Adeniyi-Adedapo, Alaiyemore of Ido Osun, Osun State noted the award says it all as a self-made woman, who has come a long way and whose artworks says it all.
"Look at these painting of hers. I remember my 25 years in the USA, she was always bringing colourful arts of hers. She's a person who believes in teaching on how to fish and not being given fish.
"I have known her for over 50 years. we grew up together and she's just amazing. I thank SNA for honouring her today. She has gone places but no where like home.
"Honouring her today again by the Nigerian SNA and MSL is an added advantage and it will make her more stronger and positive in whatever she's doing. We are saying kudos to her."
He eulogised the organisers, stating that art rules the world whether anyone likes it or not.
According to him; "it's a new normal we are waiting now and people are rejigging and reinventing themselves. They're thinking out of the box. The stocks are crashing and many things are happening.
"It's a new normal now and we just have to flow with the wind but I know things are going to bounce back. It's a test of humanity and we have to stay strong and stay safe and keep social distance".
Moreover, Mr. Dapo Adeniyi, who represented Okundaye during a chat with newsmen, said: "We have to realise that the art industry needs encouragement and there's no one that can do it like artists themselves.
"We have to always look inwards for those you want to describe as avatars. People, who are iconic and had breast the tape of success one way or the other and succeeded in doing what many of us are still trying to do.
"I think SMA has taken the right step by honouring her. She's a great artist and most of her works are in the biggest museums around the world like the United Kingdom, United State of America amongst other countries.
"I'm talking about the formal canvas arts and there's the crafts, which is how textiles and cottage arts are actually seen. She's been a forerunner there.
"It's not as if she began it but she's just maintaining tradition. She was even the first person to draw our attention that it's not just Yoruba arts but Pan Nigerian especially the adire art, which is done in the East, South, North and everywhere.
"Think of someone who's been denied, trodden down upon. So, for those who have excuses for not reaching their goals or pursuing their dreams, she has every reason not to accomplish anything but she's accomplished everything.
"So, that's why they have chosen to honouring her this way and by doing so, they're drawing attention to others too".
The Chairman, Planning Committee of the event, Mr. Dan Ini also posited it wasn't easy putting the event together due to the menace of COVID-19 pandemic in the country and the world at large.