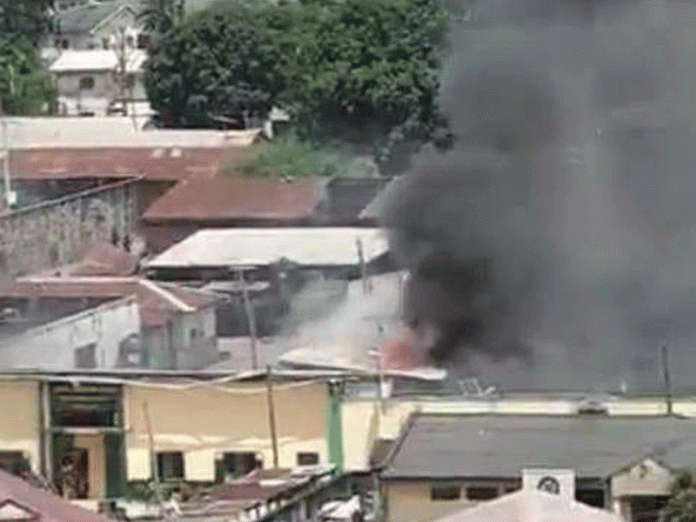 By Segun James and Rebecca Ejifoma
The quick intervention of the men of the Nigerian Police and Army has foiled a jailbreak at the Ikoyi Correctional Centre.
THISDAY gathered authorities of the correctional centre on noticing unusual movements by the inmates followed by smoke and fire coming from a section of the prison quickly called on the police for assistance.
The police presence was soon followed by the deployment of soldiers which helped to stabilise the situation.
An eyewitness, who witnessed the situation said, "I can see them from my balcony at the moment. Soldiers and policemen have arrived. I saw prisoners throwing stones and I saw fire.
"A lot of the prison officials have gathered at the entrance of the prison while some of the inmates have retreated."
Although sporadic gunshot could be heard coming from the facility, their are no confirmation of injury or fatality as at the time of this report.
The Police Public Relations Officer, Lagos State, Mr. Muyiwa Adejobi, said the cause of the fire could not yet be ascertained but policemen had been deployed in the prisons.
"We don't know the cause of the fire but we are there on the ground. We have mobilised to the place. We will give details later," he said.
As seen in several videos on Twitter, it was rowdy as military personnel and prison wardens move to foil the jailbreak.
"Hearing sounds of gunshots from my bedroom. I hear ikoyi prison has been broken into and there is chaos around Awolowo road. Be safe guys," radio personality, Toke Makinwa, tweeted.
This is coming days after jailbreak at Benin and Oko Correctional Centres in Benin City Edo State.