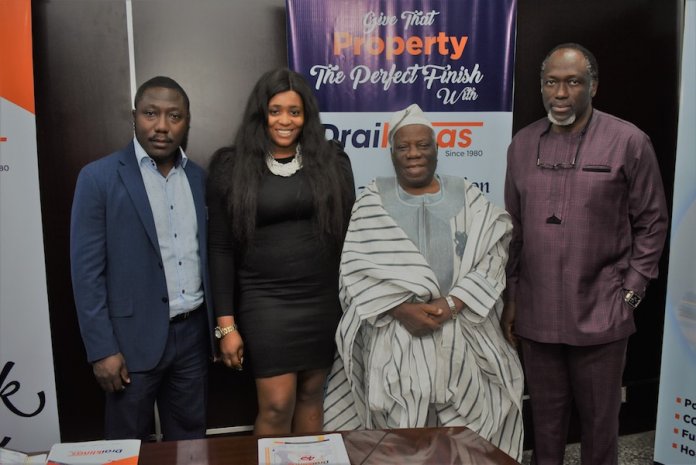 By Rebecca Ejifoma
Draiklinas Limited, leaders of commercial and industrial cleaning, is advocating urgent need for regulation and structured investment in the cleaning and hygiene sector as it set to celebrate its 40th anniversary in active operations.
The firm made this call at a press briefing to celebrate its 40th year anniversary and appreciate 40 deserving clients who have patronised them for over 20 years.
The Managing Director, DraiKIinas Limited and Public Health Specialist, Dr Tunde Ayeye said there is need for the sector to transit to a properly regulated sector because of its potential impact on the health and wellbeing of the citizens.
He decried the current situation wherein many operators in the sector fail to establish proper organisational structures to assure enduring business operations with potential for transcending generations.
While challenging the current practice of quackery and use of unskilled and untrained persons as cleaning and hygiene operatives, the health expert said effective regulation would increase investment in the sector, encourage professionalism and unlock the massive economic potential in the sector in addition to the desired health and environmental benefits.
To buttress the urgent need for the strengthening, standardisation and regulation of the cleaning and hygiene industry, the MD suggested that improvement in environmental hygiene will reduce significantly some the health problems that we are currently faced with.
According to the health specialist, about one million children in Nigeria will die before their fifth birthday. He cited the United Nations Children's Fund (UNICEF) as saying 64 per cent of those deaths are caused by malaria, diarrhea and pneumonia.
The CEO of Draiklinas continued that over half of these children – over 500,000 – would be saved by just simply focusing attention on WASH (water, sanitation and hygiene).
Reminding Nigerians that the most effective solution to the recent COVlD-19 pandemic is observance of simple basic cleaning and hygiene principles and protocols, Ayeye highlighted the different activities to celebrate its ruby anniversary.
The firm will be rolling out corporate awards to demonstrate its gratitude to its numerous corporate clients. It will be giving different categories of awards to thank its customers for their patronage over the years some of which have lasted over 20 years and in some instances over 30 years.
Draiklinas will also be giving 40 per cent anniversary promo for the first 40 retail customers for the next four months for post-construction cleaning, fumigation and deep cleaning service. "This is to thank them and encourage further patronage in the years ahead," says Ayeye.
As part of its CSR, it will hold a Clean Up Save Lives Campaign. It is a series of advocacy campaigns to ensure the cleanliness and improved hygiene 0f the environment.
While the clean up will be the public cleaning of their gutters and streets, corporates bodies are to adopt their streets and clean the road; clean the gutter, adopt a garden; plant and maintain a garden.
While encouraging other firms to adopt and clean up, Draiklinas would be adopting a garden near its head office and would beautify and maintain same in conjunction with LASPARK.
"Similarly, we will adopt its road and ensure its cleanliness and will be donating insecticide treated nets to underserved communities," the expert and MD shared.
As a medical expert, who left the medical world to man the Draiklinas business, Ayeye said, "Net up every child under the age of five means every child should sleep under an insecticide treated net".
With eyes on the future, Draiklinas is planning to increase its financial and operational capacity, institutionally and strengthen its systems and processes, and hopes to become part of a public listed company as it prepares for the next 40 years.
Giving further insights into the current operations of Draiklinas; the Country Business Director, Mr. Afolabi Abrahams, expressed that the company is currently structured into three major Strategic Business Units (SBU).
The units are: commercial and industrial cleaning providing commercial and industrial cleaning services using mechanised and heavy duty machinery.
He continued that the company invests heavily in technology driven services to ensure adherence to global best practice and implored patrons of cleaning services both in private and public sector.
Having employed over 10,000 people in its four decades of existence, the firm implored patrons to engage properly structured and equipped cleaning business such as Draiklinas to guarantee the fidelity of their assets and the safety and hygiene of their environments.
Abrahams further hinted specific example where individuals and corporations develop buildings and factories and engage nonprofessional to carry out post construction cleaning and in many cases end up with damage to their floors and other assets in their premises due to the use of manual implements, inappropriate chemicals and unprofessional methods.
For unit two, Draiklinas engages in integrated pest management and fumigation. Speaking further, the GMD expressed concerns at the use of certain pesticides that do not meet the right ecological and biologically friendliness thresholds.
For the director, Draiklinas IPM SBU consistently benchmarks the United Nations Sustainable Development Goals in the delivery of its IPM services.
The director outlined concerns at the widespread use of uncontrolled agents especially in the wake of COVID-19 which has led to the emergence of many emergency fumigation contractors who may end up doing more harm than good in certain instances.
He, therefore, commended the efforts of EHORECON, LASEPA, PECAN CPAN and other agencies attempting to standardise that subsector.
For its SBU three, Afolabi mentioned that Draiklinas is the largest on premises laundry provider in the country treating over a million uniforms every year.
He harped on the need for organisations especially in the food and beverages, pharm, healthcare and other sectors where what is required is not just washing but treatment and decontamination to be more circumspect in the handling of factory uniforms, as this may have severe deleterious impact if unprofessionally handled and contamination occurs.
Abrahams bemoaned the current situation where certain organisations still allow staff to handle their work garments off premises without any control on the process of washing employed.
Since its creation in 1980, Draiklinas Limited has metamorphosed into a leading commercial and industrial cleaning company and into a growing business group with operations in other parts of West and Southern Africa. This is thanks to the Founder and Chairman, Mr. Olajide Ayeye.