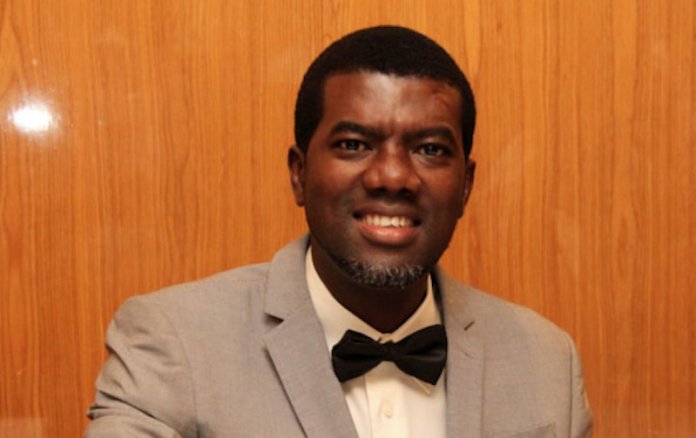 THE ALTERNATIVE With Reno Omokri
For about two weeks now, the Nigerian nation has been in the process of fulfilling Patrick Lumumba's prophecy, given last year, to the effect that "the day Nigeria wakes up, Africa will never be the same again".
And indeed, Nigeria is waking up via a mass movement of the people against their oppressors. And the oppressor is afraid. I mean, you can see it all over his face.
When I watched the video of Lagos Governor, Jide Sanwo-Olu, briefing President Buhari on the #5of5 demands by the #EndSARS protesters, the body language between the two of them was telling. Sanwo-Olu was projecting strength and authority, and Buhari projected weakness and fear. The balance of power in Nigeria is shifting.
And nothing demonstrates that better than the fact that Buhari unleashed the Brigade of Guards on EndSARS protesters. The Brigade of Guards is the President's last line of defence. They are meant to be used in the event of a coup. That the president unleashed them is proof positive that he sees EndSARS as a coup attempt.
What type of General is afraid of peaceful protesters?
By unleashing the Brigade of Guards on protesters, President Buhari has proved that dictators may grow old, but they don't grow up to become democrats. This very man protested in Abuja 6 years ago. No Brigade was unleashed on him. He climbed the ladder of freedom to get to the top and instead of lowering it down, he wants to remove it so he can be the only one on top. Ko le work!
Now, I appreciate the work that Governor Sanwo-Olu has done and his boldness in identifying with the EndSARS protesters. However, where I disagree with him is when he says we should give Buhari time to implement the demands.
How can anybody with a sense of history say we should stop the protest because Buhari has agreed to EndSARS protesters' demands? Did Buhari not promise and agree to restructure Nigeria? Has he fulfilled his promise? Fool me once, shame on you. Fool me twice, shame on me.
Have Nigerians forgotten that after he was elected in 2015, Buhari denied his own promises? Including promises that he tweeted from his very own verified Twitter handle? Have we forgotten? What is to stop him from denying that he agreed to implement #EndSARS #5of5 demands tomorrow?
Buhari simply cannot be trusted and what I find annoying is that we still call his All Progressives Congress contraption of power grabbers a government. It is an insult to governance to refer to Buhari's regime as a government. It is no government. It is a criminal enterprise. A mafia. A junta. What type of President calls his own citizens #LazyNigerianYouths? What type of President unleashes the Brigade of Guards on protesters?
Mubarak was sent packing for killing protesters at Tahrir Square during the Arab Spring uprising. Gaddafi was sent packing for doing the same thing in Tripoli. Omar Al-Bashir is on trial for killing peaceful protesters. The same thing must happen to Buhari if more #EndSARS protesters are killed.
And look at the provocative threat letter written to #EndSARS protesters by Buhari's army that shake like a leaf when they see Boko Haram? This year alone, Boko Haram has killed hundreds of soldiers. How many threat letters has Buhari's army written to them? Instead, they are negotiating with bandits.
To the Nigerian Army, we say your mandate is to defend Nigeria's territorial sovereignty. No EndSARS protester is a threat to that sovereignty. But Boko Haram, that you rehabilitate are. If you want to fight, go and fight them!
And to those looking for leaders of the #EndSARS movement so they can compromise or blackmail them, listen to this: Every Nigerian youth is the leader of #EndSWAT. The only way you can bribe your way out of this is by recognising that you cannot bribe your way out of EndSARS!
If we as Nigerians did not know that we are all brothers and sisters born from the womb of our Mother Nigeria, EndSARS came and opened our eyes to that fact. God bless this movement. God bless those moving it.
And to those naive enough to think this is just about FSARS, no, it is not. FSARS was just a trigger. This is about a system that favours the few and disenfranchises the many. The reason Nigeria picked on FSARS as a symbol to rise against is that FSARS is symbolic of Nigeria's leadership. FSARS are dictatorial, like Buhari. They steal, like Buhari's cabal.
A good example of this is Buhari's nephew. According to a former Buhari insider, Farooq Kperogi, Sabiu 'Tunde' Yusuf, who used to sell recharge cards in Daura before his uncle, Buhari, became President, is now a trillionaire in less than five years. Yet, FSARS has never questioned him. That is why we are protesting. And lastly, FSARS fights prosperity, like Buhari fights opposition. This movement is a reaction to Nigeria's rulers, and there is no stopping us now.
That is why I laughed when the Federal Capital Territory Authority banned protests. The FCTA is a creation of the Constitution of Nigeria, and that same constitution provides Nigerians with a right to peaceful protest. By banning protests, FCTA is only digging Buhari's grave.
FCTA's action is not only an exercise in futility, it is also an exercise in foolishness. How did the Rivers ban work out? Nigerians should just ignore them. The constitution gives every Nigerian the right to protest. That is why Buhari and APC leaders protested IN ABUJA under former President Jonathan and nothing happened to them.
The truth is that Buhari broke one of the vital leadership principles – know who you are dealing with. Buhari overestimated his hold on the Nigerian public. He foolishly assumed that the kool-aid that he has been feeding his captive audience in Northern Nigeria would never wear out. He overestimated their tolerance level. And now he is paying for his mistake.
And so what if the EndSARS movement ends up getting rid of Buhari and his gang of vagabonds? I have always maintained that while his first term was legitimate, his second term was obtained via an electoral heist. This is why I referred to him as President Buhari between 2015 and 2019, and as General Buhari thereafter.
#EndSARS Bribe Allegations: Sowore is Up to his Old Tricks
I note the allegations by Omoyele Sowore stating that certain persons are making billions from the #EndSARS movement.
This is typical Omoyele Sowore, whose stock in trade is blackmail. If Sowore is sure of his allegations, he should name which leaders of the EndSARS movement have made billions, and who it is that paid them.
Sowore is lying and cannot back up his accusations. He is pained and bitter that his revolution now turned into a big flop of revolution never. He has a massive ego and tried to muzzle in and reap where he did not sow, by assuming command of the EndSARS movement. When that gambit failed, he came up with this false allegation.
I have a testimony, which I am prepared to tender in court, that Omoyele Sowore had meetings with All Progressives Congress party officials at the Abuja Headquarters in the run-up to the 2015 elections.
His grouse is that he expected to be made a minister in 2015, just as Buhari made Festus Keyamo a minister. After failing to get nominated, he felt used, hence his bitterness.
The EndSARS movement has no leader. It is a mass movement of the Nigerian people beyond party, tribe, region or religion. No disgruntled element must be allowed to taint the vehicle for our freedom.
Who has paid and who has received Sowore's billion Naira bribe? Omoyele Sowore cannot stop the emancipation of the Nigerian people. If he refuses to join EndSARS as one of the partakers, he should return to his failed revolution now and stop making false allegations.
#SARSMUSTGO
#EndSWAT
#SARSMUSTEND
#EndPoliceBrutalityinNigeria
#NASSPayCutNow