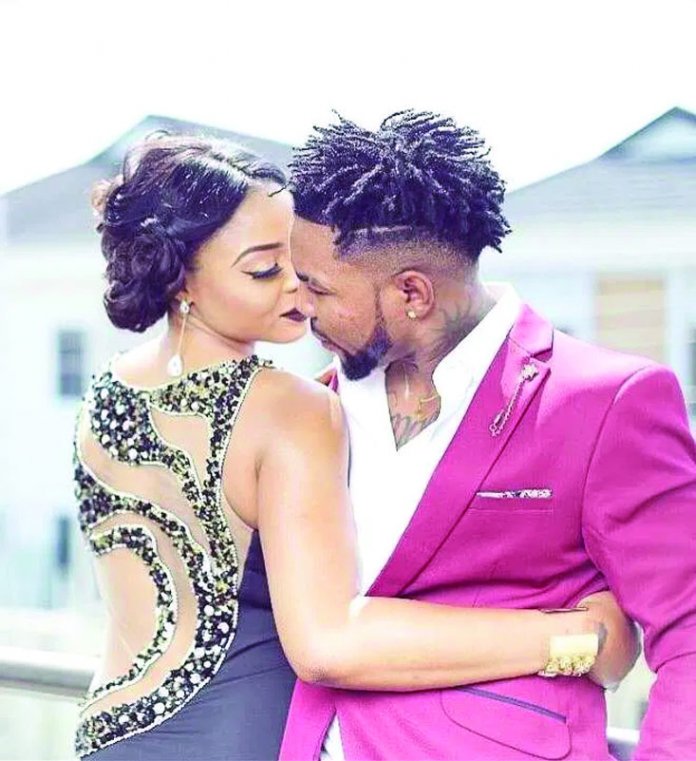 Star musician, Oritsefemi Majemite Ekele (Oritse Femi) and his estranged wife, Nabila Fash have been spilling a lot of unpleasant stories; stories about events, people and actions that wrecked their once blissful relationship. Nabila is out of the house and vows never to return. Suddenly, Oritsefemi is remorseful. Will Nabila budge? Ferdinand Ekechukwu reports
Star musician, Oritse Femi, and his estranged wife, Nabila Fash tied the knot in a colourful white wedding ceremony that shut down some parts of the city of Lagos in November 2017. To Oritsefemi then, it was a carnival. As loud and packed as the event was, a particular character – Caroline Danjuma – glammed and glitzed on the scene of the wedding. The actress who is a friend to the bride stole the show. However, most memorable of that wedding reception was the moment the 'musical taliban' took to the dance floor to shower Nabila, the Kaduna-born PR expert with dollars.
The spectacle of that moment was widespread. Albeit intoxicating, such that the singer was carried away with. He went on to serenade her and promised not to starve her of sex. Shortly after, his inaction would attract trolls to Nabila. The trolls were triggered by a loose statement he made via tweet, claiming his wedding drew more attention than Davido and Wizkid December shows of same year combined.
The lovebirds were waxing strong, and managed to live happily together until few weeks ago when the bubble burst. The singer's three-year-old marriage is now enmeshed in crisis over allege domestic abuse and his wife Nabila has being staying with Nollywood actress, Caroline Danjuma (Caroline Hutchings) who first hinted of domestic violence as the reason for the couple's marital crisis. The singer is alleged to have been physically abusing Nabila.
There was also alleged infidelity on the part of Oritse Femi. In the heat of their marital challenge and his wife taking refuge in Caroline's home, Oritse Femi called the actress names and this made her take to her Instagram page to clear the air. She stated that she does not interfere with other people's marriages or relationships. Caroline said when asked for advice in a relationship, she gives blunt counsel. She said she believed the home must be a safe place and she is against domestic violence.
Still trying to defend her role in habouring Nabila, Caroline took to the comment section of a post shared by Oritse Femi on his Instagram page to call the singer to order for accusing her of separating him from his wife.
Responding to the allegation, divorcee Caroline wrote: "On a normal day I would have ignored you but you need to explain to the same social media how I am evil. Femi you beat up your wife, tore her leg, your daughter had to call the neighbour to save her and she was rushed to the hospital. I paid the hospital bill. You never came to visit her. Yet I begged her to come back to you after two weeks of running away from you out of fear, she came back, one week later, you got intoxicated with alcohol, got admitted to the hospital and attempted to beat up your wife in the hospital. A woman that was just healing from trauma of your abuse, you still wanted to beat her again?
"Femi I am evil because I gave her my home to recuperate? If you gave your wife a safe place will she be out of her home? Don't push my buttons. Just because you came from the ghetto does not mean you should act like one. Grow up already. You have two daughters and a wife to lead. Apparently, I learnt you are of the habit of beating her. I don't interfere in husband and wife issues but if your wife runs for help because you keep beating her, be rest assured we will challenge you. Keep your fist for men like yourself. Yes, I am divorced but my friends can always count on me to be there for them. Concerning your cheap threat, I am waiting for you. Joker."
In the wake of the marital crisis, the singer had asked his wife to forgive him after calling out Caroline for being the brain behind marital crisis. After news of their marital crisis trended, Oritse Femi took to Instagram to blame Caroline and cursed her. He wrote: "Caroline, this is the beginning of your problem in life. Get ready for it. @Carolynahutchings is the evil between Oritse Femi and Nabila… Don't get carried away with fake gist."
Oritse Femi didn't explain how Caroline is to blame for his marital woes. He later returned to Instagram to ask Nigerians to help him apologize to his wife, writing: "Forgive me my love I miss you daily boo. I truly miss everything about you. Make una help me beg her please. I need to enter street for this #endsars. Na me really fit this sars people. Na them father I be… person gats fist him home before him focus outside. I beg my people make una beg her for me… am deeply sorry Nabila … I love you from the bottom of my heart."
After Oritse Femi posted an apology to his wife, Caroline took to Instagram to respond to his accusations. She wrote: "I do not interfere in people's marriages or relationships… I do not take sides either. When it comes to domestic violence it's a no no for me. I believe everything in life has a solution, no need throwing punches. The home must be a safe place especially where there are kids. I can ignore cheating and all sorts but I will stand by any one that is physically abused be it man or woman. If being evil is giving my friend/sister a safe place to heal before she goes back home, then my doors will always be open."
The mum-of-three added in the caption: "Don't have time for bullshit… #saynotodomesticviolence #saynotodrugabuse. Oritse Femi since you like to disrespect your wife on social media, your apology must be louder than your disrespect." In another slide, she wrote: "The world is full of monsters with friendly faces and angels riddled with scars. Say no to domestic violence. Say no to domestic violence and drug abuse."
Oritse Femi has continued to appeal to his wife, Nabila Fash to return home. The music star took to his Instagram page late Monday, October 12, 2020, where he penned down another apology note to his wife, Fash. "My queen kindly let's end this whole thing in peace …. You are a good person don't look at what people says to jeopardize our happiness my beautiful wife. You know am a lovable and caring husband. I will never hurt you."
"Deep down your heart, you know am not a bad person… I can never hurt you, my wife. Don't allow friends to lead you astray come back to your normal self, my love. I truly miss you and it's now I really needed you most, forgive and let's love lead my beautiful Nabila."
Meanwhile, Nabila spent last Wednesday celebrating Caroline Danjuma. Sharing a photo of Caroline who she described as her "sister", Nabila relished some of their memories together. She also asked her followers to say a prayer for the actress and also thank her.
Nabila wrote: "In the journey of life, there are people we must not take for granted! We have cried, fought, laughed, gone crazy together. Yet we are always there for each other. Thank you for holding my hands, praying with me, being my sister and making me smile always. We have a story, and it's a beautiful story. Thank you is not enough. Everyone please say a prayer for my sister and tell her thank you for me."