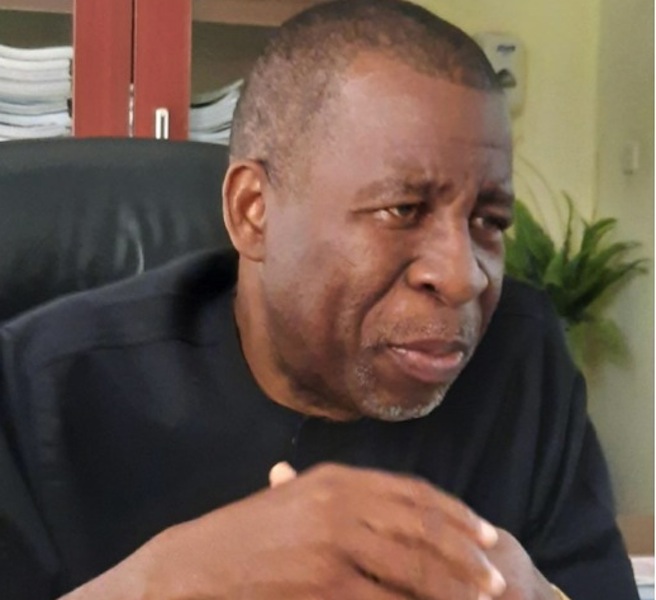 Benson Ezem is a man of several parts all rolled into one. He is a chartered architect, businessman and the pastor/founder of Lively Hope Church – Port Harcourt and Abuja. The President of Cosmo Base Consortium and owner of Jades Hotel, Abuja recently attained 60 years. In a chat with Olawale Ajimotokan, Ezem reflects on his life and businesses while reminiscing on his humble beginnings and his philosophy of life
How would you describe yourself looking at your business orientation?
Well, I am a multi-dimensional person. I am an architect by training. I am a fellow of my institute, Nigeria Institute of Architects, the apex of my profession.
I am a consultant architect of my company known as Cosmo Base Consortium. I am a Reverend by calling. I am an entrepreneur per excellence. That is what I am. I try to fit in these things together.
I have been in business now for over 32 years. I started the business when I was quite young. Cosmo Base Consortium is a company that was founded while I was 22 years and as a student of the Ahmadu Bello University, Zaria. Since then, I have kept straight with the company. It is a company which I have tried to nurture all these years.
The company has given birth now to Jades Hotel and some industrial outfits. It's been a vision. Visions do not die. Rather, it is to be able to build a brand in anything we do out of this country like the likes of Dangote and others. God has helped us thus far. I happen to be the Resident Pastor of Lively Hope Church in Port Harcourt. We just started the Abuja branch.
Why the call to the pulpit?
You see, the idea of Lively Hope is, using what God has given you, both mental knowledge and financial ability to serve God. It's like being a pastor to pastors where you will be able to express yourself without fear of losing any member. And God has helped us thus far. He has given us children in the ministry. They are able to carry on the work in different areas. They have done creditably. So it is a thing of joy that at 60 years, one is still alive to pursue the vision God has given to us vigourously. One good thing about the vision is I saw a company that will be able to build and train successors, whether from my own family or other families. I want to tell you that today, I have successors from my own family and from the company itself. That is what it is to impact on future generations. In anywhere you find yourself, be it in politics, you want to be able to say: ' When I was there, I influenced lives'. 'When I was there I affected lives'. 'When I was there I changed things' because men were created as change agents to be transformers. Life is worthless if you can't point to somebody today and say 'this is the life I have built', 'this is the life I have touched'. That is actually the bedrock of our company – the ministry itself.
I see ourselves in this group as a family and as family, if you truly love the people you are working with, you will want the people to be happy and to achieve what you have achieved. You will want the people to be like you. In our organisation, we work for the same purpose.
Do you have a privileged background that helped in supporting you, like someone born with a silver spoon?
No my father was a senior civil servant like he will call himself. That is not a silver spoon. In fact, he worked and retired and in fact, that was what fired me. He retired with nothing, after enjoying all the affluence of a senior civil servant leaving in good GRAs and all the rest. He resided in Kano and retired as a District Accountant of NEPA. Then, they take good care of you, providing you a house in a GRA and all that. But when he retired, we just found out that we owned nothing- the fridges, the air conditioned- everything; we owned nothing.
And that was where I now decided not to have that kind of an experience again.
I resolved I would work and everything I own will be my own and will not belong to anyone. Because there was disconnect from a GRA background to the town, where you now have to live, because that is where he could afford. So, I thank God that I had to take the bull by the horn to change the narrative. I am one man that when I meet a situation, I try to make it better. Things must change. I am one person that when I meet somebody I look at the potential inside of that person and I can say "you are living below your expected level in life." Like people who work with me, some of them have come with O' level. And I look at them and say "you are intelligent, you write well, you can be better than this."
I have helped them to go to school and they have realised that they can be better than how they came here. One of my staff came in and read Economics and I looked at her and saw that she was very intelligent. I said ''what are you doing here''? I don't mind, go and do ICAN. She went and did her ICAN and got an award in ICAN. She got a job that the offer was higher than what I offered but she is today happy that somebody encouraged her.
What exactly do we have to do to turn the country around?
What we need in this country are leaders that can see tomorrow. We need leaders that can feel what the followers feel, not egocentric leaders, not selfish leaders. That is why we are having all these problems today, with all kinds of insecurity, because if you are a leader, there are people around you that you can develop to develop others. If you are a leader that really cares for his people, everything will not be about money, amassing wealth, getting all the security. You see, I fear for this country, where we are heading, especially our youths. The unemployment rate is very high. The government cannot provide all the employment. The government cannot take out all the people from the streets. It is the businesses, the entrepreneurs that can do that. But you see, what we have now is that the government is sitting on the neck of entrepreneurs with a lot of taxes, high rate of bank interests. You can't borrow.
You won't believe that for me I am averse to borrowing because of the high interest rates. The rate we wish to develop is not possible because we are working within the confines of the available resources. In this group, what we do when we want to develop a project, we call in funds from different companies to fund that project because if you go to the bank, it takes so long and all that. Forget about what you see on the TV, it does not work that way. You see the frustration that entrepreneurs face- high tax rate, FIRS is coming after you, everything is coming against you, you won't have the latitude to pursue your dream. Until we realise that government needs to give us that enabling environment in terms of resources and tax rebates like in this COVID-19 thing now. In some other countries, some companies were given palliatives – low interest rates. I had to go the extra mile to keep all my staff during the pandemic.
How did COVID-19 affect you as a member of the Hotel Owners Association of Nigeria? What has been the impact of COVID-19 on the industry?
Some of the hotels are still not open. We are bringing resources from outside to ensure we do not lose our trained staff because it is not easy to train a staff. We had to bring our resources from outside to make sure we are paying them during the COVID period because it is not only when you make profit that you pay. When there are losses, you still have to consider your staff. We said we were not going to sack any of our staff, we did not sack any of them, we did not put them in the market. What we did, we took our time, reduced the staff, kept some in the house and now we are bringing them back gradually. We have trained them and we don't want to start shopping for new ones. We have a loan scheme because any of them that asks for loan to sort out very important issue like housing, we oblige. We think beyond now to ensure that everybody is carried along.
What is the future for hospitality business post COVID-19 in Nigeria?
Post COVID- people must travel although it is not going to be the same. Here we put together all the protocols that are required by NCDC. It won't be like before but COVID will cease and things will normalise. This is the time to plan post COVID-19, even for the government, because things can't always be rosy. But we have learnt to base and rebase because we maintain certain standards. We are very frugal in the management of funds. As a business man, you should know that things will not always be buoyant. At a time when the resources are decreasing that is when to plan and bring in funds that you have saved. All organisations must save for the rainy days and you must not live above your means.
In this country, we have not learnt to save for the raining days. Even in the states, the number of retinue of aides does not help us to manage our finances. You don't need all the people that you will employ in the states, you have to trim down when things are not working well and you do workable budget. We work by budget here. You don't just come and say your budget is N100 million. How much are you going to bring and how you are going to earn the money to fund the budget? Every year, you repeat the same thing like we do here. These are the things that have helped us to keep going as an organisation.
What are some of the major projects handled by Cosmo Base Consortium?
You can see we have done the refurbishment of CBN property in Owerri. We did it. We are into hospital design, we have done a couple of hospitals for states and we did the master plan for Federal Polytechnic Offa and some of the major buildings were done by the organisation and are still there today. You also talk about some projects like the Federal Polytechnic, Katsina done by my organisation, In this organisation, we have trained a lot of architects. Up till this moment some are on their own while some are still with us.
What are the lessons life has taught you through the past decades?
At the age of 10, my desire was to please my parents, to be a good boy and pass my school. At the teen age, my desire then was to come out tops in my school which I did. I was 16 then. And in the university too, I made a second class upper and did one of the best projects in my Masters degree at Ahmadu Bello University. I wanted to change the narrative of what happened that is why I got into business through the mentorship of my mother, who always tells me that I have to look for the black goat when it is day because at night you won't be able to find it. She told me to make haste when the sun shines. She mentored me that by 5. 30 a.m. this woman is waking me up to go with her because she was into distributorship business; to go with her to meet her debtors.
I often wondered why always early in the morning. She always says it is good to wake them up in the morning because at that time, the man will not be able to dodge you and it was working. She developed the tenacity, the hard-work and the consistency in pursuit. That is what has helped me. She helped me to know that I must place value on people; l must place value on relationship. That is why some of the people I met in my early years are still my friends today. I still reach out to them. Some that I met in Katsina, like one Alhaji Mohammed Gologolodi, gave me an inroad into Katsina. He was a commissioner then and I was a nobody. He gave me my first job in government, with Alhaji Abu Gidado, a former minister, who still comes around here from Katsina.
I want to tell you that if there is anywhere I know, it is Katsina and Kano states. Those were in the early days. These people encouraged people, not minding where you come from.
I am from the East, but they encouraged me, but nowadays, it is not like that.
Things are changing; it's no longer like that. The Nigeria I grew up to know was a Nigeria that we did not know whether you were a Christian, Muslim or Hindu, whatever. I went to Federal Government College and we knew ourselves as brothers and sisters. We never asked where he's coming from. It's like we were in the same school with Abdulsamad Isyaku, BUA. He was about two years our junior, but then we didn't know. We were just in school and just met there. And we were friends in school.
Somebody from Auchi, Oseni Ahmed, a Quantity Surviyor, Sam Ochai from Kogi, Adebowale Taiwo from Ogun, but we became friends. We moulded. What was on our minds then was to make good results, which stood us out. We made friends all over. That is why these unity school, what they are today are not what they were then. Now they begin to admit people from one geo-political zone. That is wrong. It's supposed to be from all the zones, all the tribes, so they mix together – that is one Nigeria.
If this country must go forward, we must place value on Federal Character and see it right. What is happening today where there is so much cry on restructuring is because people are feeling cheated. If not nobody will talk about restructuring. So they want to be like the others. Nobody in this country is a servant to the other. We are all equal partners. The Igbo is not higher than the Hausa, Yoruba not higher than Ijaw. We have to begin to look for those things that unite us if we have to move this country forward.
Nigeria recently celebrated its 60th Independence anniversary. How do you feel to be born about the time Nigeria became independent?
I always consider time in anything I am doing. I can tell you, considering the years I have lived, that Nigeria should not be where we are right now as a country. There are mistakes we have made, for you to move forward, you have to reflect on those mistakes you have made and make moves to correct them in the future. For me too, there are mistakes I have made, which I wish to correct and need to strategise. This is the time for everybody in this country and the leaders to strategise. Where are we? Where do we want to be in the next five years? Where do we want to be in the next 10 years? Where do we want to be in the next 20 years and tell ourselves the truth? Do we want this country to still be Nigeria? What is it that will help this Nigeria to make us stronger? This is the task that is before us if we want to still be a country. We need to sit down and tell ourselves the truth.
Everything in this world is not money because we are going nowhere with this money. In the states, the leadership must sit down and tell themselves that oil is drying up; how do we generate revenue? Where are we going from here? Like an architect would do, there must be an economic master plan of how to confront the future.
For this country, for the states and for the tribes, what relationship do we want that would strengthen Nigeria as a country and those relations we should not shy away from it? Decisions are to be taken. Yes, some decisions may hurt, but at the end of the day, let it be to the greater interest of the people. We have to begin to learn to sacrifice as a people. We must be patient for the greater tomorrow. If we don't sacrifice today, there won't be a greater tomorrow.
Would you say you are fulfilled at 60? Do you have any regrets?
To say that Im fulfilled at 60 is an understatement because at 60, I have three grandchildren. I have my children. My first son with his Masters made a First Class in Engineering. He is working with me here now, managing one of the concerns. It is not easy to have your son respect your vision, especially sons of nowadays; a son who wants to grow the vision. I have a daughter, who is an accountant, who is equally married and all of them are graduates. The third is a writer, who has a Masters in Pharmacy and is doing well. And my last boy that is 21 years. God made him to take after me. He is an architect in Boston, USA. I am expecting that one day he will come in and face what we are facing here. God has been very faithful, giving me a very intelligent wife, who has helped me in no small measures. My celebration is part of thanksgiving and to let everyone knows that in every situation you find yourself, that situation is very surmountable. I want to encourage the young people not to give up. They should take up challenges, they should not shy away from challenges because challenge is what makes you and changes you. It helps to reposition you.
For this country, for the states and for the tribes, what relationship do we want that would strengthen Nigeria as a country and those relations we should not shy away from it?
Decisions are to be taken. Yes, some decisions may hurt, but at the end of the day, let it be to the greater interest of the people. We have to begin to learn to sacrifice as a people. We must be patient for the greater tomorrow. If we don't sacrifice today, there won't be a greater tomorrow.