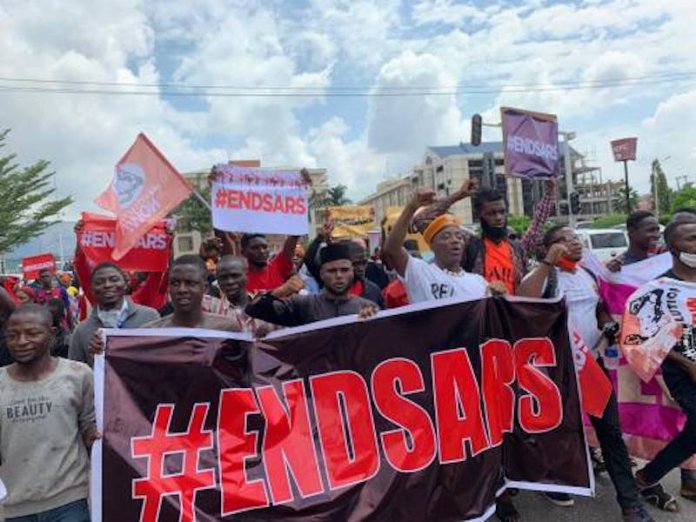 Fauno Nadah canvasses bold decisions to tackle the problems of the youth
The End-SARS protests will not come as a surprise to keen observers of Nigeria's demographic structure. With a median age of 17.9 years and about 50% youth unemployment, it does not require rocket science to predict anger and protest syncing with a less divisible issue that scales our ethno-religious vulnerabilities and resonates with a large segment of our youthful population of 200 million people. There has been a noticeable drop in political participation rates since 1999; only about 35% of registered voters actually vote in national and state elections and even much less in LGA elections that determine service delivery outcomes. Some commentators and analysts draw attention to the historical evolution of our transition to Civil Rule and the creation of State and LGA tiers of government as plausible causative factors for the general apathy and the eventual withdrawal of Nigerians from the civic space.
Although we cannot navigate the future without knowing what happened in the past, we also cannot drive into the future while focusing on the rear-view mirror. We should watch with cautious excitement as large numbers of youth are flooding back into a previously empty civic space and jumpstarting conversations about welfare and security. It is therefore important to shape this emerging dialogue so that unlike previous flashes of civic consciousness, we can move forward with the realization that it easier to be critical than to be correct without dampening enthusiasm. The DNA of progress and liberty has strands of both rights and responsibilities. We can start by taking a closer look at the demographic structure so that rights and responsibilities can be shared on the basis of competence and fairness. If we take the perspective that the shape of our population is a pyramid, we will find that the pyramid is comprised of four major generational cohorts; at its base are ages 0-19, the next cohort are ages 20-44, then ages 45-64 cohort and finally ages 65+at the capstone. The 0-19 cohort accounts for 56% of our total population, the 20-44 cohorts represent 32% of our total population, while cohorts 45-64 and 65+ represent 9% and 3% respectively. This demographic structure has implications for framework of state, governance and fiscal and monetary policies in the short, medium and long terms, especially once we consider its spatial distribution over the 923,000 square kilometres that broadly indicate a roughly 50/50 spread between urban and rural settlements. To better appreciate the implications of this demographic structure and how it limits self-actualization for our youth and the anaemic growth of our economy now in recession; let us assume that the pyramid is a woman called Nigeria. Let us examine her physiology. She has a skeletal system that is wrapped by muscles, ligaments and sinews representing our 36 States and 774 LGAs. She has a nervous system representing our infrastructure services like telecoms, electricity, transportation and the natural environment. Her circulatory system is comprised of lungs with respirator complexes representing our economic agents, a heart comprised of four pumps representing governance, laws, fiscal and monetary policies that pump oxygenated blood (read good and services) through an Aorta (read deposit money banks) into arteries (service delivery channels) to all parts of her body. de-oxygenated blood(taxes)flows back through veins (tax collecting agencies). The other body parts represent the four demographic cohorts of our population.
Although all the parts need oxygenated blood via budgetary spending, they need it at different rates and quantities as Nigeria grows. The youth question appears to be at the heart of Nigeria's socio-political pathology. Although the 0-19 cohort represent the largest segment of our population, they contribute the least to taxes due to under-investments in quality healthcare and education and the shrinking opportunities for this group to make meaningful contributions. The households that bear the brunt of financing the development of this cohort has seen its income impaired by double digit inflation and slowing per capita Income growth rate. These households are led by the other three cohorts howbeit with varying impact on taxes, debt and governance. As it is now, what ties these four cohorts together is the scale of social-economic justice; on the left-side is the weight of household income eaters-ages 0-19, plus the 20-44 and 45-64 cohorts who represent the next largest population segment and tax contributors but an even larger segment of the working population howbeit with different levels of savings. On the right-side, we have the net present value of future government purchases plus net debt comprised of current and contingent liabilities and financial assets less the value of government-owned enterprises. For Nigeria, with our growing debt profile now well above 3% of GDP not only in the proposed 2021 Budget but also in previous years once we factor in the rising deficit spending of the 36 States; this deficit to be financed by debt at double-digit interest rates tilts the scale and places a burden on the left-side comprised of our youth and women- it is actually a generational account deficit as the 45-64 and 65+ cohorts borrow in-lieu of future taxes from a generation without the required skills to grow productivity and diversify the economy beyond consumption through exports and Foreign Direct Investment attraction. To balance Nigeria's generational account, we need to make very bold decisions with a view to connecting our youthful population to a network of productivity-enhancing infrastructure within a new framework of state that captures a national vision and purpose. The current novel economic pandemic and its impact on Crude Oil price shortens the intervention window available to lift 100 million people out of poverty as promised by President Buhari. As it stands, we need a double bypass heart surgery to save this woman and pump the oxygenated blood required by the over 200 million people that comprise her physiology and geography to improve their standard of living and restore the dignity of the black race. Otherwise, the return of the neglected youth to the civic space will not be civil as we have seen with the intractable insurgencies and violent crimes.