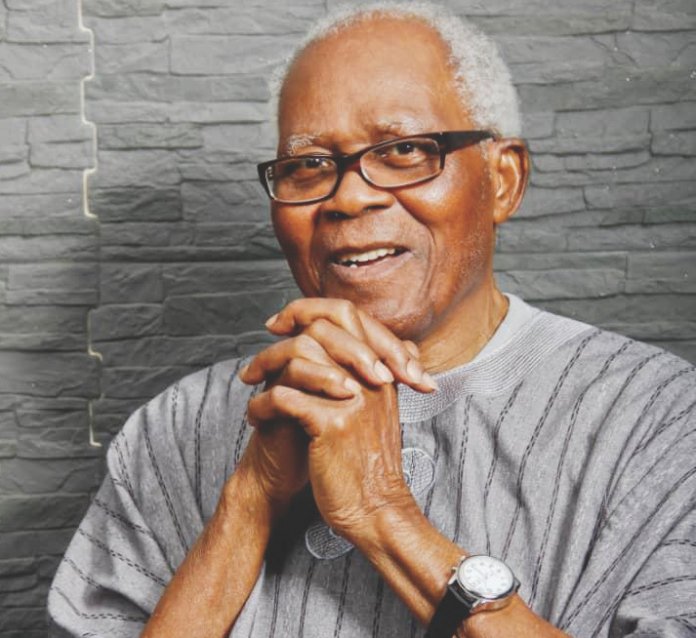 Oladapo Ojo
Sunday, October 13, 2019, was to me, just another regular day, that began with my family and I going to church to worship. As I made the usual preparations, my phone rang and it was a call from my sister, Kemi, in the UK. There was nothing strange about the call because it was something she did regularly. I did not, therefore, sense anything unusual about it when I picked the call, so I was not prepared for her request. She wanted me to pray with her for Baba, our father. She said he wasn't responding to his morning routine so she had called for an ambulance to convey him to the hospital. We prayed, after which I shared the same prayer request with my wife, Funmilayo, and son, Iyanuoluwa who also prayed. I went to church but throughout the service, my mind was with Baba and my sister in London. I kept checking my phone, hoping for a call from her for an update on the situation. Immediately after the service, I called her and was quite relieved when she told me that the doctors were attending to him already but we should continue to pray for Baba.
Although Baba was 96 years old, I was not contemplating him leaving us when he did. I was really trying to be strong and in my mind I thought; yes, this man is quite old but there was a nagging question: "Is this his time to go and be with the lord?" I was still brooding over these thoughts when my phone began to ring, call after call, coming in quick succession. I recognized some of the numbers and I said to myself that these are not people who would call me if there wasn't something absolutely important to discuss. I did not need a prophet to tell me, I knew immediately that I had been orphaned. My mother, Mama GMO, had gone ahead just nine months before, on January 31, 2019. Now another saint had just exited the earth. WRO had gone to meet his GMO, the waiting was over, finally. I believe firmly that WRO had already bade this earth farewell when his GMO left. He was only being a gentleman, awaiting his turn for the Master's call!
Most times, when you ask a man who his role model is, or who has made the greatest impact in his life, the answer would be: 'my father'. It is no different with me. Baba was not just another father or father-figure, he was the man God gifted me with. This was Reverend (Dr.) William Rufus Ola-Ojo; husband of Grace Modupe Ola-Ojo, father of Jaiye, Oluwakemi, Oluwaremilekun, Oladapo, and Olasupo, grandfather to many children, brother to Sarah Ogbede, Modupe Soleye, and many others.
My faithful friend, mentor, pastor, role model; my father was gone physically but the memories he left me with will remain forever fresh in my mind and I will make sure to pass them on to my children. As I sat down with my head bowed, trying very hard to be strong, the reality of Baba's departure began to sink in and there was just so much to remember about this great but extremely humble soul. Truly the memory of the righteous is blessed because as I began to recollect all Baba had told me about himself, all I could do was to break out in songs of praise, giving thanks to God for the privilege of being WRO's son.
Yes, indeed, I consider myself privileged to have been sired by the man, William Rufus Ola-Ojo, popularly known as WRO, because he lived and walked his faith without any apology or fear. WRO ran his race with all diligence in the lane of the Baptist Convention, earning him the sobriquet 'William, the Baptist.'
From his humble beginnings in Igbara-Oke, Ondo State, until he took his final breath in London, England, WRO held on to the old rugged cross. The second but only surviving son of Gabriel Famadesan Ojo and Leah Adun Ojo, My father was born on June 1, 1923, in Igbara-Oke, Ondo State of Nigeria. He said his parents named him Olatunji in memory of their first son who passed on before he was born, and being devout Anglicans, they had him baptized in the Anglican Church where he was given the baptismal names William Rufus.
According to Baba, much of his growing years were dominated by his relationship with his father and his beloved older sister Sarah, because his mother did not live long enough to witness the greatness of her son, as prophesied by the Anglican priest who named him William Rufus, after a powerful English king. He said his father was very fond and protective of him so much so that he wouldn't let him out of his sight. Thus, while he sent Sarah to school, he did not allow WRO to go to school but personally taught him shoemaking and farming. Though he longed to go to school like other children, he obeyed his father and concentrated on all that his father taught him, equally becoming a skilled shoemaker, a trade he would engage in later in life, to earn some money to support himself when his father had financial challenges. Baba said he also picked up other skills such as barbing, hunting, especially for birds with his catapult, palm wine tapping and basket weaving. Western education eventually came for him through the prompting of Archdeacon Akinluyi who was then the headmaster of St. Paul's Primary School, Igbara-Oke. It was the archdeacon who convinced his father to enrol him in primary school.
WRO began his formal education at St. Paul's Primary School, Igbara-Oke on the 10th of April, 1934 when he was 11 years old. He spent 6 years there and obtained his first school leaving certificate which he passed in flying colours, after which he got a teaching job in St. Barth's Ogotun, where he taught as a pupil teacher for two years before going back to his alma mater, St. Paul's Primary School, Igbara-Oke for another year. Thereafter, he decided to go to secondary school. Worthy of note here, is the fact that WRO went back to Ogotun many years later on my account, as I took a wife from the family of His lordship, late Justice Timothy Ajibola Oluwole, a native of Ogotun Ekiti.
WRO's attempt to secure admission into secondary school was rejected by St. Andrews College Oyo, not because he failed the entrance requirements, but because his father, who had been prevailed upon to take another wife after the death of WRO and Sarah's mother, had married 7 different women but could not seem to make a success of his union with any of them.
The school ruled that Gabriel was a polygamist and thus, would not admit the son of a polygamist into St. Andrews, Oyo.
In 1943, with support from Mr. E.A. Falana, a native of Abeokuta who was the infant master at St. Paul's Primary School, Igbara-Oke, WRO wrote and passed the entrance examination into Baptist Boys High School (B.B.H.S), Abeokuta, and was given admission in 1944, but due to financial constraints, he dropped out in form three and wrote and passed his O levels as a private student even before his classmates. His schooling in BBHS was the turning point in his life because he converted to The Baptist Convention after meeting with Jesus Christ in 1946, at a Baptist revival meeting at B.B.H.S. From that point on, there was no turning back for WRO, his zeal and enthusiasm for the church and the work of the ministry was emphatic and his life and, indeed, all the activities he was involved in, could not be separated from The Baptist Convention.
After his secondary school education in Abeokuta, WRO worked for a couple of years in Lagos in the service of the Railway Corporation and the Electricity Company of Nigeria, before receiving the call to ministry that led him to enroll in the Baptist Seminary, Ogbomosho, in 1951, after which his life became fully dedicated to the Baptist Convention, where he worked and held various key offices until his retirement as the Sunday School Secretary in 1986.
Two key projects he would forever be remembered for in the Baptist Convention include the fundraising drive for an initial sum of 40,000 pounds for the establishment of a Baptist University, an assignment that WRO carried out with much diligence, ensuring that the target sum was realized. The university would, eventually, be established as Bowen University, Iwo, in July, 2001, exactly 40 years after the first tranche of money was raised. His efforts earned him an honorary Doctor of Letters degree from the same university in 2012. His most outstanding legacy however, is the daily devotional that he developed in 1972 when he was appointed the Sunday School Secretary of the Nigerian Baptist Convention, which he christened Daily Bible Reading with Notes
As WRO diligently sought the Lord, the Lord rewarded him with a good wife in the person of Grace Modupe Aloba. He had previously been disappointed by his first love, Mobola, his girlfriend of four years who turned him down when he decided to heed the call to ministry by going to the seminary to study theology preparatory to becoming a Pastor. He said her refusal to marry him because she did not want to be a Pastor's wife came as a shock to him because she was the niece of a Baptist Pastor whom he met while he was at BBHS, Abeokuta. Thank God for Grace who incidentally was his neighbor in Igbara-Oke. They got married at St. Paul's Anglican Church, Igbara-Oke on December 22, 1955. Grace was happy to be a Pastor's wife and she followed him wherever the Lord took him, from station to station, even to the United States for his Master's degree in 1963 and a Ph.D. in 1973 and, on his sojourn in the United Kingdom where they both lived until she went to be with the Lord in 2019.
Whenever I think about my Baba, the Man of God, great teacher, a voracious reader, eager learner, a pioneer in various facets of his life, an exemplary Christian and an asset to the Nigerian Baptist Convention and the impact he made in my life, I cannot but agree with Mark Twain, one of my favorite authors, who said: "Whether you like it or not, you are the most influential book your children will ever read on the subject of character." I am what I am today because in my father, William Rufus Ola-Ojo, God provided me an awesome book to read and I read in him the love and fear of God, the love of your neighbor, honesty, kindness, truthfulness, and hard work – virtues I pray my son will also read in me.
–––Oladapo Ojo is Founder/CEO, DM Holdings, a foremost Creative Media Group with vast interests in Education, Entertainment, Production & Equipment studios across Africaz