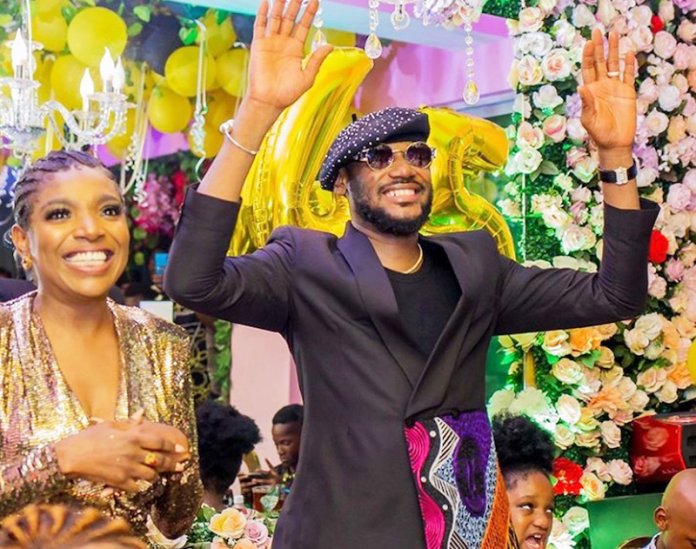 Ferdinand Ekechukwu
Legendary singer, Innocent Idibia aka 2baba was 45 few days back, to the joy of his loved ones and fans. 2baba's long-time partner and wife, Annie Idibia ensured the day did not go unnoticed. The mother of two girls (Olivia and Isabella) put up a surprise birthday party in conjunction with the singers' baby mamas – Sunmbo Adeoye and Pero Adeniyi. The music star's wife later showed the revelries on her Instagram, revealing lovely intimate photos of her mother-in-law, kids and step-children. Present at the party were four of the singer's children.
Annie also shared photos of the superstar, who looked dapper in a black suit and matching beret, while she opted for a sparkling gold dress. A couple of 2Baba's friends, including his long time business partner and manager, Efe Omoregbe were there to celebrate him. Others also joined the celebration online. According to Annie, she had just 24 hours to plan the surprise party and the outfits for her mum, 2face's mum and their children. Annie further disclosed how Sunmbo's event planning company handled and brought the surprise to a perfect reality.
"A very big mighty shout out to @esobevents. They hook up 'A Guy' (he calls 2baba) surprise 45th birthday for me under only 24hrs ahhhhh @sunmboadeoye you are a magician ooooooo! On Wednesday Night At About 8:30pm it, I Called Esob Ceo @sunmboadeoye, 'Babe, You know me n all my last min plans, abeg no vex oo..' She bursted out laughing and she said 'Annie u have come again ooooo.' Anyway, long story short , I told her all I really wanted for baba Surprise dinner; told her how baba didn't wanna do any celebration, but I wanted something extremely intimate, just him, our moms and all his kids ! Just family!!!!
"She said 'beautiful, Annie go and sleep you are sorted' and I was sorted oooo!! I also told her how I wanted all of his friends and family all over the world to be a part of his 45th! She said done!, and Gave me the idea of the surprise zoom dinner. I was over the moon with that thought! So all of his friends n family all over the world can be a part of his 45th, yet very intimate! Chai! Na so we start planning! And it was a huge success. 'A Guy' thought I was taking him out for dinner alone! na so my makeup no gree finish!
"He came up screaming, 'babe, na which kind make up u dey do wey no dey finish.' He got to the rooftop anddddddd.. Surprise!!!!! He didn't even know his boys were around! Sumbo n I pulled d trick on him and the highlights was into the dinner, a TV screen came up n boom!!! All of his friends, family and his kids in America popped up too! That one shock am oo! He was pleasantly surprised and extremely happy!! Goal achieved! Thank you again @esobevents for making all of these happen in 24 hrs. I can't be calm ooo more images and epistles loading. . ."
Annie later shared a romantic video of them together the eve of the birthday, accompanied with a sweet caption: " Oh my world ….happy birtday. No need for epistle anymore! You know my world revolves around you! The world knows… That you are my world. Lytid. Happy birthday my "Mine" @official2baba #myBestFriend #mysupportsystem."
In the short clip, the couple was at what appeared to be a club as they sang and danced to one of 2baba's songs. Onlookers were impressed by their display of affection and this was evident in their excited laughter. Annie and 2baba are no doubt one of the celebrities whose relationship had been under scrutiny for a while but they managed to overcome their challenges and remain a strong force seeing as being in the spotlight is not always kind to marriages.