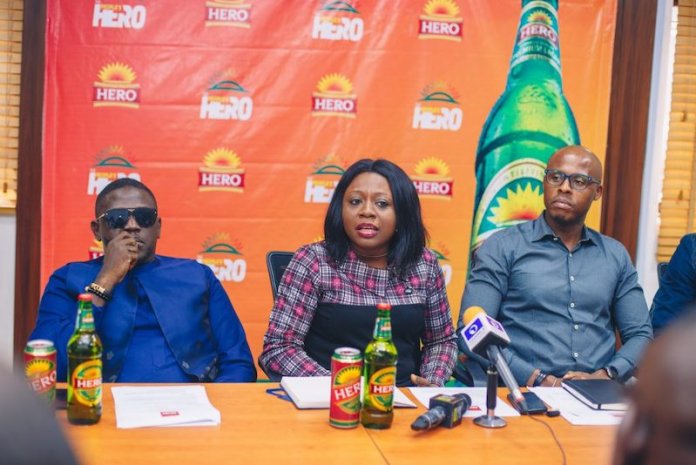 Raheem Akingbolu
The first batch of winners have emerged in the on-going Hero 'Under the Crown' Consumer Promotion tagged, "Rise like a Hero".
An initiative of premium lager, Hero, the nationwide campaign which kicked off recently has produced 10 millionaires in different locations across the country.
The grand draw winners were not the only ones who have been given a reason to smile by the brand.
More than 250,000 winners of several prizes ranging from airtime to cash prizes have also reaped from the beer brand's generosity to its teeming consumers.
Speaking on the emergence of the winners, Marketing Director, International Breweries, Tolulope Adedeji reiterated the brand's commitment to putting a smile on the face of its consumers.
"We are delighted that some millionaires have emerged through the Rise Like a Hero campaign because that's exactly what we hoped to achieve with the promo. It's not enough to say we care; we must demonstrate it, and that's what we set out to do at this time," she said.
Adedeji also noted that Hero was keen on celebrating the resilient spirit of Nigerians.
The winners in the 'one million naira' promo emerged from the draws which were conducted over the last couple of weeks and the presentations were held in the various locations respectively.
The consumer promo is targeted at recognising and celebrating the tenacity and resilience of the average Nigerian and is still open to individuals who are 18 years old and over.
While picking up his cash prize, one of the winners, an ecstatic Edafe John stated that the Hero grand prize represented more than a financial relief for him.
Aba winner, Otu Ewor, and Aniah Emmanuel who won in Calabar could not contain their excitement on being among the first set of winners in the Rise Like a Hero campaign.
During the presentation of prizes to the lucky winners, Marketing Manager, Hero, Margaret Igabali, explained that in line with the promise made at the commencement of the promo, Hero is on a quest to make life easier for the average Nigerian who remains dauntless in the face of numerous challenges.