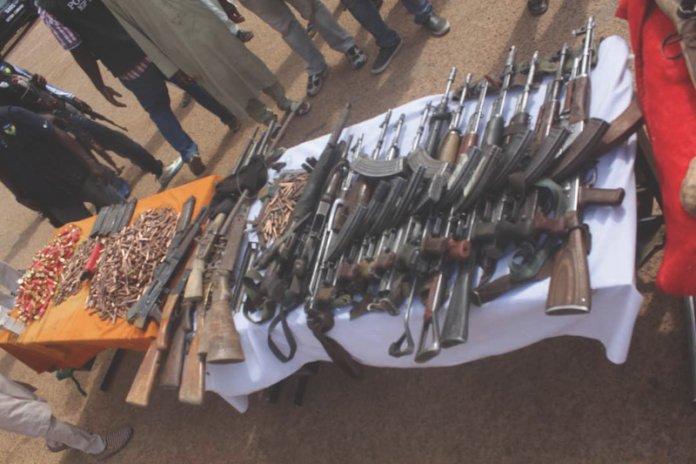 Efforts by the Katsina State Police Command in tackling the wave of banditry, kidnapping and rape in the state are beginning to pay off, writes Francis Sardauna
On assumption of office as the 22nd Commissioner of Police, Katsina State Police Command, on February 6th, 2019, Sanusi Buba, had vowed to flush out the marauding bandits and kidnappers terrorising villages and communities in the state.
In his maiden press conference, Buba made it clear that his mission was to provide a safer and better secured state that would guarantee the socio-economic wellbeing of the people and enhance their quality of life.
He also pledged to adopt evolving security strategies that would close the gaps between the police and the people, foster cordial relationship and enhance effective partnerships, aimed at ensuring sufficient and sustained police operations across the flashpoints in the state.
Despite the hazardous and inherent challenges in policing a metropolitan state like Katsina, often referred to as the "home of bandits and kidnappers", Buba is determined not to let that deter him from his ongoing war against banditry and other nefarious activities bedeviling the state.
His visibility, policing and prompt response to distress call, intelligence-led policing approach and unbiased investigation of criminal cases had made him record tremendous successes against the hoodlums.
The revolving security strategies he put in placed are already yielding positive results as evidenced by the arrests made in the last few months in the various sting operations by his men and officers.
Giving a breakdown of some of his achievements while parading some notorious bandits, Buba said the command had killed 15 bandits and arrested 50 others, including kidnappers and cattle rustlers in the state.
He explained that the command had also recovered 10 AK-47 rifles, 20 locally made guns, 20 motorcycles, 220 rustled cattle from the hoodlums and rescued 20 captives in the ongoing onslaughts against the miscreants in frontline local government areas of the state.
The commissioner added that the command had further apprehended 140 suspected rapists in 87 reported cases and subsequently charged to court for prosecution after preliminary investigation.
"Recently, the command has arrested over 50 suspected bandits, kidnappers, cattle rustlers and armed robbers. We recovered 10 AK47 riffles, 20 locally made guns, 20 motorcycles and 220 rustled cattle.
"The command also killed 15 bandits and rescued 20 kidnapped victims in the ongoing war against all forms of crime and criminality in the state.
"On the fight against the menace of rape bedeviling the state, a total of 140 suspected rapists were arrested in 87 reported cases and all were charged to court for prosecution," he said.
The State police chief claimed that on August 20th, 2020 the command arrested notorious bandit, Abdullahi Sani of Dungu-Yankara village in Faskari Local Government Area of the state.
Sani, whose leader Adamu Aleiro Na-Yankuzu has been declared wanted by the police in the state, until his arrest launched onslaughts on Kadisau and Yardoka villages in Faskari and Dandume Local Government Areas, where he robbed, Killed, Kidnapped and rustled domestic animals of innocent citizens.
However, on September 1st, 2020 at about 13:00hrs, based on credible intelligence, the Command carried out a sting operation at various locations in Safana Local Government and smashed another notorious bandits' camp.
During the raid, one Tukur Adamu, alias "JAMAI TIGER", aged 48yrs of Illella Forest, including his biological son and others that he recruited into banditry and kidnapping were apprehended.
In the course of investigation, Buba said the suspects confessed to have masterminded several attacks on villages in Safana, Batsari, Danmusa and Dutsinma Local Government Areas.
According to him, "The suspects confessed to be in possession of dangerous weapons including AK 47 rifles. They also confessed to have killed several people during their attacks.
"Similarly, the command succeeded in arresting another bandits' gang leader, Rabe Abdullahi, alias 'DOGO RABE', aged 30yrs of Kanbiri village in Safana Local Government Area."
He said the line-up of Musa Isah, Hamisu Sani, Sada Zubairu, Abubakar Halilu, Haruna Ibrahim, Bello Tambai, Abubakar, Idris Abdulrahaman, Saidu Ado and Lawal Ismaila were amongst Abdullahi's cohorts arrested during the operation.
On August 23, 2020, officers and men of the command acting on credible intelligence also busted the duo of Nasiru Yahaya, alias Buzu and Shehu Adamu, alias Juli, all in the deadly Illelah forest in Safana Local Government Area of the state.
In the course of investigation, the suspects confessed to belong to the camp of one Sale Turwa, a kingpin of notorious bandits, armed robbers, kidnappers and cattle rustlers terrorising Safana and Batsari local governments.
The suspects equally confessed to have in their possession, three AK47 rifles, which Buba said investigation was ongoing with a view to recovering the weapons and other incriminating exhibits.
In another development, on September 8, 2020 at about 17:50hrs, the command nabbed another member of a notorious bandits syndicate, Abubakar Ibrahim of Rugu forest in Safana local government.
According to the command, the suspect had on September 3 and 7, 2020, led other members of his syndicate on motorbikes, all armed with AK 47 rifles, invaded Dagarawa and Kudewa villages of Safana and Kurfi local governments.
The hoodlums in a commando-style operation invaded the villages, kidnapped Ashiru Ibrahim, male, aged 32yrs; Duduwa Audu, female, aged 50yrs and Asiya Saleh, female, aged 45yrs and took them into the Rugu forest. But on September 10, 2020, at about 0930hrs, the command rescued the victims and reunited them with their families after being treated at the Kurfi General Hospital.