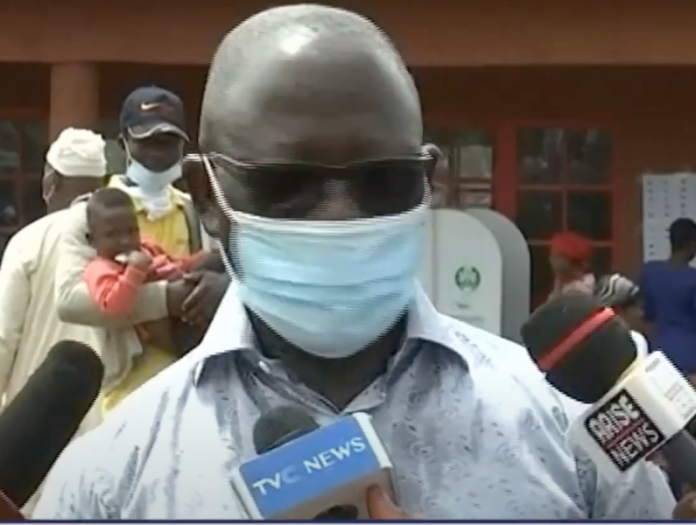 By Nseobong Okon-Ekong
Accreditation and voting started in the Edo State governorship election started at 9:00am at Iyamho Primary School that has two Polling Units, 001 and 002 in Etsako West local government area.
Comrade Adams Oshiomhole, former National Chairman of the All Progressives Congress (APC) and immediate governor of the state is expected to vote here.
The Assistant Presiding Officer, Mr. Bello Segun, for Ward 10 Polling Unit 002, who is in national service as a member of National Youth Service Corps announced formalities for the election including observance of COVID-19 protocols like use of face mask, hand sanitizer and the courtesy of allowing People With Disability, the aged, pregnant women and women with infants to be attended to first. This announcement was interpreted into Afemai, the local language, for easy compression by the people.
Following a glitch with the Card Reader, which according to the Assistant Presiding Officer II, for Ward 10 Polling Unit 001, Mr. Mayor Useni, did not show the correct time, accreditation was suspended as he called for help from Independent National Electoral Commission (INEC) technicians. Useni said he was instructed to ensure that the time on the card reader was real time.
As at 7.50am, few voters had arrived at Our Lady's of Fatima College, Auchi, there were no officials.
At the nearby, Jattu Junctiin which is the major gateway into Auchi, soldiers mounted a tight security and screened every vehicle, coming or going out of town. Those who had no authorisation from INEC for unrestricted movement were stopped from continuing their journey.
The atmosphere was calm and peaceful and voters dutifully took their place on the queue. Policemen watched closely as the exercise progressed.
Mr. Columba Ogah, a native of Auchi who is monitoring the election as a Domestic Observer on the team of the of the Transition Monitorjng Group, said the 2020 Edo governorship elections had attracted an unusual large presence of security agents to the area.
Oshiomhole drove himself into the voting arena at 9.54qm
Attachments area