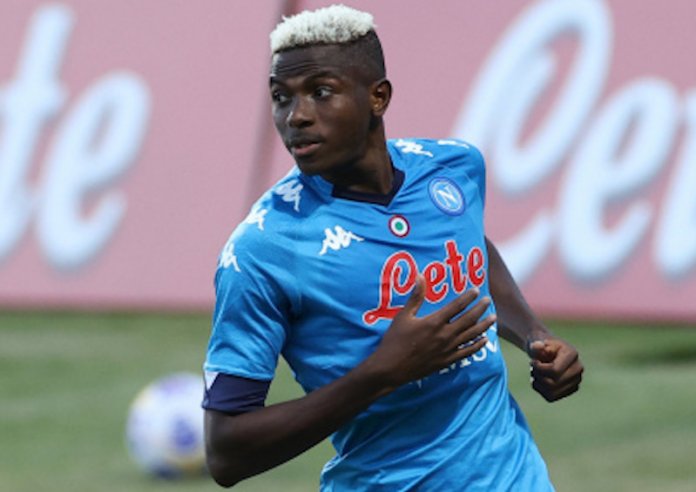 Having arrived Napoli for a record fee of 80 million euros, he seems not to have been overwhelmed by his big-money move as he settled fast with the Gennaro Gattuso side scoring two back-to-back hat-tricks in two pre-season friendlies. As Victor Osimhen sets for his first Serie A game, expectations are high on justifying his price tag
Super Eagles forward and Napoli new signee, Victor Osimhen will taste Italian Serie A action for the first time tomorrow at the Ennio Tardini Stadium when Napoli visit Parma in one of the Serie A matches.
All eyes will however be on one man to make the difference in the encounter and the player is no other than Super Eagles striker, Osimhen.
The Nigerian dumped French Ligue 1 team, Lille after posting a wonderful season to team up with Gennaro Gattuso's men in Naples in the club's record transfer during the summer window.
Most big-money transfer players have failed to impress especially in their first season.
In their first season, Eden Hazard failed to impress at Real Madrid after a huge money transfer from Chelsea, while Antoine Griezmann is yet to justify his big-money move to Barcelona from Atletico Madrid as he warms up for his second season at the Catalan club.
With high expectations on Osimhen, Napoli fans would only be hoping that the Nigerian would not be a flop in his first season.
Already, he has given Napoli fans a snippet of what to expect by firing two hat tricks in back-to-back warm-up games and enjoying the fresh air that the club has offered his fledgling career.
The 2019/20 Italian topflight season was disrupted by the COVID-19 pandemic just like all other leagues in Europe and around the world in early March. But the season was concluded without fans in the stands.
Now, the U-17 FIFA World Cup winner with Nigeria in 2015 is set to continue from where he stopped in France in the Italian Serie A tomorrow.
The 21-year-old has been making headlines since his big-money move from Lille and first showed a glimpse of his quality when he scored a hat-trick and provided an assist in an 11-0 routing of L'Aquila in the Partenopei's training camp at Castel di Sangr.
Such a performance only makes the excitement around Osimhen even stronger, something which the former Wolfsburg man is pleased about.
"We are extremely happy with Victor's performance. He called me and confessed that he was extremely happy for the first goals for the Azzurri," Osimhen's agent, William D'Avila told Radio Punto Nuovo.
"If he feels the pressure now? No, why should he? He's not experiencing any kind of pressure; he knows how to be a great striker. His goal is to score a lot of goals, so no pressure.
"His first impressions on Napoli and Gattuso? Perfect, everything. Victor already feels at home."
When quizzed on whether Napoli will be able to return to the Champions League next season, having settled for a Europa League spot by winning the Coppa Italia, D'Avila said: "Absolutely yes, it is the goal of Victor and all his teammates. The team will row all towards the same direction. Napoli is full of great players who will help Victor to give his best."
Napoli boss Gattuso is, however, of the opinion that there should not be too much pressure on Osimhen as he still needs time to adapt and is not someone like club legend Diego Maradona.
"It's too easy to get excited now, we've got to give him time and let him work, not put pressure on," Gattuso told Radio Kiss Kiss and Sky Sport Italia as reported by Football Italia.
"He is an important player and we paid a lot for him, but there were no doubts he would give us something different that we haven't had in my time here. There's a long way to go.
"It's not like we suddenly signed Pele or Maradona, we simply brought in a player with certain characteristics that can help us."
Meanwhile, former Parma forward, Gianfranco Zola has hailed Osimhen's talent, saying that the Nigerian attacking ace has important qualities with which he can help Napoli to succeed this new season.
Ahead of AC Parma clash with Napoli tomorrow at the Ennio Tardini Stadium, Zola believes Osimhen can continue his fine pre-season form.
"He will be among the protagonists if Osimhen also enters immediately; he has important qualities that were lacking in the squad especially in the counterattack. He plays very well on the offside," Zola said.
Former AC Milan Sporting Director, Massimiliano Mirabelli, also has a strong belief in Osimhen to go on and prove his worth by scoring lots of goals for Napoli in the new Serie A season.
"Victor Osimhen is the most expensive purchase of the De Laurentis management, he is an important player," Mirabelli stated during an interview.
"A strong player could require a gradual inclusion in the group and in Italian football. I would not worry too much if he can be inserted immediately, Gattuso will know.
"I am sure that at the end of the championship he would have played many matches and would have demonstrated his goal by scoring value."
Osimhen was the top scorer as Nigeria clinched a fifth Under-17 World Cup title in 2015 with 10 goals in Chile, which saw him win the Golden Boot and Silver Ball.
After the tournament he decided against joining English side Arsenal, to sign with the 2009 German champions Wolfsburg in January 2016, but injuries restricted him to 16 appearances for the club in all competitions.
Despite being a part of the squad for two years, his lack of games meant he missed out of the 2018 World Cup with Nigeria.