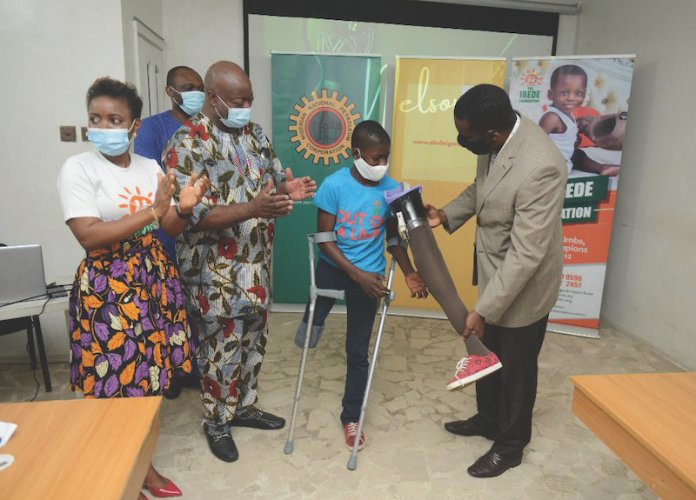 Justina Uzo
The Irede Foundation on Thursday, officially handed over the 2020 NNPC/SNEPC assistance to beneficiaries.
A statement from the Foundation disclosed that since 2018, the NNPC/SNEPCo group has adopted beneficiaries of the foundation yearly to provide them with prosthetic limbs. "This year, the partnership between the two organisations delivered three Prosthetic limbs and a pair of Calipers with an energy saving Pneumatic Crutches for one adult beneficiary living with Polio," the Foundation stated.
It explained that the short ceremonial handing over of the prostheses in Lagos took place within the framework of NNPC/SNEPCo's "Back to School" project, adding that the NNPC/SNEPCo group has stayed committed to this cause, even as organisations worldwide have cut down on their social responsibilities due to the COVID-19 pandemic.
The statement said the Chairman of the board, Mr Kunle Akinkugbe, while commending the effort of the Idere Foundation Founder, Mrs. Crystal Chigbu and her team, said he identified with Irede Foundation as a beneficiary of their CSR, and urged them to continue with this partnership as it makes a lot of impact to the children. The Managing Director, SNEPCo, Mrs. Asaolu Ibiyemi, in her remarks, said the gesture was beyond one limb that a child would get but the impact it would have on their lives, their future and those around them.
She also shared how she got to know about Michael Showunmi Thompson, who was a special beneficiary out of the focus of the Irede Foundation. Michael was a first-class graduate of Chemical Engineering from Ladoke Akintola University of Technology (LAUTECH), Ogbomoso. He currently teaches Mathematics in a school, which makes him a part of the Back to School campaign that was started. Michael would be an inspiration to the children and would be able to see that they have no limit and they can be whatever they want to be.
A mother of one of the beneficiaries, Mrs. Owujebe, who expressed her gratitude, shared the experience of her son. Alliameen. She said going further, there won't be any need for her to be carrying him around as she used to before her son got the artificial limb.
Fathia Fasasi, another beneficiary that lost her limb in an accident, said she used to skip schools because she didn't want her schoolmates to make jest of her. Now that she has a limb, she'll go to school regularly", the statement quoted her mother.
Children are going back to school and some of them don't have a limb. So the Nigerian National Petroleum Corporation (NNPC) in collaboration with their partners and The Idere Foundation, have decided to change all that by providing Prosthetic (artificial) limbs they can go back to school and get new lease of life. Beneficiaries of the thoughtful gesture include Alliameen Owujebe, Enitan Ogunaike, Fathia Fassasi, and Michael Showunmi.
Pix: One of the beneficiaries.jpg