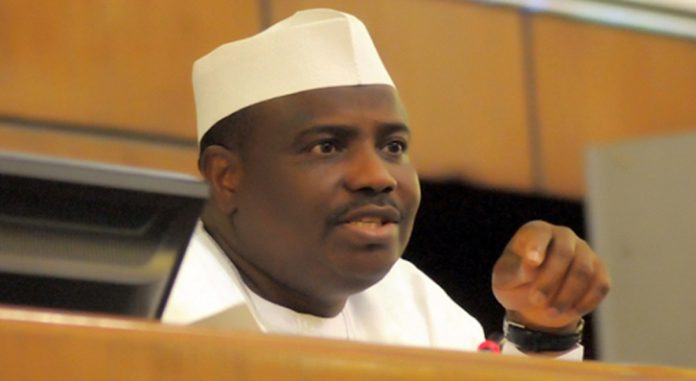 Inaugurates ease of doing business council
By Onuminya Innocent 
The Governor of Sokoto State, Aminu Waziri Tambuwal, has appealed to the National Hajj Commission (NAHCON) to review the subsisting airlifting policy with a view to giving more consideration to local airliners.
The governor also yesterday inaugurated the ease of doing business council (EODBC) chaired by him.
The governor made the plea when he received the Chairman of NAHCON, Alhaji Zikirullah Kunle Hassan, and his team at the Government House in Sokoto yesterday.
Observing that the existing policy at a point almost discouraged local airlines from operating, Tambuwal suggested that NAHCON should encourage them to improve on their modus operandi by measuring up to international visa standard.
''We know there have been challenges, but encourage them to do better so that we can encourage those in that business locally to do more," Tambuwal added.
He appealed to the commission to continue to deeply consult with other stakeholders in order to horn their expertise directed at effective service delivery and uphold the trust given to them by the president.
While commending NAHCON for executing some projects such as the construction of boreholes at the state Hajj camp and the construction of a multi-purpose hall with the aid of the Hajj development levy, he assured them that his administration would continue to cooperate with the commission on future endeavours.
The governor said it is a deliberate policy of his administration that it has been working to complete projects it inherited from the previous governments.
According to him, "Government is a continuity. We must continue the projects we inherited and must not allow public resources to be wasted."
On Hajj savings scheme, the governor said it is a very commendable initiative, and prayed to Allah to reward the commission on it, adding that the scheme is one of the easiest way people can save and pay for Hajj.
On the commission's proposal to set up a Hajj Training Institute, the governor said it is a welcome development so that Nigerian Muslims intending pilgrims and business people will be properly trained and have advanced expertise in handling pilgrims and Hajj issues.
In another development, the governor has also inaugurated ease of doing business council (EODBC) chaired by him.
Tambuwal inaugurated the council while inaugurating a one-stop-shop on the ease of doing business (EODB) at the state capital in the presence of the Special Adviser to the president on EODB, Dr Jumoke Oduwole.
According to him, the EODBC, which was an adoption of the recommendations of the National Economic Council (NEC), will meet monthly to brief the State Economic Council (SEC) quarterly.
The governor also directed the state Commissioner for Commerce and Industry, Hon. Bashir Gidado Jegawa, to serve as the state reform champion on EODB.