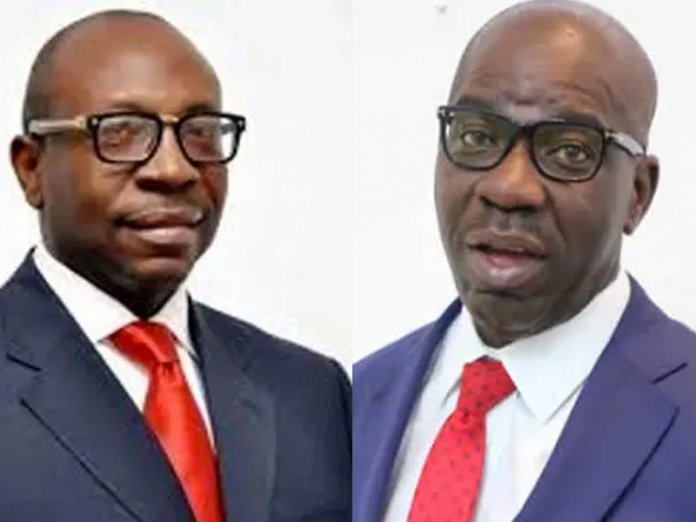 It is just fitting that the peace parley between Godwin Obaseki, who is seeking re-election as the governor of Edo State under the standard of the PDP, and Osagie Ize-Iyamu, his opponent in the forthcoming gubernatorial poll who is running under the APC banner, was called at the instance of the Benin Palace. Recall that the undercurrent of political counter-force that threatened to wash Obaseki away from Government House was not, in reality, due to Adams Oshiomole, that wily weasel of the APC, but it originated from a moneyman who has clout: Hosa Wells Okunbo. If Godwin Obaseki has been "sweating" these past couple of months, it is because of the fact that Okunbo was poised to use his wide reach to impact the outcome of the forthcoming poll.
Obaseki and the PDP knew about the intrigues but they seethed in silence and kept a shrewd watch. Truly, Obaseki was both embittered and desperate. Governors Abdullahi Ganduje and Willie Obiano of Kano and Anambra States have only recently demonstrated the reach of the enormous powers that governors can wield if they feel "embarrassed" or "threatened." Actually, there was no point for Obaseki to "sweat" for a second term when the likes of Yahaya Bello of Kogi State, Abdullahi Ganduje of Kano State and a host of others who had lost the favour of their electorate were returned by intrigues from "high above." Even though Obaseki does not presently enjoy the privilege of this "intrigue" it should just be a cinch for him to clinch a second term, as per the norm. Now, isn't Godwin a Bini son? Why should he seek assurance in the Esan-dominated Edo Central? It was clear that Godwin Obaseki was not going to accept defeat lightly.
See, things are changing and it does not look like any sitting governor will just lie low to be trounced. By hosting that peace parley, the wind has really been taken away from the political sail of Ize-Iyamu because the understanding of any such "peace" is to allow "normalcy" reigns. "Normalisation" is the way dem dey do am elsewhere. Meaning? Everyone deserves a second term. After all, Goddy no kill anybody and e no sleep with person wife. So? He supposed to get second term. I completed this piece on the night of Sunday the 6th September 2020. Little did I know that on this same Sunday in faraway Benin Mr. Okunbo dropped his bombshell about committing his "last kobo" to enthroning Ize-Iyamu as governor of Edo State. It would appear that "higher forces" are egging Okunbo on.
Sunday Adole Jonah,
Department of Physics, Federal University of Technology, Minna, Niger State